Oklahoma Gov. Kevin Stitt on Wednesday signed the nation's most restrictive abortion law, effectively banning the procedure in almost all cases.
Earlier this month, Stitt signed a law that banned abortions at about six weeks of pregnancy, but three weeks later the first-term Republican governor has followed up by signing House Bill 4327, which makes the procedure illegal from the point of fertilization.
Stitt, whose office did not immediately respond to a request for comment, has said that he intends to make Oklahoma "the most pro-life state in the country" and has made good on the promise.
"I promised Oklahomans that as governor I would sign every piece of pro-life legislation that came across my desk and I am proud to keep that promise today," Stitt said in a statement to BuzzFeed News. "From the moment life begins at conception is when we have a responsibility as human beings to do everything we can to protect that baby's life and the life of the mother. That is what I believe and that is what the majority of Oklahomans believe."
The abortion restrictions come days after a draft opinion from Justice Samuel Alito pointed to the possibility of a majority conservative Supreme Court overturning the landmark Roe v. Wade case.
The leak of the draft has spurred activism on both sides of the issue, with donations surging for pro–abortion rights groups and anti-abortion advocates pushing state legislatures to enact bans ahead of the high court's decision.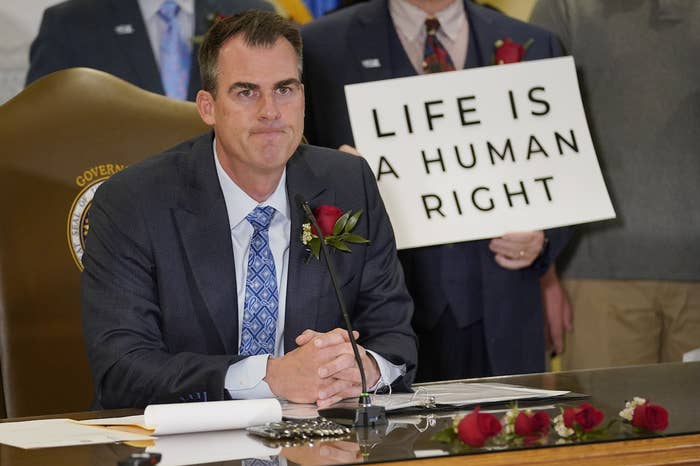 In Oklahoma, Republican lawmakers have modeled their approach on a Texas law that took effect in 2021. The laws leave enforcement of abortion restrictions to private citizens, who can file lawsuits against anyone performing or assisting in the procedure.
The Oklahoma law went into effect immediately upon Stitt's signature. The only exceptions are for rape and incest or to save the woman's life. It does not apply to emergency contraception, such as Plan B.
Still, together with Texas's own six-week ban, Oklahoma's new abortion restrictions create a large swath in the US where the procedure is becoming almost impossible to access.
"All of these bills are grave threats to abortion access, not only in Oklahoma, but across the region," Planned Parenthood said in a statement after the newest restrictions passed the legislature in March.

According to Planned Parenthood, nearly half of all Texans who have obtained an abortion in the past six months had to do so in Oklahoma.
"Now they could find themselves forced to travel even further for this essential health service — if they can afford to in the first place," the organization said.