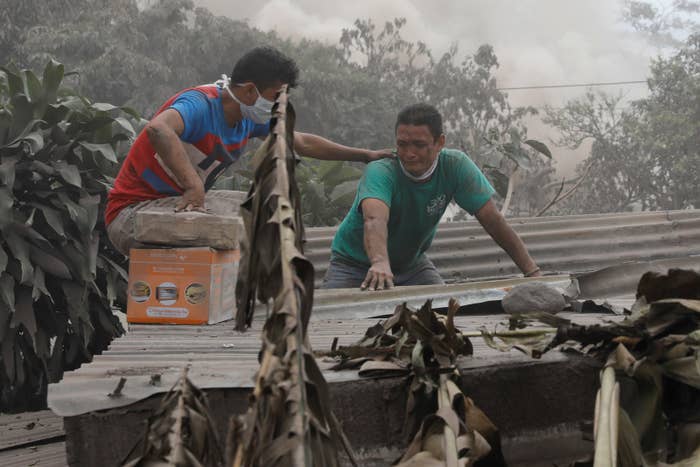 Potentially life-saving alerts and evacuation orders warning residents in Guatemala of a powerful volcanic eruption came too late for many living near the Fuego volcano, officials acknowledged Wednesday, after more than 100 people were killed and nearly 200 others were reported missing.

Now, as the country tries to assess and recover from the devastation caused by the Sunday eruption, officials from the country's disaster agency and volcanic monitoring agency are engaging in a public dispute over who is responsible for the late warning to communities devastated by the disaster.
The only thing officials agree on is a breakdown in communication between the agencies.
"Nobody can know what happens in the volcano, but nobody can be ignorant of what is plainly said in a bulletin," Mario Taraceña, a senior opposition lawmaker, told the head of the country's disaster agency during a tense meeting Wednesday to review the impacts of the eruption. "You have legal responsibilities."
The deadly explosion occurred sometime around 1 p.m. Sunday, officials have said, unleashing a hot pyroclastic flow that destroyed nearby towns. Yet the order to evacuate was not issued until hours later, at 3 p.m.
Sergio Cabañas, the head of Guatemala's disaster agency known by its Spanish acronym Conred, conceded the warnings to residents came too late, but claimed the bulletins from the country's volcanic monitoring agency were not specific.
Four bulletins detailing increased volcanic activity and a possible eruption were issued before the incident, as well as two after Sunday's explosion. But Cabañas said the bulletin warning of an eruption was not issued until 45 minutes after the fact, giving his agency little time to conduct evacuations.
The head of Guatemala's volcano and seismic activity monitoring agency, known by its acronym Insivumeh, argued his agency's responsibility is to provide the bulletins so Conred can make decisions to issue alerts, warnings, and evacuations.
"We don't issue alarms or create alerts," he said.
The feud over the late warnings has thrust the heads of both agencies into a public fight and sparked calls for Cabañas resign as head of Conred.
Taraceña, who has been one of the most vocal critics of Conred's response, asked Cabañas to resign from his position and for prosecutors to look into "penal consequences" for the agency's actions, accusing Cabañas of incompetence.
"I only have to look at the title of the bulletins — anyone with any common sense would have done something," Taraceña told Cabañas, holding the bulletins during a televised meeting. "By God, what happened? You were the one that should have done something, out of human decency."
On Thursday, Guatemala's prosecutor's office announced it would be conducting an investigation to determine if proper protocols were followed in response to the eruption.