Officers Give Account Of Tamir Rice Shooting: "I Knew It Was A Gun"
The statements to investigators — given roughly one year after 12-year-old Tamir Rice was fatally shot — are the first accounts to be released.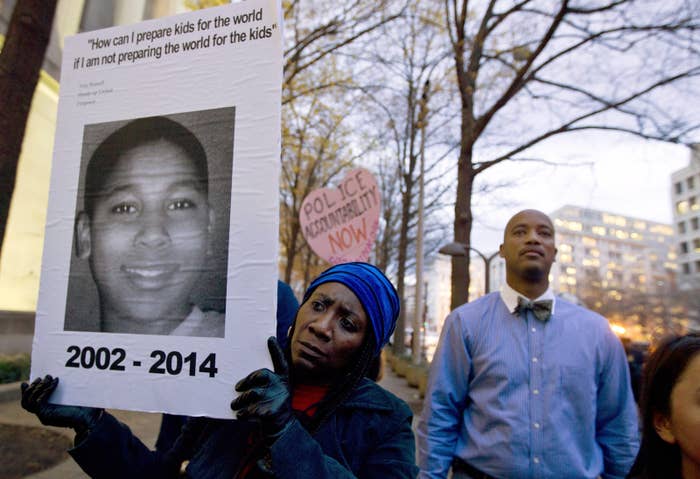 Ohio prosecutors on Tuesday released the first statements given by the two police officers involved in the fatal shooting of 12-year-old Tamir Rice as he held a toy gun in a Cleveland park last year.
Officer Timothy Loehmann, who was on probation at the time of the shooting, testified he and his training officer were responding to a call of a "male waiving a gun and pointing it at people" and that "this was an active shooter situation."
The short written testimony, released by the Cuyahoga County prosecutor's officer, are the first statements made by Loehmann and his training officer, Frank Garmback, regarding the shooting, officials told BuzzFeed News.
The recollections of what occurred on Nov. 22, 2014, at Cudell Recreation Center were dated and signed Nov. 30, 2015, and are expected to be introduced to a grand jury.
Attorneys for Tamir's family criticized the fact that the officers were allowed to give unsworn statements to investigators.
"No ordinary citizen who is under investigation would be afforded this special treatment," the attorneys said in a statement to the Washington Post. "Submitting self-serving, unsworn written statements — rather than appearing live before the grand jury so that the officers' versions of events are subject to vigorous cross examination — shows that these officers know their story will not withstand real scrutiny."
The statements are the first accounts to come from the two officers to investigators, or in court, after the 2014 shooting.
When Rice's family filed a lawsuit against the city and the officers, Garmback and Loehmann both responded in June by invoking their Fifth Amendment right against self-incrimination.
Attorneys for Loehmann and Garmback did not immediately respond to BuzzFeed News request for comment.
In their accounts, both officers describe Tamir as a "male matching the description of the suspect," and make no reference to the fact that he was actually 12 years old.
Tamir was playing in the park with a toy gun, which officials said was missing the orange tip used to help identify it as such.
"The male appeared to be over 18 years old and about 185 pounds," Loehmann wrote.
Garmback, whose testimony consisted of a numbered list of the facts of the day, wrote: "12. I thought the male was an adult. Over 18 years old."
In his statement, Loehmann testified he and his training officer were responding to a call of a "male waiving a gun and pointing at people," and described how the patrol car slid into a stop near the swings of the park before they saw Tamir.
"As car slid, I started to open the door and yelled continuously, 'show me your hands' as loud as I could," Loehmann wrote. "Offier Garmback was also yelling 'show me your hands.'"
The rookie officer said he kept his eyes on the suspect's hands "because 'hands may kill.'"
Then, Loehmann wrote, he saw Tamir lift his shirt and reach into his waistband.
"Even when he was reaching into his waistband, I didn't fire," he wrote. "I was still yelling the command, 'show me your hands.'"
Loehmann testified he saw Tamir pulling what appeared to be a gun from his waistband, his elbow coming up, and that "I knew it was a gun and it was coming out."
The weapon, however, turned out not to be a weapon but an Airsoft BB gun that authorities have said looked like a real weapon.
"I saw the weapon in his hands coming out of his waistband and the threat to my partner and myself was real and active," Loehmann wrote.
Loehmann fired two shots, according to his testimony, and then moved to the back of the patrol car.
The statements were released Tuesday as part of what the prosecutor's office described as their effort to "be as transparent as possible in this and other police use of fatal deadly force cases."
They also come after three reports — compiled by former prosecutors and a retired FBI agent — that have found Rice's shooting to be "tragic," yet justified.
Meanwhile, Tamir's mother, Samaria Rice, has called for an outside, independent investigator to look into the case.