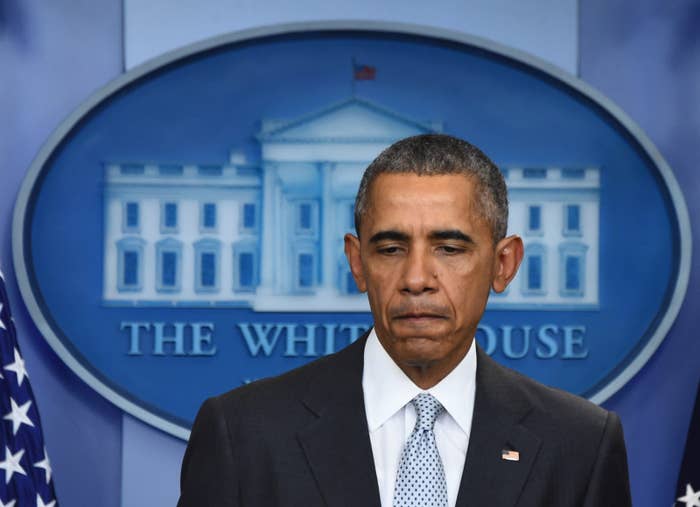 President Obama called the attacks that killed at least 120 people in Paris on Friday "outrageous" and pledged to support the French government.
"This is not just an attack on Paris, not just on the people of France, but this is an attack on all of humanity and the universal values we share," Obama said in his address from the White House.
The president spoke shortly after being briefed on the multiple attacks and said the U.S. would work alongside the French government to "bring these terrorists to justice."

Obama did not offer any details on the incident, stating that the situation in Paris was still unfolding.
Still, he said the U.S. would be offering its support to its oldest ally.
"Paris itself represents the timeless values of human progress," Obama said. "Those who think they can terrorize the people of France, or the values they stand for, are wrong."
Secretary of State John Kerry said in a statement that the American embassy in Paris was "making every effort" to account for the welfare of U.S. citizens in the city.
The State Department was also standing by to provide whatever assistance was needed, he added.
In a phone call with French President François Hollande, Obama reiterated the U.S.' "steadfast, unwavering support for the people of France," according to the White House.
Addressing his own shell-shocked nation, Hollande declared a state of emergency and closed national borders "to make sure those who committed theses crimes can be stopped if they try to leave the territory."
"Terrorist attacks without precedent are currently taking place," Hollande said. "There are several dozen dead. It's horrifying."
Vice President Joe Biden also issued a statement echoing Obama's comments, calling the attacks "heartbreaking. Outrageous."
"We will stand together. We will never bow. We will never break. That's the character of our two nations," Biden said in his statement.
U.S. Attorney Loretta Lynch also reiterated pledges to work with French authorities to bring those involved in the attacks to justice.
"We stand in solidarity with France, as it has stood with us so often in the past," she said in a statement. "This is a devastating attack on our shared values and we at the Department of Justice will do everything within our power to assist and work in partnership with our French law enforcement colleagues."