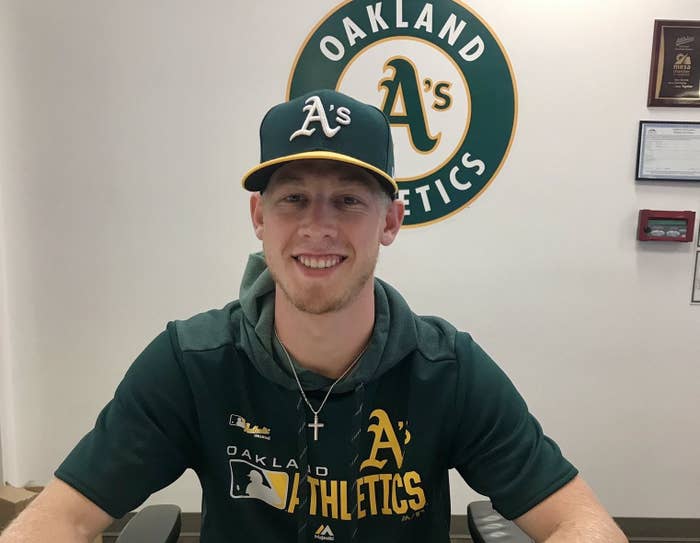 Nathan Patterson hadn't played baseball since high school. But the 23-year-old turned heads when he threw a whopping 96 mph fastball last month during a fan challenge in Colorado.

Now he's signing as a pitcher with the Oakland A's minor league team and getting a shot at turning his childhood dream of going pro into a reality.
"Words cannot describe this feeling," Patterson wrote on his Instagram account, where he posted a picture of himself in Oakland A's gear signing with the Major League Baseball team.
Most professional baseball players follow a traditional route of playing competitively in high school and college, then getting picked up by a professional team to play in the minor leagues, and later advancing to the MLB.
But Patterson hadn't played the game since high school, he told MLB.com, until he caught the attention of the Oakland A's with a consistent heater in the 90-plus mph range.
Just two weeks ago, Patterson was at Coors Field for a Colorado Rockies game where he tried his luck at a fan challenge. A video of him throwing a pitch at a breakneck 96 mph received more than 1,000 retweets, dropping jaws around the internet.
On Thursday, the 23-year-old received an offer from the A's.

Patterson had already been on the team's radar since August 2018 when, at a minor league game, he also threw a 96 mph pitch. That was a surprise, Patterson told MLB.com, because he hadn't played competitively for years.
How rare and difficult is it to throw a 96 mph fastball?
A handful of major league players can hit triple digits from the mound with a heater, and, according to MLB.com, the average four-seam fastball in the league since 2015 has hovered at about 93 mph.
Patterson had trained and pursued a possible career in baseball, until he was hit by a car and required surgery on his left wrist. Luckily, he throws with his right.
He started talking with recruiters for the A's in February and began playing competitively, hoping to make his way into the league.
On Thursday, he posted a picture of his new locker with a green A's jersey and his new number — 36.
"My family has given me nothing but constant love and support throughout the last 9 months as I pursue a dream of mine that I've had since I was a little kid," he wrote in an Instagram post.
He thanked his family and his trainers for giving him a shot.
"This story is not over," he wrote. "I am writing the next chapters and excited for this journey!"