NYPD Officer Shot In Head Dies, Suspect Facing First-Degree Murder Charge
Officer Brian Moore died Monday after he was shot in the head while on duty in Queens. Suspect Demetrius Blackwell will be charged with first-degree murder.
New York Police Officer Brian Moore died on Monday, two days after being shot in the head while sitting in an unmarked police car in Queens, the New York Police Department announced.
NYPD Chief Robert Boyce said in a news conference Monday that the gun used to kill Moore was recovered under a box near a barbecue grill in a backyard in Queens on Monday morning. The weapon was stolen in Georgia in 2011, Boyce added.
The shooting occurred near 104 Road and 212 Street in Queens.
Moore and his partner, Erik Jansen, were wearing plainclothes and conducting surveillance in the area, Police Commissioner William Bratton said in a statement.
The officers were sitting in their vehicle when they noticed a man with something in his waistband walking down the street. Moore pulled the vehicle over to the suspect and asked him what he was up to, Bratton said.
The suspect, identified as 35-year-old Demetrius Blackwell, pulled out a gun and shot into the car several times. Moore was struck in the head and Jansen was unhurt.
Moore was taken to Jamaica Hospital Center and underwent surgery soon after.
"This was an unconscionable act of violence, not just against one police officer, but against the city of New York and against the values we hold dear," Mayor Bill de Blasio said.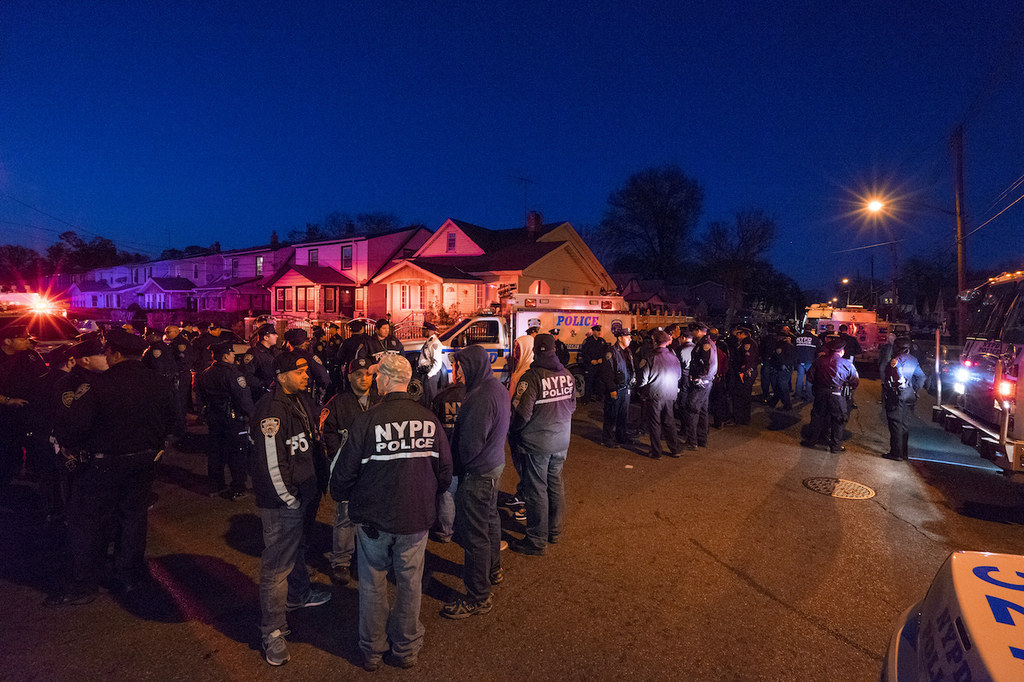 Blackwell fled the scene but was caught approximately 90 minutes later. On Sunday, he was charged with attempted murder.
The Queens district attorney will charge Blackwell with first-degree murder, Bratton said, which carries a penalty of life in prison without parole. A grand jury is expected to be convened on Tuesday to seek an indictment.
Boyce said on Monday that the suspect has spent six years in jail and has been arrested for robbery three times. He added that Blackwell is estranged from everyone in his family.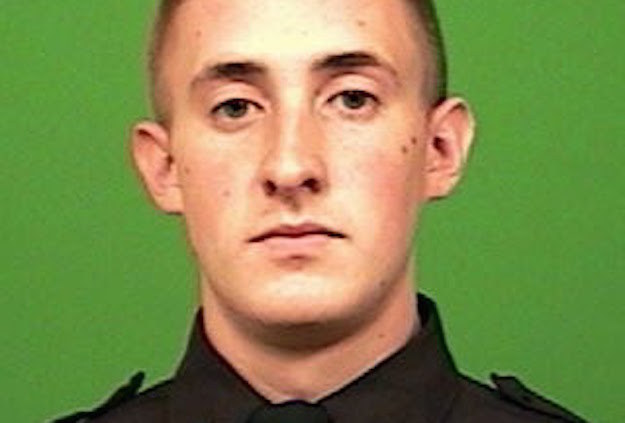 Moore, a resident of Long Island, joined the police force in 2010.
He comes from a police family, as both his father and uncle are retired sergeants. His cousin is also a police officer.
"This is what (Moore) wanted to do with his life," de Blasio said. "He wanted to be a New York City police officer. He wanted to serve and he did so with great distinction. I've already had the opportunity to hear from some of the commanding officers who work with him, and who respect greatly his approach to this work and his devotion to the job."
There was an outpouring of grief for Moore on Monday, after his death was announced by Police Commissioner William Bratton outside Jamaica Hospital Medical Center.
Mayor Bill de Blasio mourned Moore at an evening news conference at Police Headquarters, saying "He lived out his dream. He emulated his father and his uncle and he followed in their footsteps. Our hearts are with the Moore family."
Bratton also spoke of Moore's remarkable record, having made over 150 arrests since joining the department in July 2010.
Mayor Bill de Blasio released this statement Monday:
Our hearts are heavy today as we mourn the loss of Police Officer Brian Moore. For five years, Brian served with distinction and he put his life on the line each day to keep us all safe. On Saturday, he made the ultimate sacrifice in service to the people of New York City. During this tragic time, New Yorkers must come together to support the Moore family in any way we can, and on behalf of a grateful city, Chirlane and I extend our deepest sympathies to the Moore family and to the entire NYPD family.