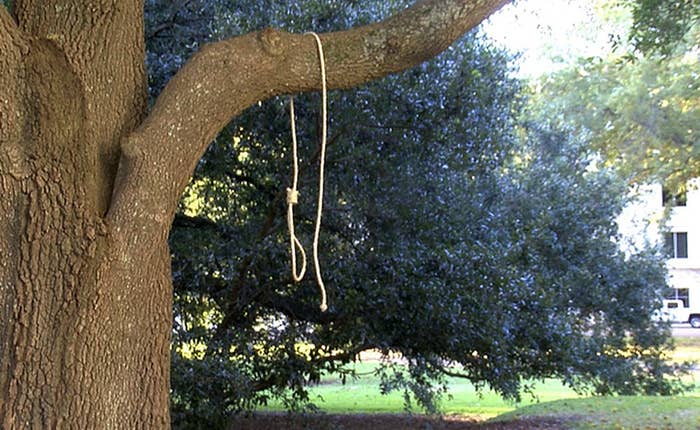 Two nooses and several handmade posters were found on Mississippi capitol grounds Monday morning, one day before a contentious election for one of the state's seats in the US Senate.
Officials said at least two of the signs appeared to criticize Republican Sen. Cindy Hyde-Smith, who recently joked about attending a public hanging and is fighting to be reelected by voters on Tuesday.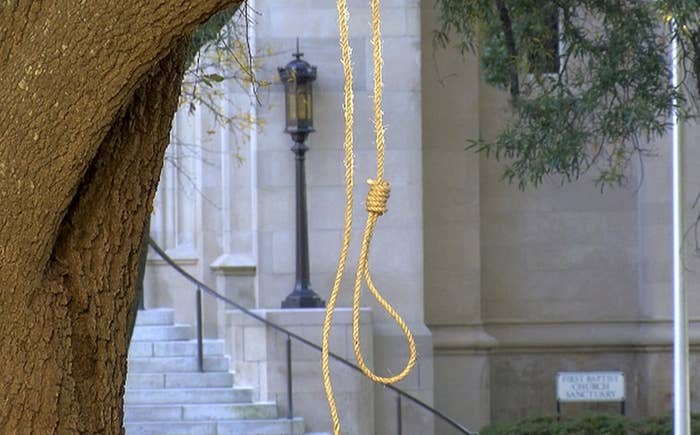 "They referred to the fact that Mississippi needs leaders that will apologize for remarks about lynching," Chuck McIntosh, communications director for the Mississippi Department of Finance and Administration, which oversees the state's capitol police, told BuzzFeed News.
The nooses and six signs were located between 7 and 8 a.m. by someone who first notified the local NBC affiliate, WLBT-TV, McIntosh said. Police became aware of the objects when a reporter for the station contacted the department.
Hyde-Smith is facing a stiff challenge from Democrat Mike Espy in what has become a high-profile national election. Mississippi is a solidly Republican state, but a series of wins by Democrats and missteps by Hyde-Smith have put the election in the national spotlight. President Trump planned to attend two political rallies in support of Hyde-Smith on Monday.
On Nov. 2, Hyde-Smith joked about attending a public hanging and sitting front row for a supporter, comments that were quickly blasted for being insensitive to the state's history of lynching black people.
The senator apologized for her comments during a debate with Espy, saying she meant no ill will. But she later attacked her opponent, claiming her "comment was twisted and it was turned into a weapon to be used against" her.
One of the signs discovered Monday appeared to refer to the incident.
"On Tuesday November 27 thousands of Mississippians will vote for a senator," McIntosh said one of the signs read. "We need someone who respects the lives of lynch victims."
Another sign alluded to the senator's apology.
"We want leaders to give honest apologies who can be humble enough to admit when they're wrong," McIntosh said another sign read.
Another sign referred to Emmett Till, the 14-year-old boy who was lynched in Mississippi in 1955, and whose killers were later acquitted.

Mississippi Capitol Police are investigating and reviewing surveillance video to determine who placed the signs and nooses on the south side of the capitol building.

Hyde-Smith's campaign did not immediately respond to BuzzFeed News' request for comment.