A now-viral video of CeeLo Green purportedly being injured when a cell phone to his ear suddenly exploded is actually for a project, and he's not hurt, the singer said.

The black and white surveillance-style video was posted on another rapper's Instagram account Saturday morning, showing what appeared to be video from inside a music studio and the performer sitting at a chair.
After several people leave, Green is then seen picking up what appears to be cell phone and chatting on it while swiveling in the chair before a bright explosion, causing him to drop to the ground.
Green, whose real name is Thomas DeCarlo Callaway, took to Facebook to tell fans he was not hurt.
"I just want to let everybody know that I am alive, I am well, and I'm OK," Green said. "I'm really upset that anybody had to be emotionally disturbed by what they saw today."
Green said the video that went viral was a snippet from a project he was working on called "Gnarly Davidson."
"It's supposed to, you know, set up and introduce the new character identity," he said. "I'm still going to release the music though."
Green did not say how the video made its way online, or if he knew how it was released.
Several news outlets incorrectly reported that Green had been injured.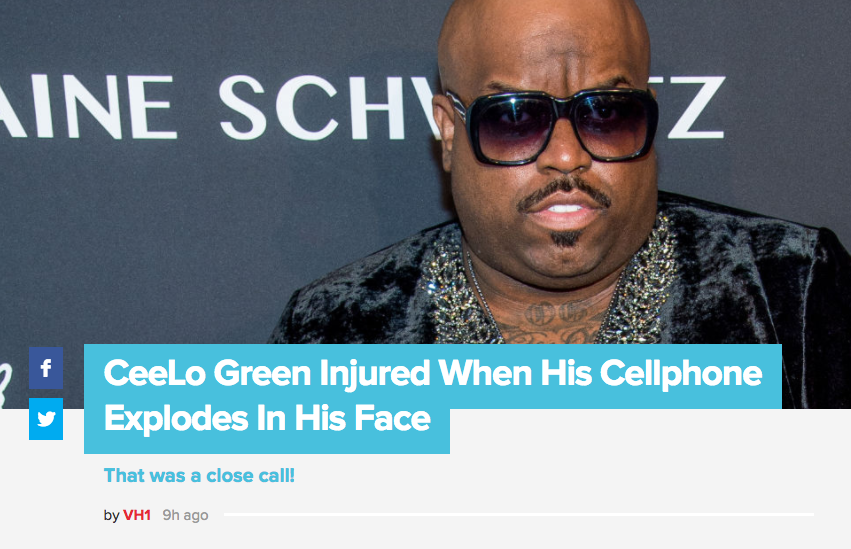 The video was posted by another rapper by the name of Philly Chase, who told BuzzFeed News he received the video early Saturday morning by an anonymous text message.

Chase, who also has experience working on video production, said he was not and had not been working with CeeLo Green in any projects, and said repeatedly that he was not involved in the creation of the video.
Instead, he said his initial reaction was to assume the video was fake, but that after he viewed it several times, he began to believe it was real.
"I thought it was fake," he said. "Why would somebody go through the trouble of doing something like that?"

He said he tried to reach back to the number, but that the text messages bounced back repeatedly.
"I've never had anybody send me anything anonymous," he said.
If it was fake, he said he did not understand the reasoning behind it, or what the purpose would be.
"The thing that puzzles me: Why go through the trouble? What would be the point," he said. "He's a multimillionaire. It maybe more beneficial for someone like me, who isn't getting the exposure he's got."

Just before Green posted his video on Facebook explaining the origin of the video, Chase told BuzzFeed News he received a copyright infringement notice from Instagram and it was taken down.
He said he would not dispute the claim, but instead was glad it was all explained.
"It is what it is," he said.
A representative for Green did not immediately respond to BuzzFeed News' request for comment.