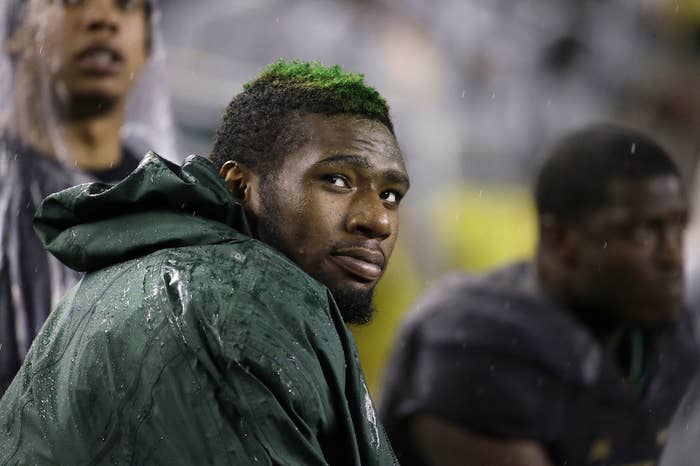 Shawn Oakman, a former Baylor University football player and an NFL draft prospect, was arrested Wednesday on suspicion of raping a woman he met at a Texas nightclub, police said.
Oakman was taken into custody after meeting with Waco police detectives and being served a search warrant for his DNA and cell phone, officials said in a statement.
The 23-year-old had been under investigation since April 3, when a woman told Waco police she had been sexually assaulted at his apartment after the two met at a club just blocks away from the university, according to a search warrant.
Oakman played football for Penn State University, but was dismissed from the program in 2012 after he was accused of stealing a sandwich from a store clerk at the school, according to ESPN. He then began playing for Baylor University in Waco, Texas, where he graduated in December, and was expected to be a mid-round NFL draft pick.
The 6-foot 9-inch tall, 275-pound defensive end also briefly became a meme on Twitter last year due to his massive size.
According to a search warrant affidavit, the woman told police she and Oakman walked back to his apartment where he "forcibly removed" her clothing before sexually assaulting her.
The following day, police searched his home for bedsheets, a pair of underwear, and an earring she left behind, as well as other evidence, according to the affidavit.
The Waco Tribune reported that Oakman told police his encounter with the woman was consensual.
Waco police officials did not immediately return BuzzFeed News' request for comment.
According to arrest records, Oakman was booked at Mclennan County jail.