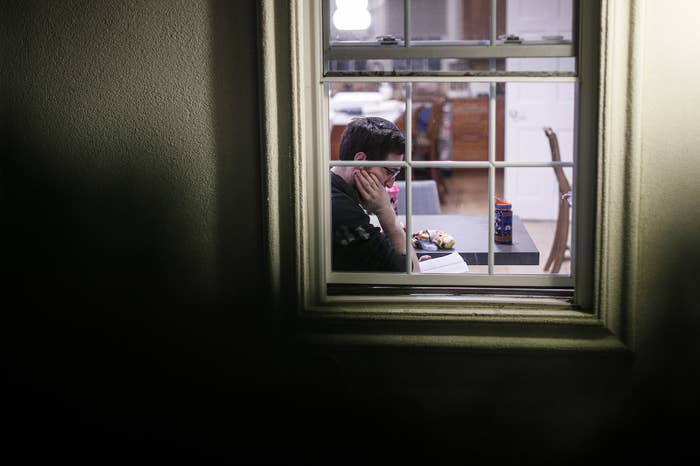 A 1-mile containment zone in New Rochelle, a city in Westchester County just north of New York City, will be set up in hopes of slowing down the spread of the novel coronavirus, which causes COVID-19.
Officials say they hope this "dramatic action" will curb what appears to be one of the largest clusters of virus infection in the country.
"New Rochelle is a particular problem," New York Gov. Andrew Cuomo said at a press conference Tuesday. "The numbers continue to go up, the numbers are going up unabated, and we do need a special public health strategy for New Rochelle."
Places where large numbers of people gather would be shut down for at least two weeks and the National Guard is expected to help deliver meals and clean public spaces. But officials stressed that residents of the community who were not under quarantine would still be allowed to come and go as they pleased.
"These are uncharged waters," George Latimer, county executive for Westchester County, told BuzzFeed News.
As of Tuesday, New Rochelle has the largest number of COVID-19 cases in the state of New York. With a population of more than 78,000 people, the city has seen more cases than NYC, Cuomo said.

"That is really breathtaking," Cuomo said while announcing the new measures. "This is the greatest public health challenge we have in the state right now."
As part of the containment strategy, large gathering places in the area, such as schools, houses of worship, and a Boys & Girls Club, will shut down for two weeks starting Thursday. State officials will compile a list of other possible locations that will shut down in the 1-mile radius zone.
"It is a dramatic action, but it is the largest cluster in the country, and this is literally a matter of life and death," Cuomo said. "That is not an overly rhetorical statement."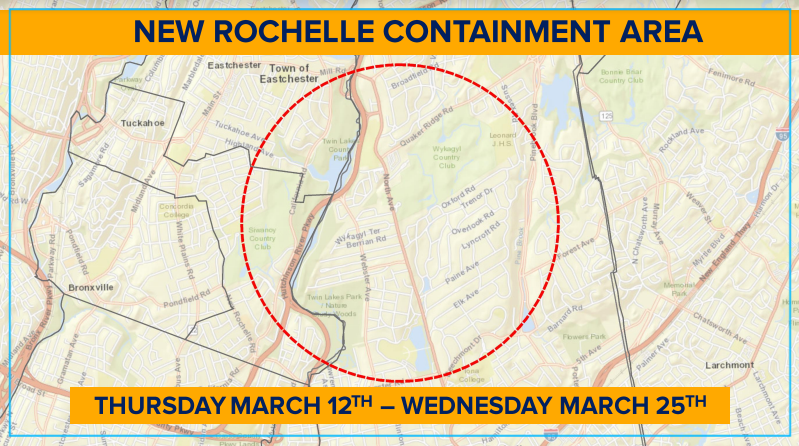 Residents of the area will be allowed to leave and enter the zone, small businesses are expected to remain open, and people will be allowed to move about as they would in a normal day, officials said.
Still, Latimer said it might be a bit unnerving for local residents to see members of the National Guard roaming the streets of their city amid the coronavirus outbreak.
"There's a thousand little details that we have to work out," he said. "But seeing members of the National Guard walking in your city can be a little chilling."
Local officials are trying to reach out residents in the affected and looking to strike the right tone, Latimer said, despite the serious step of creating a containment zone just 25 miles north of New York City.
"It will look strange, but the hope is the National Guardsmen themselves are going to be young people, pleasant," Latimer said.
Locations where large numbers of people gather will be shut down and cleaned to help stop or slow down the rapid spread of COVID-19.
"We're trying not to overreach and not under-react," Latimer said. "This is serious, this is not a joke. This isn't something that will go away just because you wish it. But then again, this isn't armageddon."
The use of the National Guard will also help the affected locations with cost, Latimer said, who would otherwise have to take on the costs of cleaning the facilities on their own.
Small businesses, including a large number of restaurants located in the zone, are expected to remain open, Latimer said.
The containment zone, which is centered where officials have seen a concentration of coronavirus infection cases, is expected to remain in effect from March 12 to 25.
Latimer said he is hoping the containment zone will end at the scheduled time, considering that a number of temples and Christian churches in the zone had planned events for Passover.
"This will be a period of disruption for the community; I understand that," Cuomo said. "Shop owners don't like the disruption; nobody does. Local politicians don't like the disruption; I get it. This can't be a political decision. This is a public health decision."