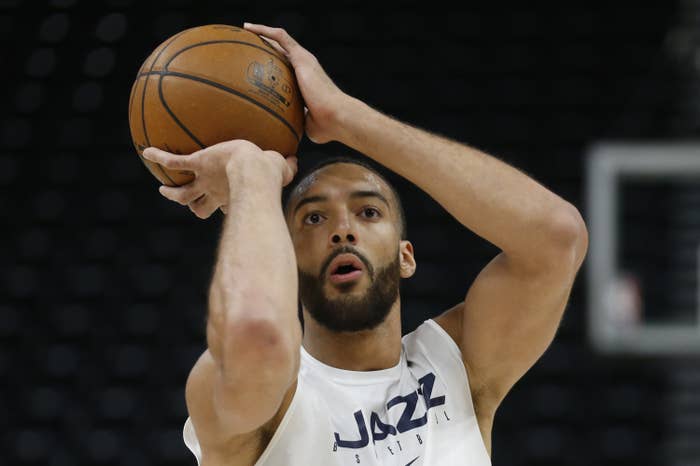 NBA star Rudy Gobert, who became the first professional athlete in the US to test positive for the coronavirus on Wednesday, has apologized in an emotional post on Instagram for joking about the pandemic beforehand and exposing teammates and others to possible infection.
Professional sports leagues, including the NBA, had already started instituting restrictions over concerns of the novel coronavirus, such as limiting access to locker rooms, but on Monday, the Utah Jazz's Gobert made light of the situation by intentionally touching microphones used by all of his teammates as he ended a news conference.
By Wednesday, Gobert's diagnosis prompted the NBA to suspend the rest of its season until further notice. A day later, Gobert's teammate, Donovan Mitchell, also tested positive for the virus.
On Thursday, Gobert thanked fans for their support but also apologized for making light of what has spiraled into a deadly pandemic.
"I have gone through so many emotions since learning of my diagnosis...mostly fear, anxiety, and embarrassment," Gobert wrote. "The first and most important thing is I would like to apologize to the people that I may have endangered. At the time, I had no idea I was even infected."
Gobert, who also plays in a French national basketball team, said he hoped his experience would serve as a warning to those who have not taken coronavirus precautions measures seriously.
By Thursday afternoon, all major sports leagues and organizations took the NBA's lead and decided to cancel, postpone, or ban fans from attending major sporting events during the near future, including baseball, hockey, soccer, tennis, and NASCAR.
"I was careless and I make no excuse," Gobert added. "I will do whatever I can to support using my experience as way to educate others and prevent the spread of the virus."
Gobert added that he was expected to fully recover.