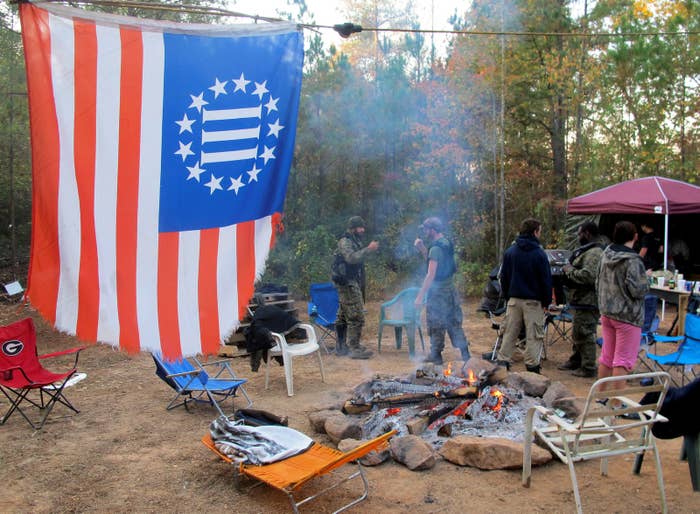 Armed and radicalized militia groups across the country are preparing for what they believe will be a violent end to the 2016 presidential election, warning its members to ready themselves for riots or even a revolution come Nov. 8.
From prepping first-aid kits to full-on tactical armed training in the woods, militia groups are planning and practicing for the worst-case scenario and increasing angst about what historically has been a peaceful transfer of power.
"I think it has a high probability of occurring," Joseph Rice, leader of an Oregon group called Liberty Watch Josephine County, and founding member of the Pacific Patriots Network told BuzzFeed News. "We expect to see civil unrest within the inner cities and urban areas."
That's a sentiment being repeated among groups across the country, from comments on private Facebook groups about loading up on ammunition, online courses of survival, to hands-on training for what they believe could be a citizen uprising.
On Thursday, one of the largest such groups, Oath Keepers, invited its members to an online class to teach them how to prepare, what items to stock up on, and what to do if post-election violence begins.
The course included tips on what to pack in an emergency bag, how to stay warm outdoors, what to do with an improvised explosive device, and how to set up a "Kill Zone Maze" in their local neighborhoods.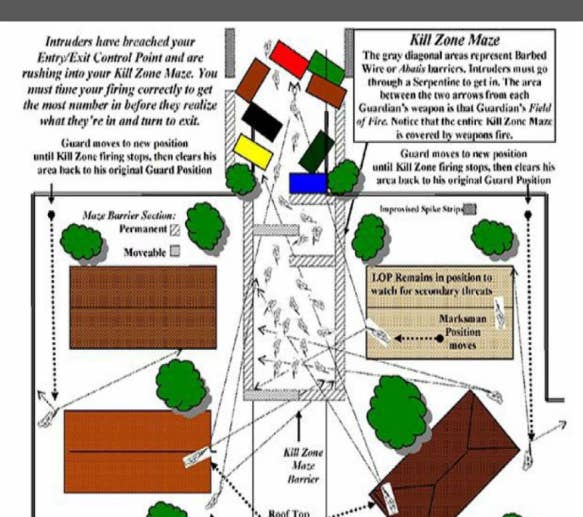 The presentation was open to the public, but leaders of the group explained that a more detailed, tactical presentation would also be offered for their dues-paying members.
"We are all concerned for this election that has been a kind of crazy rollercoaster ride of an election, and we're all concerned about civil unrest," said Stewart Rhodes, president of Oath Keepers, during the webinar. "I've had a lot of questions about what to do if the worse case starts to happen."
Oath Keepers describes itself as an organization composed of current and former law enforcement officers and military personnel. The Southern Poverty Law Center and Anti-Defamation League, however, refer to it as one of the largest militia groups in the country with ties to anti-government and sovereign citizen ideologies.
The FBI, in warrants and affidavits, has also referred to the group as an anti-government organization, a characterization Rhodes denies.
During the online course, leaders of the group aired many of the same warnings issued by other militia groups across the country, including worries that a Donald Trump victory would spur riots in "inner cities" and that a Hillary Clinton victory could spark a "false flag" — a term used by some conspiracy theorists to describe what they believe are government-staged events, like a mass shooting, to push for gun legislation.
The leaders said their presentation and role was "non-partisan," and that unless major fraud occurs, Trump was guaranteed to win the election Tuesday night.
The two-hour class ranged from harmless camping tips to Armageddon-like scenarios, such as how to create a road block with vehicles and set up a "kill zone" in neighborhoods.
"The only way to repel violence is with violence, otherwise you are at the mercy of the group," John Karriman, coordinator for the Missouri Oath Keepers said during the course. "I would venture to say that the people here tonight, except government agitators, know that all we're about is preserving our family and our way of life."
In one slide, Oath Keepers included civil rights and student advocacy groups, such as the National Council of La Raza and MEChA alongside terrorist groups like ISIS and al-Qaeda.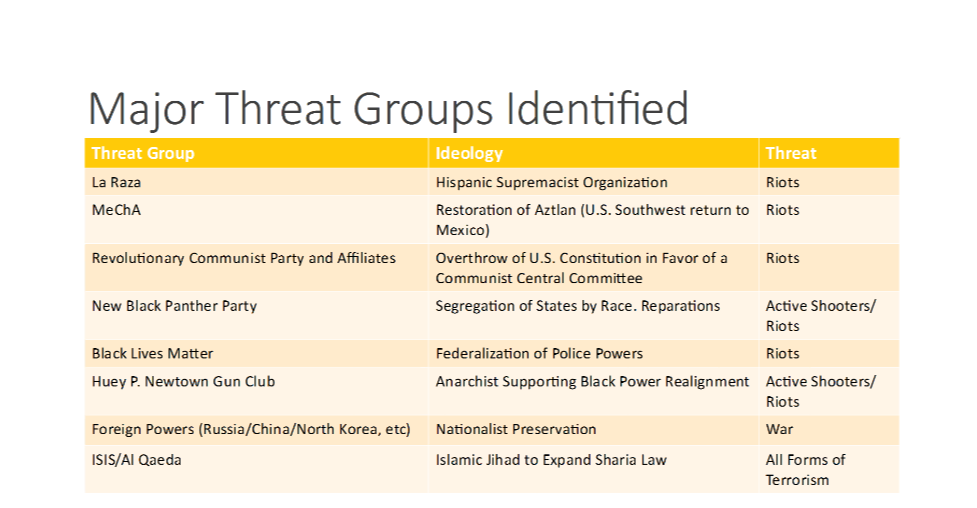 The group also extensively discussed the possible threat of improvised explosive devices in high-traffic areas on Election Day or afterward, identifying ISIS, the Muslim Brotherhood, Russian Mafia, and Black Lives Matter movement as chief suspects.
The Black Lives Matter movement has never been linked or connected to an IED incident.
Joseph Santoro, an Oath Keeper from Colorado, however, tried to make the case that Marxists and Jihadis cooperated in the 1970s, and terrorist groups could now cooperate with social activists in the US.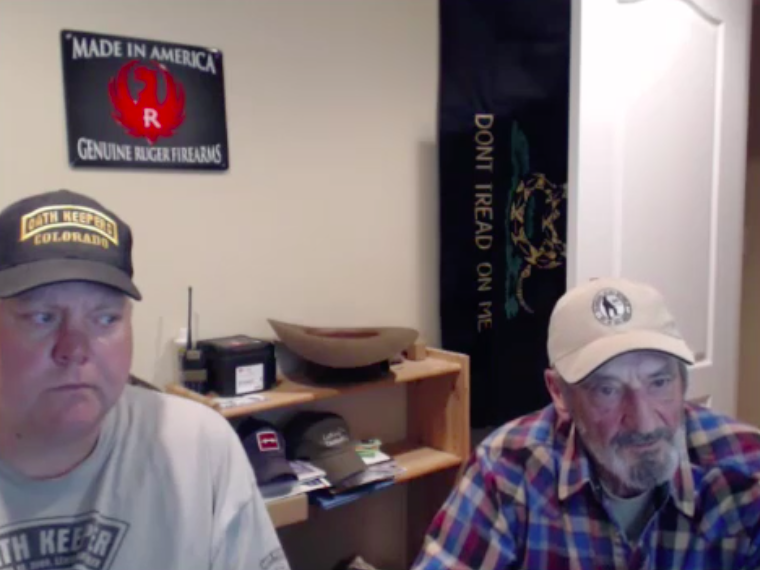 "I think its not a stretch to say that you'll see the same kind of cooperation now," Santoro said. "Both of them see Western Civilization as the enemy."
There is no evidence that any local activist groups have been linked to foreign terrorists. Experts have pointed out to racists elements within the militia movement, though most members deny the claim.
Militias and anti-government groups have seen a resurgence in the last eight years, according to the Southern Poverty Law Center, which counted more than 270 in 2014. Although many claim to be non-partisan or protectors of the Constitution, most lean heavily toward the alt-right and carry anti-government sentiments.
The groups gained national prominence in recent years after militias flocked to Nevada in 2014 during a tense standoff between rancher Cliven Bundy and federal agents who seized his cattle over unpaid grazing fees.
Militia members also traveled to Oregon earlier this year when Bundy's sons and armed supporters took over a wildlife refuge to protest government control of federal lands. In October, three militia men in Kansas were also arrested in a plot to bomb an apartment complex to kill Muslims.
Donnie Dean, president of the Constitutional Security Force and Three Percenter Boots on the Ground in Georgia, told BuzzFeed News those events as well as plans for any Election Day violence has hurt the public image of well-intentioned militias.
Dean, who describes himself as a militia man, said he is aware of another group in Georgia that has been actively training in the woods ahead of the election, and that similar actions could actually be the spark to unrest on Tuesday.
"Half of what (they) talk about or try to do is illegal, its unconstitutional, it goes against our core values as militia," Dean said. "It's just dangerous. It's dangerous to everybody."
His group, he said, was not involved in Election Day preparation. When asked whether he expected violence during or after Nov. 8, however, he said he was unsure.
"Politically, religiously, this country is pretty divided in every direction" Dean said. "I don't know this time around. It's a scary thought. It's a thought I don't want to think about."
His militia was ready, always ready, in case of social strife, he explained, not just on election day.
"We're going to be very devoutly committed to any kind of law order," he said. "If the election comes and it's Hillary Clinton or Donald Trump and things happen in society where it starts to break down, we're going to defend society."
Dean is not alone in his concerns.
Though unlikely, the idea of some sort of a violent reaction to the upcoming election is a fear that has taken root in many people's minds.
According to a USA Today/Suffolk University poll published last week, 51% of likely voters have at least some sort of concern about violence on Nov. 8. And one in five are "very concerned," according to the poll.
Those worries have not been dampened by social media posts, from high-profile conservatives who have toyed with rhetoric about armed resistance to a Clinton presidency.
Former Illinois congressman and current radio host Joe Walsh told his 79,000 Twitter followers he would be "grabbing my musket" if Trump lost the election.
Walsh later walked back his comments, saying the comment was figurative and not to be taken literally.
Sheriff David Clarke of Milwaukee County, Wisconsin, and a regular commentator on Fox News, also tweeted an image of an angry mob and declared "pitchforks and torches time."
FBI officials would not comment on whether the agency was investigating militia groups involved in Election Day activities.
In a statement, officials noted they would investigate any activity that posed a threat to national security, but would not initiate an investigation based on membership to a group or possible First Amendment activity.