At least 29 people were injured Saturday evening after a bomb exploded in a dumpster in Manhattan's busy Chelsea neighborhood, while another suspicious device four blocks away was removed for further investigation, officials said.
None of the injuries appeared to be life-threatening, although one person was considered in serious condition. All the injured were released from hospital by 10:30 a.m. ET on Sunday morning, New York Gov. Andrew Cuomo told reporters.
On Sunday night, several people were taken into custody with a possible connection to the bombing, according to police. No one has been charged.
Mayor Bill de Blasio told reporters on Saturday night the blast was "an intentional act," but said terrorism was not likely because there were no current credible threats against the city.

"Now, it depends on your definition of terrorism," Cuomo later told reporters on Sunday morning. "A bomb exploding in New York is obviously an act of terrorism, but it's not linked to international terrorism."

"In other words, we find no ISIS connection, et cetera. But a bomb going off is generically a terrorist activity," Cuomo said.
By Sunday afternoon, de Blasio and NYPD Commissioner James O'Neill had described the explosion as a bombing, but said the motive was still being investigated.
"It was intentional. It was a violent act. It was certainly a criminal act. It was a bombing. That's what we know," the mayor said. "To understand any specific motivation, political motivations, any connection to an organization, that's what we don't know."
A person of interest was identified on Sunday night, but that person was not immediately described as a suspect, the New York Times reported. Surveillance video from the sites of both explosive devices appeared to show the same man, CNN reported. It was not clear if this person was taken into custody.

The components were rendered safe at the NYPD bomb squad facility, and the FBI laboratory at Quantico, Virginia will lead the forensic examination. The devices were made of pressure cookers, Christmas lights, shrapnel, and flip phones, law enforcement told the New York Times.

The explosion occurred near 23rd Street and Sixth Avenue at 8:30 p.m, police said. The NYPD's Counterterrorism Unit also responded to the scene and, in a tweet, confirmed the explosion originated from a large metal garbage can that was mangled after the loud bang.

Police said a second device was located in the nearby area, on 27th Street between Sixth and Seventh avenues.
A photo circulating on Twitter of the supposed device was confirmed as authentic by police to the New York Times.


As they placed the area around 27th Street into lockdown, the NYPD asked people inside buildings to stay away from the windows. Loudspeakers in hotel rooms told guests, "Take cover. This is not a drill."

BuzzFeed News has videos of a bomb disposal robot investigating the suspicious device:
After the explosion, witnesses described a loud, strong bang in 23rd Street that shook buildings in the area and blew out windows.

"It was the biggest blast I ever would imagine, lights flashing, glass shattering," an injured woman told the New York Times.
"It happened so fast I was thrown up and landed down, I didn't know where it had come from," said the woman, who was treated in a hospital for injuries to her eye and legs. "I realized there was blood streaming down my face, and I couldn't see out of my eye."
One nearby resident told BuzzFeed News he could smell the smoke when he walked out of his apartment just seconds after the blast.
Corey Johnson, a New York City councilman for the affected neighborhood, said the "explosion was extraordinarily loud, people could hear it blocks and blocks away, avenues away." He added, "I would assume it was a very sizable and significant explosion."

"I heard this tremendous, huge, strong explosion and thought, What was that?" said Danilo Gabrielli, 50, a fashion designer.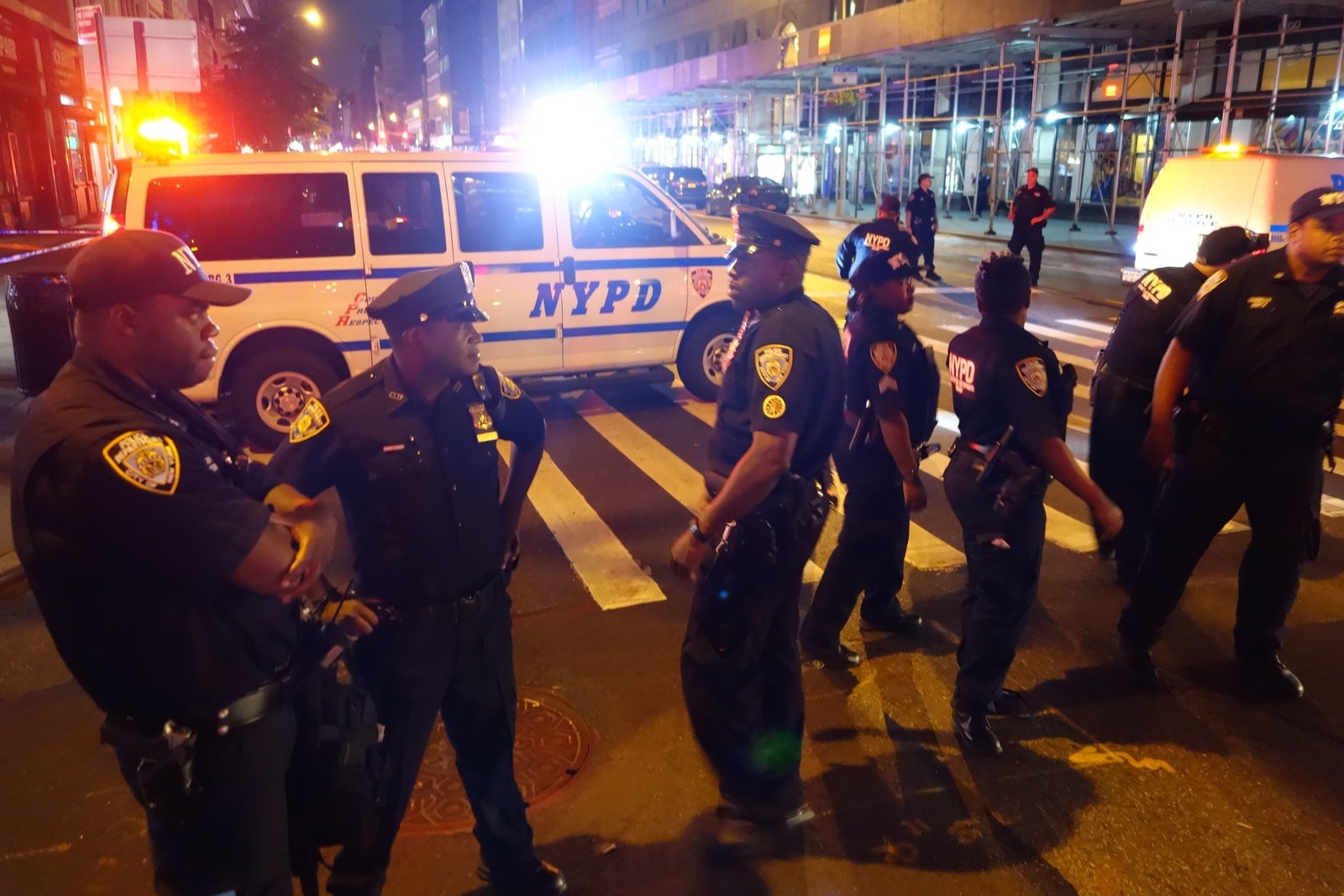 Gabrielli said he lives a block from where the explosion took place, but his entire building shook from the blast. Seconds after he heard the boom, his windows were still vibrating.
"I was scared," he said. "I was worried, and I am still worried that somebody died."
Gabrielli said he ran outside and could smell smoke and what seemed like metal in the air when he walked out into the street to find out what happened.
"It was definitely smoking, there was something in the air," he said.
Five minutes later, there was a helicopter above him and the street became filled with cops who began to cordon off the area and push him and others back, he said.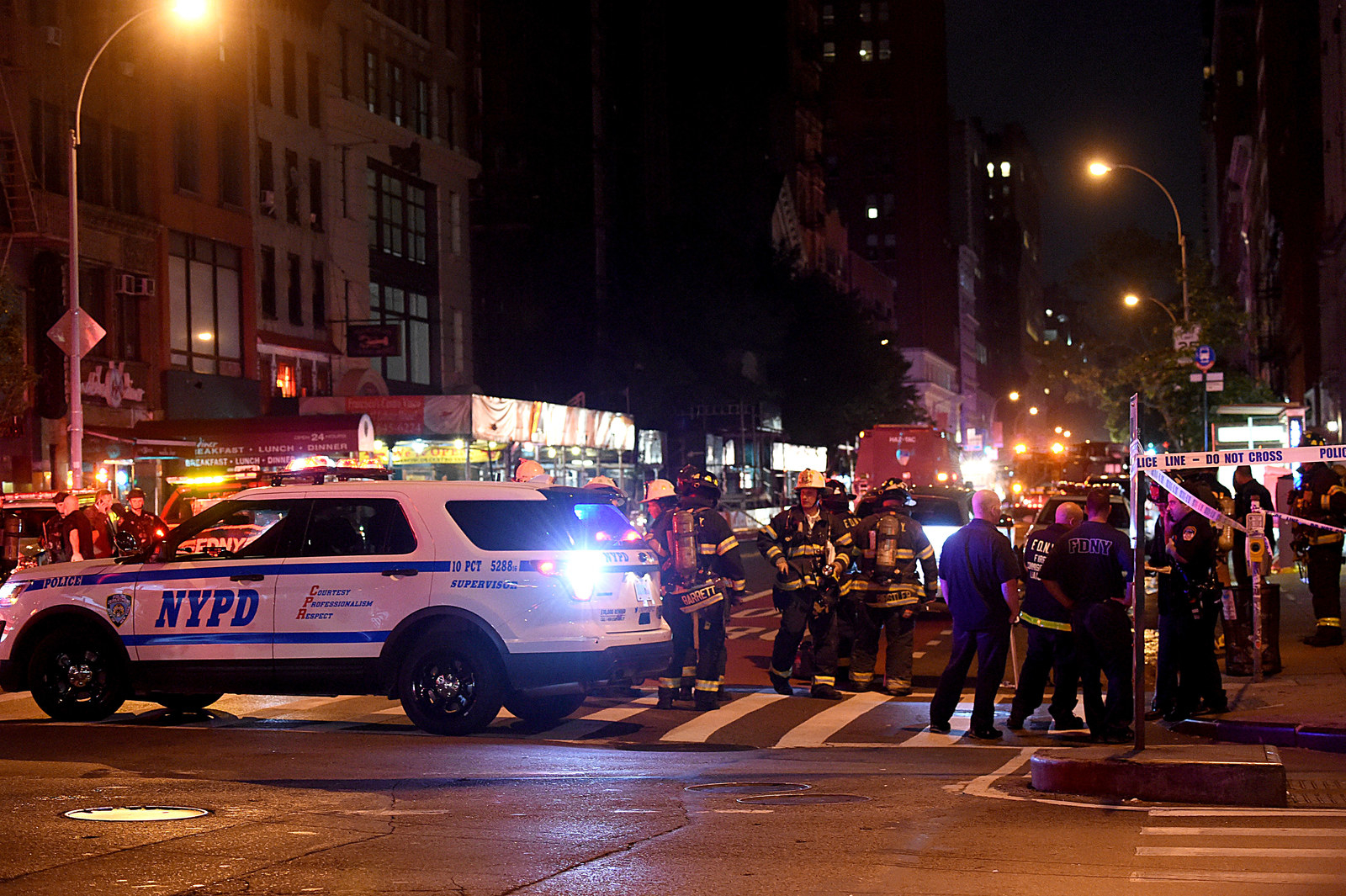 Several witnesses told NY1 that the area had been recently undergoing construction.
Ben Brooks, a Chelsea resident for nine years, told NY1 he was eating at a restaurant when the explosion happened.

"It sounded like an incredibly loud thunderbolt," he said. "People from the back of the kitchen came rushing up..
"Cops and firefighters were coming the other way down" the avenue, Brooks said, indicating the wrong way. "It shook the ground as if it were a loud explosion."
"I hoped it was a construction," he said. "It's unexpected and it has me shaken about what's going on."
President Obama has been briefed on the situation and will receive updates, the White House said.
The Department of Homeland Security was "actively monitoring and participating in the investigations," Secretary Jeh Johnson said in a statement on Sunday.
Video posted by people in the area also showed what appeared to be FBI agents searching the area with flashlights.
People near the area reported hearing the explosion, some saying they heard the loud bang blocks away from its source.
Alexa, who was heading to a club, Bounce, with friends when the explosion happened, told BuzzFeed News she saw "police cars, saw fire trucks. Just when we got out of the car. It looked like a cloud but it was coming from the building."
Danielle, her friend, said, "There was smoke in the air."
The bang was reported hours after an explosion in Seaside Park, New Jersey, where a charity race was expected to pass through.
Because of an unexpected delay, however, officials said there were no people near the explosion of a trash can and no injuries were reported. New York City officials said they don't think the explosions were related.
Gov. Cuomo said he and New Jersey Gov. Chris Christie were coordinating resources on the two blasts, but said the devices appeared to be of a different nature.
Cuomo said 1,000 extra NYPD officers and National Guard members would patrol bus depots, subway stations, and airports "to err on the side of caution."
"As governor of New York, this is my worst nightmare," Cuomo said.

By Sunday afternoon, New York fire officials had inspected the damaged buildings and found them to be structurally sound, FDNY Commissioner Daniel Nigro told reporters.
In a statement, Hillary Clinton said she condemned the apparent terrorist attack in New York as well as those in New Jersey and Minnesota, and she prayed for the wounded.
"Once again, we saw the bravery of our first responders who run toward danger to help others. Their quick actions saved lives," Clinton said. "Law enforcement officials are working to identify who was behind the attacks in New York and New Jersey and we should give them the support they need to finish the job and bring those responsible to justice - we will not rest until that happens."
At a rally in Colorado Springs, Donald Trump told the crowd a "bomb went off in New York" though it was unclear what caused explosion.

"I must tell you that just before I got off the plane a bomb went off in New York and nobody knows what's going on. But boy we are living in a time — we better get very tough, folks. We better get very, very tough. It's a terrible thing that's going on in our world, in our country, and we are going to get tough and smart and vigilant."