An Arizona man was sentenced to 68 years in prison for his part in a Nevada standoff between federal agents and armed supporters of rancher Cliven Bundy, whose anti-government protest became a rallying cry for militia groups across the country.
Gregory Burleson, 53, was the first to be sentenced in connection with the 2014 standoff near Bunkerville, Nevada. He was found guilty in April on multiple felony counts, including threatening and assaulting federal officers, obstruction of justice, and traveling across state lines to commit extortion.
Burleson, thinking he was speaking to documentary filmmakers who were in fact undercover FBI agents, was recorded saying he was "hell bent on killing federal agents that had turned their back on we the people," The Las Vegas Review-Journal reported.
A total of 17 people, including Cliven Bundy and his sons, Ammon and Ryan, have been charged in the standoff.
The Bundy family had been in dispute with the federal government for years over grazing fees that Cliven Bundy refused to pay. The dispute grew into an armed conflict in the Nevada desert after federal officials began to confiscate Bundy's cattle because of the unpaid fees.
The standoff became a rallying point for supporters of ranchers who argue they should have more access to public lands, as well as militia groups and anti-government figures who saw the skirmish as a chance to confront federal agents.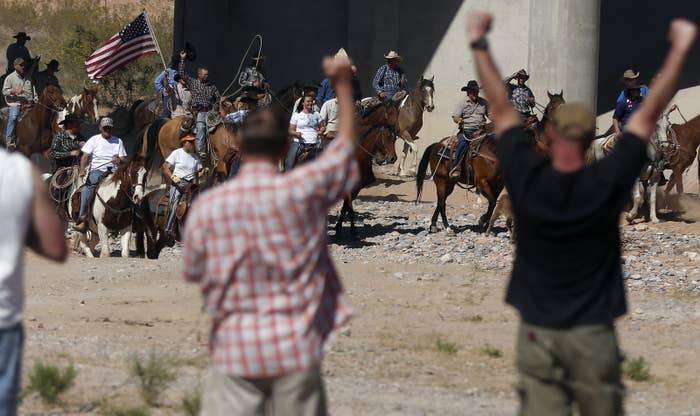 Authorities eventually stood down, a move Bundy and his supporters quickly claimed as a victory, and one that the family sought to repeat.
In late 2015, Ammon and Ryan Bundy traveled to Oregon to organize a similar standoff there, demanding that the federal government return federal lands to local ranchers and counties.
Although the Nevada standoff ended without bloodshed, the Oregon confrontation ended in the death of Arizona rancher Robert "LaVoy" Finicum and the arrest of leaders of the armed protest.
Then early in 2016, federal prosecutors announced charges against Cliven Bundy and his sons, as well as leaders of the Nevada and Oregon standoffs.
Some of those charged in the Oregon case pleaded guilty to federal charges, but the Bundy siblings and other leaders of the standoff were found not guilty in October, dealing a blow to federal prosecutors and casting doubt on whether the Department of Justice would be able to garner convictions in the Nevada case.
On Wednesday, Burleson received the longest sentence handed down to Bundy supporters in the two standoffs.
According to court documents, Burleson traveled to Nevada carrying weapons with two other men in April 11, 2014 to take part in the standoff. He is described in court documents as a gunman who "impeded, intimidated, interfered with, assaulted, and extorted federal law enforcement officers."
A request by Burleson's attorney to have the Arizona man released while the case was appealed was denied.