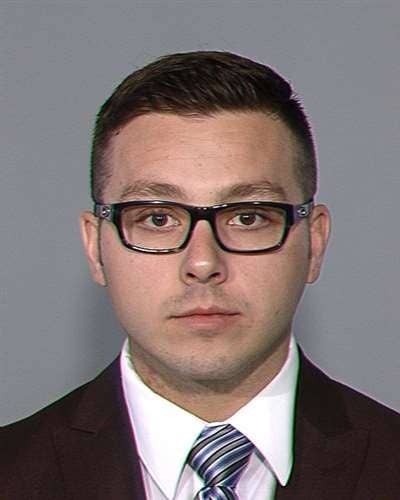 "Please don't shoot me," Daniel Shaver begged police.
Moments later, an officer shot and killed the 26-year-old Texas man.
The officer, identified as Philip Brailsford of the Mesa, Arizona, Police Department has since been charged with second-degree murder and fired.
In a newly released police report detailing body camera footage of the Jan. 18 shooting, Shaver is described as sobbing and complying with commands as police ordered him to crawl toward them. Officers repeatedly threatened to shoot him if he did not comply.
"Alright, if you make a mistake, another mistake, there is a very severe possibility you are both going to get shot. Do you understand?" one officer is described as telling him.
Shaver replied, telling officers, "No, please don't shoot me."
On March 4, the Maricopa County Attorney determined that the shooting was not justified and filed second-degree murder charges against the officer.
Mesa police released the report Tuesday, but have declined to release the video captured on the officer's body camera.
According to the county attorney's office, police were called on Jan. 18 about reports of a man pointing a rifle outside the fifth floor window of a hotel.
Officers stood outside one of the rooms on the fifth floor and commanded everyone to come out. After Shaver and a woman exited, they were told to get on the ground, according to the police report.
Shaver was ordered to crawl toward the officers, and the woman who was with him said he appeared to be pleading with police.
After crawling on all fours toward the officers, the man was told to get on his knees. Shaver complied, but then made a motion with his right hand toward his waist, prompting Brailsford to fire his gun five times.
According to the police report, the movement was similar to someone reaching for a weapon on their waist, as well as someone trying to pull up their sagging shorts.
"It appeared his shorts had fallen partially down his legs at that point," the report read.
In a YouTube video posted Tuesday, Laney Sweet, Shaver's wife, said prosecutors are considering a plea deal with Brailsford, where he could plead guilty to negligent homicide and avoid the more serious charge of second-degree homicide.
She also posted an audio recording of people she identified as prosecutors, including County Attorney Bill Montgomery, telling her she could not speak to the media if she viewed the officer body camera video of the shooting.
The Maricopa County Attorney's office declined to comment to BuzzFeed News on the possible plea deal, or on the authenticity of the recording, because of the ongoing case.
Sweet said she declined to view the video under those conditions.