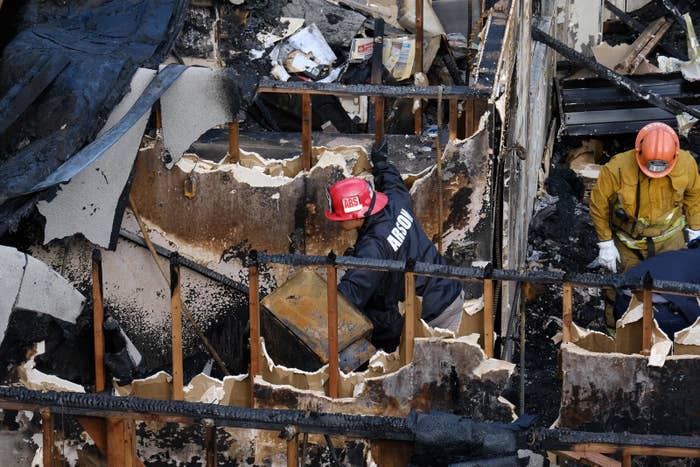 LOS ANGELES — A transient accused of killing five people after intentionally setting fire to an abandoned building was in the country illegally, officials told BuzzFeed News.
Although the 21-year-old man has been under supervision of U.S. Immigration and Customs Enforcement for two years, officials on Saturday said immigration proceedings were never begun for the Honduran national.
Johnny Sanchez was being held on $1 million bail after authorities found five bodies in an abandoned office building that erupted in flames in the city's Westlake district on June 13.
All five victims inside appeared to have been homeless persons who used the empty building for shelter, officials said.
Sanchez had been amongst a group of people who were stopped and arrested by agents along the southeastern California border in November 2012, Virginia Kice, spokeswoman for U.S. Immigration and Customs Enforcement told BuzzFeed News.
"After conducting a thorough review of Mr. Sanchez's case, and determining he had no prior immigration or criminal history, ICE released him under an order of supervision," she said.
Sanchez regularly reported to immigration officials for nearly two years, until August 2014.
ICE reviewed Sanchez's immigration case after he was arrested in connection to the arson fire earlier this week, and also found that "for an unknown reason" immigration proceedings were never started for his case.
However, immigration proceedings - which would review immigration status and possible deportation - were done for the other people who had been arrested with Sanchez in 2012, Kice said.

"ICE's inquiry into the matter is continuing," she said.
The Los Angeles Times reported that Sanchez had also been arrested three times earlier this year, in January, May, and June.

Sanchez remains in Los Angeles County jail in lieu of $1 million bail, and ICE officials have also placed an immigration detainer against him — a request to be notified if there are any plans to release him so the federal agency can take him into custody.