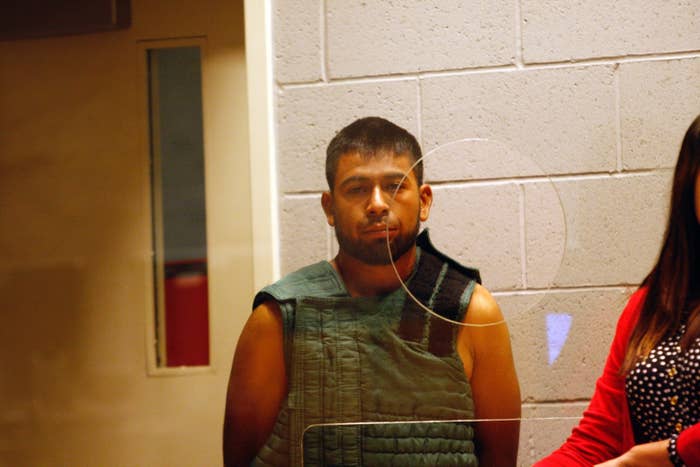 A man accused of shooting and killing three people in an Oregon blueberry field had been deported six times, U.S. Immigration and Customs Enforcement officials told BuzzFeed News.
Bonifacio Oseguera-Gonzalez, 29, is accused of shooting four people near Woodburn, Oregon, on Monday. Three of them died from their injuries.
Law enforcement officials have not released a possible motive for the deadly shootings, but the killings caught national attention when presumptive Republican presidential nominee Donald Trump tweeted about the crime, stating that the 29-year-old suspect, "should have never been here."
On Friday, U.S. Immigration and Customs Enforcement officials confirmed to BuzzFeed News the 29-year-old had faced a half dozen deportations in the past since 2003.
Most reently, he was last deported in 2013, according to a statement released by ICE.
Somehow, Oseguera-Gonzalez, a Mexican national, returned to the United States and made his way to Oregon, where Marion County Sheriff officials said he frequented the home where the deadly shooting occurred Monday.
Two of the victims, identified as 60-year-old Ruben Rigoberto-Reyes and 26-year-old Edmundo Amaro-Bajonero, were found dead at the scene by deputies.
Katie Gildersleeve, 30, was taken to a nearby hospital but died of her injuries, officials said in a statement. A fourth victim suffered critical injuries.
Oseguera-Gonzalez pleaded not guilty earlier this week to three counts of murder and one county of attempted murder.
Trump's comments on the case aren't the first time he's referred to crimes committed by undocumented immigrants in his campaign for the White House.
The presidential hopeful has often referred to the case of Kathryn Steinle, who was allegedly killed by an undocumented immigrant while walking at a San Francisco pier. At campaign rallies, he has also invited members of The Remembrance Project, which includes relatives of victims of crimes committed by undocumented immigrants.
ICE officials have asked Marion County officials to turn Oseguera-Gonzalez over to their custody if he is released.