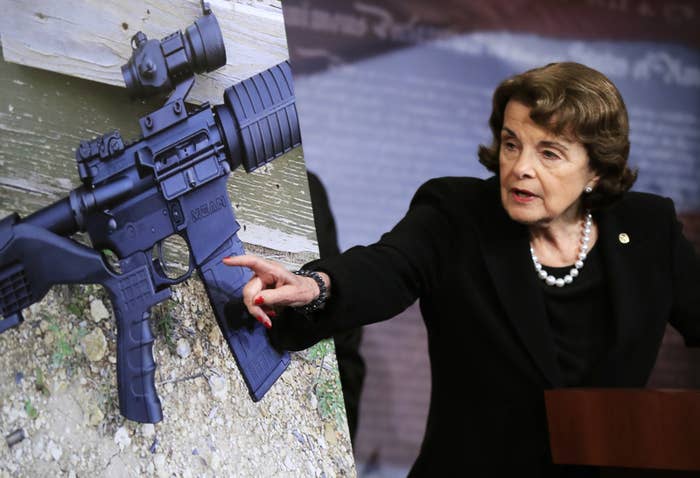 Democrats in both the House and Senate unveiled new legislation Wednesday to ban the inexpensive device used by the Las Vegas gunman to rapidly fire semi-automatic rifles like machine guns in the deadliest mass shooting in modern US history.
Twelve "bump stock" devices were attached to firearms found in Stephen Paddock's Mandalay Bay hotel suite where he took aim at a crowd of concertgoers Sunday night, killing 58 people and injuring more than 500 others.
Automatic weapons, only legal if made before 1986, are heavily regulated by the federal government, requiring approval and registration with the Bureau of Alcohol, Tobacco, Firearms and Explosives. But bump stock devices, available for about $200 to 350 in most states, can easily make legal guns mimic the functionality of a machine gun.
"Automatic weapons have been illegal for more than 30 years, but there's a loophole in the law that can be exploited to allow killers to fire at rates of between 400 and 800 rounds per minute," said Sen. Dianne Feinstein, a California Democrat. "The only reason to fire so many rounds so fast is to kill large numbers of people."
Feinstein's bill has 24 cosponsors, and a companion bill in the House has nearly 100 cosponsors, but only Democrats have signed on so far. With Republicans in charge of both houses, and Senate Majority Leader Mitch McConnell on Tuesday dismissing any kind of gun legislation at the moment, the bills face an uphill battle.

"It's particularly inappropriate to politicize an event like this," McConnell told reporters on Tuesday. "Entirely premature to be discussing about legislative solutions, if any."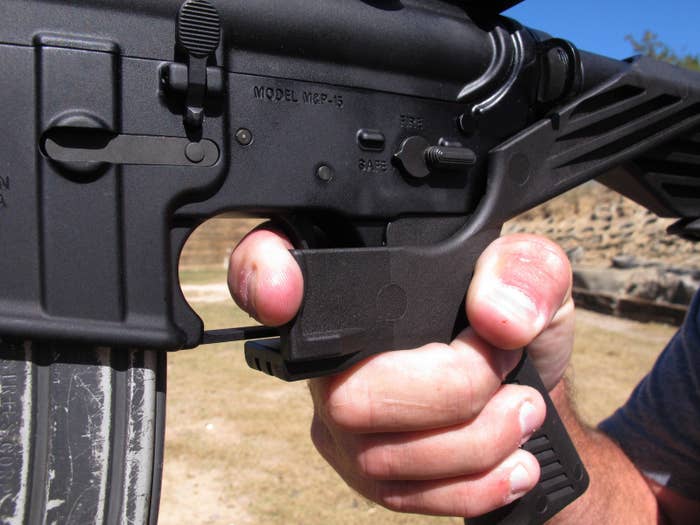 But some top-ranking Republicans, including House Speaker Paul Ryan, said they are willing to look at a narrow bill targeting bump stocks.

Ryan told MSNBC on Thursday that he only recently learned about bump stocks despite being an avid hunter.

"Apparently this allows you to take a semi-automatic and turn it into a fully automatic. So clearly that's something we need to look into," Ryan said.

As Politico reported Wednesday, Senate Majority Whip John Cornyn, of Texas, reportedly asked his staff to research the use of the devices and seemed open to the idea of a hearing.
"I'm not sure how these bump stocks fit into that scheme, but that's certainly something that's got my attention and I think we ought to get to the bottom of it," he told Politico.

On Thursday, the Republican senator from Arkansas, Tom Cotton, said he would "be willing to entertain" the possibility of regulating bump stocks, while Sen. Jeff Flake of Arizona, said, "that's something we're going to be looking at," CNN's David Wright reported.
John Thune, a Republican from South Dakota, also said the Senate "ought to look into" the device, while Pat Toomey, the Republican senator from Pennsylvania, said he was "certainly open to Congress holding hearings to learn more about bump stocks."

Only one Republican, as of Wednesday afternoon, has called for an outright ban of bump stocks.

Rep. Bill Flores, from Texas, told The Hill he's a gun owner himself, and believes the devices should be outlawed.
"I think they should be banned," he said. "There's no reason a typical gun owner to own anything that converts a semi-automatic to something that behaves like an automatic."

Even as the possibility of outlawing bump stocks is being discussed by both parties, the devices have sold out on several online retailers websites, the Trace reported. As the Trace pointed out, gun sales tend to surge in the aftermath of mass shootings, especially when there's talk of new gun regulations.
Democrats, meanwhile, are moving forward with their bills, including Feinstein, who advocated a ban on assault weapons after the 2012 Sandy Hook Elementary School shooting. Her "National Firearms Act" bill, introduced Wednesday would ban the sale, transfer, and manufacture of bump stocks, trigger cranks, and other devices that would modify semi-automatic weapons to fire as fast as automatic weapons.
The bill is identical to the one introduced in the House by Rep. David Cicilline, a Rhode Island Democrat.
"No person should possess a device that turns a semi-automatic rifle into the equivalent of a machine gun," said Cicilline in a statement. "The sole purpose of these devices is to fire as many bullets as possible as quickly as possible."
Rep. Dina Titus, who represents the Las Vegas area, cosponsored the bill.
"The victims and families in Las Vegas don't need an explanation about the difference between machine guns and firearms with bump stocks," Titus said. "They need action."