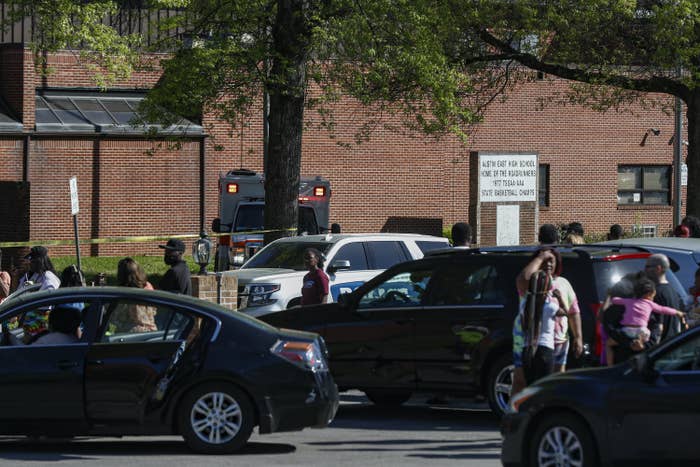 An armed student who shot at an officer at a Tennessee high school was killed by return fire, authorities said Monday.
The shooting occurred when police tried to confront the student in a restroom of Austin-East Magnet High School after receiving information he may have been armed, police said.
"They ordered him to come out, but he refused to comply," Tennessee Bureau of Investigation Director David Rausch said at a news conference.
When officers entered, Rausch said, the student fired, hitting one of the officers.
"One officer returned fire," Rausch said. "The suspect was pronounced dead at the scene."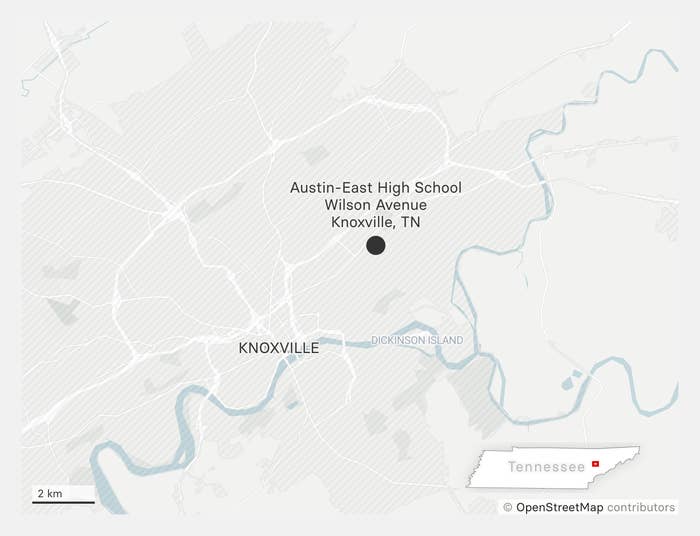 Officers first responded to the school at 3:15 p.m. after getting a report of the armed individual, police said in a statement.
The shooting prompted officials to shut down the school and warn nearby residents to stay away from the area as officers from multiple agencies responded.
Asked why the unidentified student may have been armed, Rausch said it was still too early in the investigation to determine what the intention was at the time.
"All that is too preliminary to have detail," he said.
In an earlier statement, Knoxville Police had said one person had also been detained after the shooting. Rausch said if someone had been initially detained, it was as a possible witness.
Knoxville Police Chief Eve Thomas said the officer who was wounded was undergoing surgery.
Tennessee Gov. Bill Lee was briefed on the incident just moments before a press conference where he was set to speak on federal funding and reopening schools.

"We don't have a lot of details, it's a current situation right now," Lee said. "I just wanted to make reference to that and ask for all of you, for those who are watching online or otherwise, to pray for that situation and for the families and the victims that might be affected by that in our state."
Last month, the Knoxville News Sentinel reported four teenagers with ties to Austin-East Magnet High School had been fatally shot in separate incidents so far in 2021. Austin-East student Justin Taylor, 15, was killed on Jan. 27, while 16-year-old Stanley Freeman Jr. was shot on Feb. 12 as he was leaving the school. Four days later, on Feb. 16, another Austin-East student, Janaria Muhammad, 15, was killed. She had been the captain of the school's dance team. A fourth student, Jamarion Gillette, was fatally shot after he was shot on March 9.
"My heart hurts for our students," Assistant Principal Denise Watts tweeted on Feb. 16. "My heart hurts for our teachers. My heart hurts for our counselors. My heart hurts for our support staff. My heart hurts for my fellow administrators. My heart hurts."

"The school has been through a lot this year, and it's not their fault," Knoxville Mayor Indya Kincannon told reporters at a press conference Monday, which was meant to be the city's first day of "Youth Violence Prevention Week," a promotional event to address violence in the community. "The students, their parents, their families, every single staff member at the school is doing their best to make it through some very difficult times."
The American Public Health Association says gun violence in the US is a public health crisis. It is the leading cause of premature death in the country, responsible for more than 38,000 deaths annually.
Mass shootings tend to draw more national media attention and are shockingly common in the US compared to other countries, even if they make up only approximately 1% of gun violence deaths. So far in 2021 at least 4,985 people have died from gun violence by April 7, not including those who've died by suicide, according to data from the Gun Violence Archive. Of those, at least 27 were killed in mass shootings.

Just last week, a former NFL player killed six people, then himself, in South Carolina, while three members of one family in Brooklyn and four members of another in Dallas were killed by family members armed with guns who then killed themselves. Additionally, one person was killed and five others injured in a shooting at a custom cabinet business in Bryan, Texas.
In March, 10 people were shot dead in a Boulder, Colorado, grocery store, while eight were killed at spas in Atlanta.
President Joe Biden signed narrow executive orders on gun control last week, but acknowledged he could only do so much without Congress. "Gun violence in this country is an epidemic and an international embarrassment," Biden said.