There were heated scenes between Ku Klux Klan supporters and anti-racism protesters in South Carolina's capital, Columbia, on Saturday, during rival demonstrations for and against the Confederate flag.
The Confederate flag rally was organized about a week after lawmakers in South Carolina voted to take down the Confederate battle flag from state grounds following the killing of nine African Americans in a historically black church.
On Saturday, members of the Ku Klux Klan gathered outside the state capitol, carrying large Confederate flags, while opposing protestors held anti-racism banners and signs.
Live video of the event showed protestors on opposite sides yelling at one another, with some encounters turning violent, according to multiple reporters on scene and the South Carolina Department of Public Safety.
Several fights broke out during the demonstrations, and law enforcement on scene made the decision to end the rally an hour ahead of schedule "in the interest of Public Safety," state officials said in a statement.
Stephen Calabria, who was at the capitol, captured images of two men being taken into custody, including an instance where a law enforcement officer drew a weapon and ordered a man on the ground.
The man can be seen dropping something when the officer orders him to, "drop the knife."
Sherri Lacobelli, spokeswoman for the South Carolina Department of Public Safety told BuzzFeed News a crowd of about 2,000 people gathered at one point. Five people were arrested.
One person was arrested on suspicion of disorderly conduct, two for simple assault, and two for breaching the peace, officials said. Seven people were treated by paramedics, according to the South Carolina Department of Public Safety.
A North Carolina-based chapter of the KKK expected about 200 supporters at the rally, Reuters reported, but people on social media reported a smaller crowd.
Live video from the rally showed people yelling obscenities at one another, while one Confederate flag supporter stomped on the Israeli flag.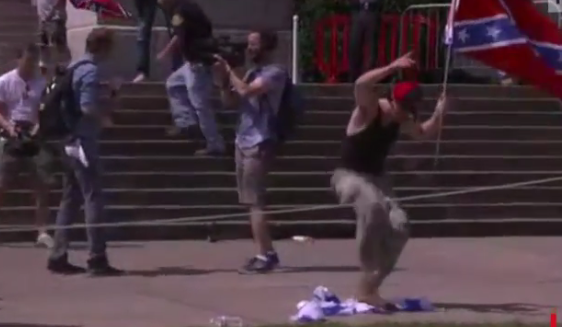 One Confederate flag supporter, who identified himself to Vice News as a "leader" in the KKK, said they felt "very welcome here."
Governor Nikki Haley, who supported the efforts to take down the Confederate flag, urged people to stay way from the "disruptive, hateful spectacle members of the Ku Klux Klan hope to create."
But opponents of the flag and the KKK defied the governor's pleas and gathered on the capital grounds to protest against the racism on display.
Reuters reported that Black Educators for Justice had organized a counter protest to the KKK rally, with about 300 supporters expected.
Pictures from the scene showed hundreds of people, both black and white, being held back behind police lines while the KKK supporters held their sanctioned protest.
Around 4 p.m. ET, the klansmen were seen being escorted from the protest by police officers, who formed a human barricade around them.
BuzzFeed News is awaiting more information from the state capitol police and Columbia police department.