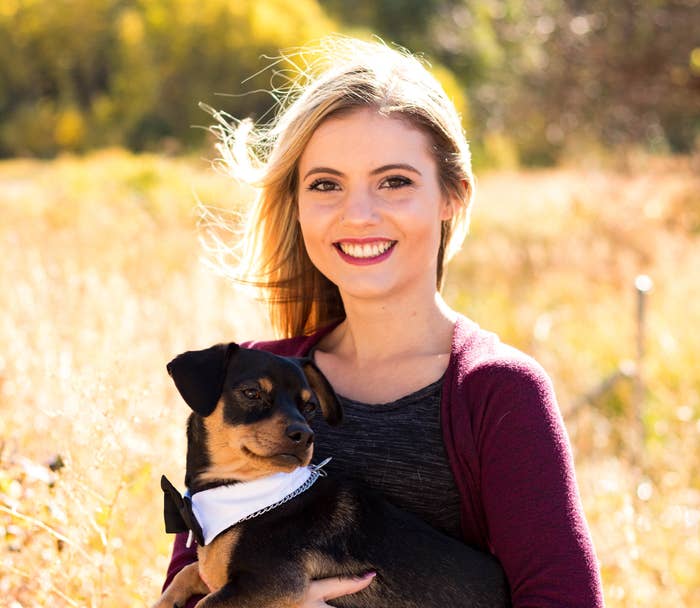 If there was any question about the hard work teachers are putting in while grappling with distance learning during the coronavirus pandemic, take a look at the intensity with which Mackenzie, 24, teaches her kindergarteners about the number 4.
"Oh! I see Brin is holding up the number 2 and 2," she says in a TikTok, holding up both her hands with two fingers out, with the cheerful tone you might expect from a Disney character. "That will also make 4!"
Mackenzie, a teacher from Washington who asked to only be identified by her first name, just wanted to take a quick video of herself to see if she was projecting the right energy to keep her kindergartners' attention. But the short TikTok posted on Monday instead gave people a peek at the vigor and hard work teachers are putting in while teaching during the pandemic.
Without missing a beat and the same liveliness, the video shows her drawing the kids' attention to their screen, keeping her eyes directly on the screen and smiling unrelentingly, asking them what pictures they see of the number 4.
"Grayson, go ahead and turn your microphone on for me!" she says with unflinching enthusiasm.
Mackenzie uploaded the TikTok between classes Monday and it since has received nearly 2 million likes on the platform, with many people applauding her energetic teaching.
"The response has been wonderful," she told BuzzFeed News. "I think the video has really given people insight into what early education looks like online."
If you have young kids in distance learning these days, Mackenzie's style will seem absolutely familiar — the overanimated hand gestures, the unyielding gleeful voice, the overwhelming patience, and the unwavering smile while staring directly at a bunch of 5-year-olds.
Even the placard of a microphone, reminding kindergartners to unmute themselves before talking, has turned into a universal teaching tool.
Some people who have viewed the video seemed to believe she was overacting, or at least acting specifically for TikTok, but Mackenzie explained that the energy she shows in the videos is genuine and necessary, especially when trying to keep the attention of kindergartners.
"I feel like you really have to up the ante when it comes to facial expressions and arm movements," she said. "Online, you really have to amp it up."

Not only do the young students have short attention spans and are brand new to the idea of attending a class via videoconference, but teachers have to also compete with all the distractions the kids might face when attending school from home.
"In order to keep 5- and 6-year-olds engaged, you really have to do a performance for them," she said. "I do think that teachers are actors and we have to put on a show for these kids to keep them engaged when they're in their homes."
"I wasn't exaggerating for the camera or doing anything but teaching," she said. "I was just trying to make sure they were looking at me and not their doggies."
The video also shows Mackenzie guiding one of her students through "technical difficulties" as he tries to unmute himself.
She sits there, looking directly at the camera and giving him an enthusiastic thumbs up with both hands when he finally figures it out.
"They're still learning the computer and, thankfully, the parents have been helping with everything, too," she said.
The response online has been overwhelming, with people cheering teachers like Mackenzie and urging them to get a pay raise.
Mackenzie said she spends about three hours a day with her kindergarten class, with breaks in between to give the kids some respite from the screen.
But the energy that it takes to keep up her enthusiasm onscreen is tiring, she said. She often wraps up her workdays with headaches.
"After watching that video, it completely makes sense," she said. "My face is so big and animated."
It's difficult to keep a smile going the entire time, she said, but it helps keep the kids engaged.
When one of her friends saw the video, she said, they asked her if she ever blinked during class.
"I don't think I blinked," she said, laughing. "But it does take a toll."
But she hopes the video gives people an idea of how teachers are working in these times, trying to make the transition for students learning online as seamless as possible.
"I think they're realizing how hard it is to be a teacher," she said. "Teachers definitely don't get enough credit for what we do and [people] never get to see teachers in action."
She also hopes people can see that through her cheery tone and her animated hand movements about the number four, "it's just me doing my job."