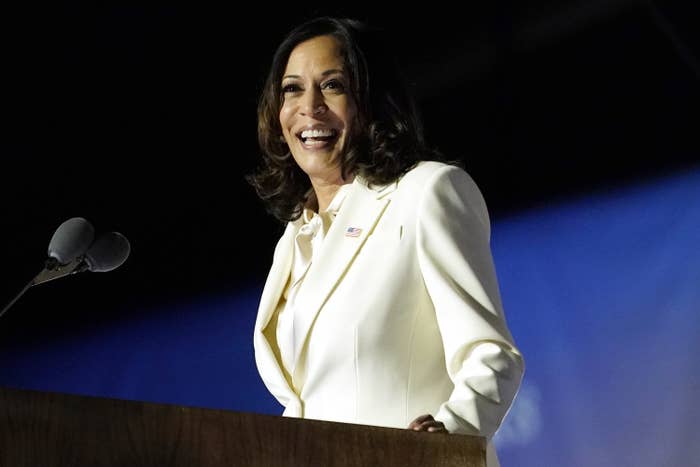 Wearing a white suit in a nod to suffragettes who came before her, Kamala Harris on Saturday spoke for the first time as the vice president–elect.
As the first woman, Black woman, and South Asian vice president–elect, Harris broke a number of barriers on the Democratic ticket, and women had a strong reaction as she delivered her victory speech.
People immediately took notice of her white suit as she stepped up on stage, an obvious nod to the suffragette movement that fought to win women the right to vote.
Harris immediately acknowledged the fight of women before her who fought for women's rights, and for their right to vote.
"Women who fought and sacrificed so much for equality and liberty and justice for all," Harris said, singling out Black women in her speech. "Including the Black women who are often, too often, overlooked but so often proven they are the backbone of our democracy."
The daughter of immigrants, Harris was born to a Jamaican father and Indian mother, and quickly rose to political prominence as attorney general of California and then as a senator representing the state.
After breaking a series of barriers for women and immigrants in the US, Harris's speech was an emotional one for many women witnessing the historic moment as she spoke for the first time as the vice president–elect.
For some women, the moment was not just important for them, but for the younger generations who would know a woman, and daughter of immigrants, had a place in the White House.