Justice Department Opens Civil Rights Investigation Into Shooting Of Unarmed South Carolina Teen
The federal investigation will run alongside the state's investigation into the deadly police shooting of Zachary Hammond, officials said.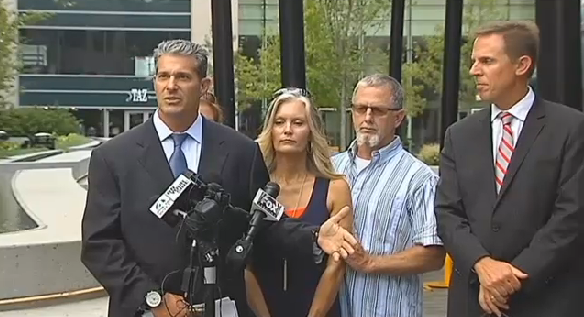 The U.S. Department of Justice and FBI launched a civil rights investigation Wednesday into the police shooting of Zachary Hammond, an unarmed 19-year-old killed in July by a South Carolina police officer.
Officials said the Seneca, South Carolina, police officer who shot Hammond was afraid for his life when Hammond drove his car toward him. Hammond's parents, however, said an independent autopsy suggests the bullets went through the driver's-side window of the car, suggesting the officer was not in danger or in the vehicle's path.
On Wednesday, federal officials confirmed to BuzzFeed News they were launching a civil rights investigation into the deadly shooting.
"This investigation will run parallel to the state's investigation," said Special Agent Donald Wood of the FBI's Columbia Field office.
Hammond's parents, Paul and Angie Hammond, have been asking for weeks for federal authorities to intervene in the investigation of their son's death.
Hammond's family has also asked for wider transparency from Seneca police as officials investigate the July shooting.
"We're very relieved that the federal government is going to do this," Eric Bland, an attorney representing Hammond's parents, told BuzzFeed News. "They have the resources [and] independence that a local prosecutor doesn't."
Bland said he hopes federal officials will expand their probe into the Seneca Police Department's "aggressive policing."

He said he and his clients attempted to get information from the department about the shooting, but officials there have been "very combative."
The police department initially refused to release the name of the officer who shot Zachary Hammond, but last week identified him as Lt. Mark Tiller.

Tiller's attorney, John Mussetto, released a statement saying the officer responded to a Hardee's parking lot for an undercover drug deal.
The 10-year veteran fired two shots because he feared for his life, Mussetto said.
Police arrested a 23-year-old woman who was in the car with Hammond, and seized a small amount of marijuana.
"It's been very difficult to deal with the death of our son, and we just want answers," Angie Hammond said during a press conference Wednesday.
Zachary Hammond's death began to gain national attention last week as his parents pressed Seneca police for additional details about the shooting. On Wednesday, they again asked for police to release dashcam video of the shooting.
Though Hammond is white, activists with the Black Lives Matter movement also began tweeting about his case, mentioning his name alongside other victims of police force.
"We can't be in a society where young teenagers are gunned down by law enforcement," Bland said during the press conference.
South Carolina TV station WIS reported that one of the officers who responded to the shooting resigned this week.
Bland told BuzzFeed News that Officer Anthony Moon arrived at the scene about 40 seconds after the shooting occurred, and he believes his departure may be connected with the shooting.

The department has offered few details about his departure.
"Former officer Moon was on the scene of the officer involved shooting that occurred at Hardee's on 07-26-15," said Seneca Police Chief John Covington in a written statement. "Moon was not directly involved in the incident, had no contact with Mr. Hammond and arrived after the shooting had already occurred."