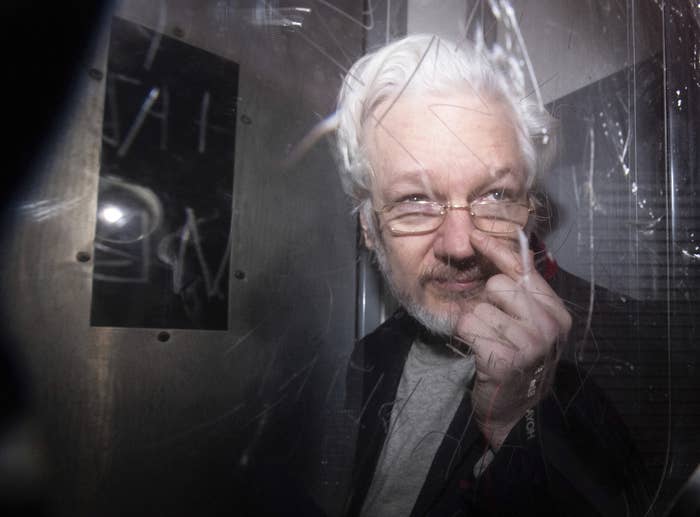 Attorneys for Julian Assange claimed Wednesday that President Donald Trump offered a pardon to the WikiLeaks founder if Assange would say that Russia was not involved in the 2016 hacking of emails from the Democratic National Committee.
According to British media in court, Assange's attorneys said the message of a possible deal was relayed to him by former Republican lawmaker Dana Rohrabacher in 2017, when the California politician traveled to London to meet with Assange at the Ecuadorian embassy.
However, Rohrabacher himself soon disputed their account.
Assange's attorney said the deal was offered to him by Rohrabacher "on instructions from the president."
"Mr. Rohrabacher going to see Mr Assange and saying, on instructions from the president, he was offering a pardon or some other way out, if Mr Assange...said Russia had nothing to do with the DNC leaks," Assange's lawyer Jennifer Robinson said in a statement, according to the Guardian.
The claim was made during a pre-extradition hearing, where lawyers representing Assange have argued he should not be extradited to the United States to face federal charges for an alleged conspiracy. The charges say Assange colluded with former Army intelligence analyst Chelsea Manning to solicit and publish classified information related to the Iraq and Afghanistan wars.

After reports of the claim were published, Rohrabacher released a statement saying he had not been directed by Trump to meet with Assange, but "was on my own searching out information I thought was important to the country when I visited Assange."
"At no time did I offer Julian Assange anything from the President because I had not spoken with the President about this issue at all," Rohrabacher said. "However, when speaking with Julian Assange, I told him that if he could provide me information and evidence about who actually gave him the DNC emails, I would then call on President Trump to pardon him."
Rohrabacher said he did not "offer a deal made by the President, nor did I say I was representing the President."
Once he returned from London, Rohrabacher said he contacted then–chief of staff John Kelly to let him know that Assange would provide information about the DNC hack "in exchange for a pardon," but he said that no one from the White House followed up on his call.
Attorneys for Assange have been making the argument that the criminal case against him in the US is politically motivated and, therefore, he should not be extradited.

Assange's attorneys did not immediately respond to BuzzFeed News' inquiries.
Representatives at the White House told BuzzFeed News that Trump "barely knows Dana Rohrabacher other than he's an ex-congressman."
The White House spokesperson said the pardon claim was a "complete fabrication" that was "probably another never-ending hoax and total lie from the DNC."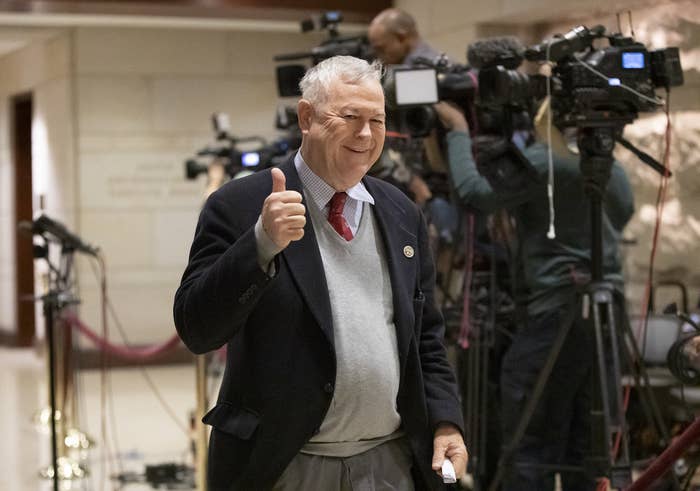 Rohrabacher, who was voted out of office in 2018 after representing portions of Orange County for 20 years, has spoken publicly about meeting with Assange and talking to Kelly.
The Wall Street Journal reported in September 2017 that Rohrabacher tried to broker the deal just a few weeks after meeting with Assange in the Ecuadorian Embassy in London.
"He would get nothing, obviously, if what he gave us was not proof," the Wall Street Journal reported Rohrabacher told the White House.
Rohrabacher would not confirm details of the conversation to the Wall Street Journal, but he told local news outlet KCAL 9, after the report was published, that he had been in conversations with both parties to see "what can be offered."
Dubbed "Putin's favorite congressman" by Republican leaders during a recorded conversation, Rohrabacher has been a defender of the Russian leader in Congress and met in 2016 with Kremlin-linked Russian attorney Natalia Veselnitskaya, who met Trump campaign officials in Trump Tower to discuss "dirt" on Hillary Clinton.
Before leaving Congress, Rohrabacher had said he was looking to disprove that Russia had colluded with the Trump campaign in the 2016 election, and establish that Assange had told him that Russia had not been the source of the Wikileaks DNC emails.
US intelligence agencies have determined Russia hacked emails from the Democratic National Committee and provided them to Wikileaks to publish the embarrassing material.
Former special counsel Robert Mueller, whose team investigated Russian interference in the 2016 election, testified in Congress that the Russian government saw a Trump victory as beneficial.
Despite the consensus in the intelligence community, Trump has repeatedly cast doubt on the determination.
During a call with Ukrainian President Volodymyr Zelensky in September, Trump asked about "CrowdStrike" and "the server, they say Ukraine has it" — references to a debunked conspiracy that Ukraine, not Russia, meddled in the US election.
CrowdStrike, a company that provided security and cyberattack response services to the DNC, determined Russian-backed hackers broke into the DNC network. The debunked conspiracy claimed the determination was instead made to taint Trump's presidential victory and to blame Russia for the hack.
Assange's extradition hearing is expected to begin Monday.