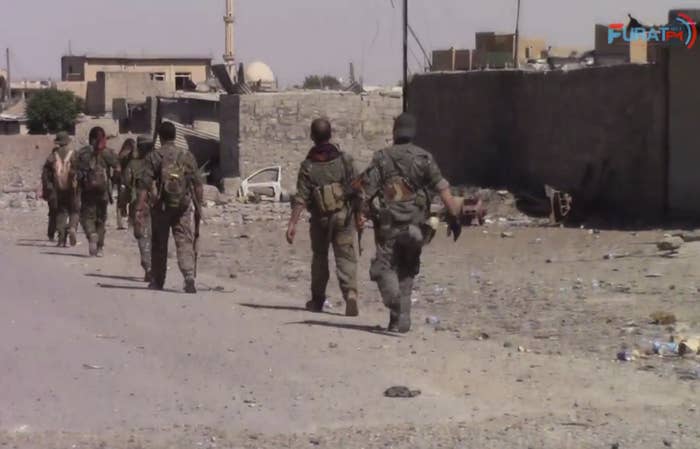 A US citizen who has been detained in Iraq by US forces for three months without being criminally charged will be allowed to speak with an attorney, a federal judge ruled Saturday night.
The American, who has not yet been publicly identified, was captured in Syria on Sept. 12, 2017 by the Syrian Democratic Forces, a US backed alliance that has been fighting ISIS factions in the Syrian civil war. According to news reports, the detainee was captured while fighting alongside ISIS.
The groups in Syria then turned him over to the US military, who have detained him in Iraq. Since then, the detainee has been allowed just two visits from individuals other than US military officials — by representatives of the International Committee of the Red Cross on Sept. 29 and Oct. 23, according to Saturday's ruling.
"The detainee has had no contact or communication with anyone except government personnel since his detention," the ruling reads.
The American Civil Liberties Union contacted the US Department of Defense on Sept. 29 about the detainee and offered to provide the individual with legal representation but, according to the court, the group never received a response.
According to court documents, FBI agents who spoke to the detainee have informed him of his right to an attorney, which he has requested in at least one instance. The court documents state that "the agents explained that due to his current situation, it was unknown when he would be able to have an attorney, and the individual stated that it was ok and that he was a patient man."
US District Judge Tanya Chutkan noted in her ruling that Pentagon officials have not indicated how long the US expects to hold the detainee in Iraq. In the meantime, attorneys for the Defense Department have said that they have not determined whether they will criminally prosecute the detainee, or whether they will opt to transfer, release, or continue to detain him.
In Saturday's ruling, Chutkan appeared critical of the Pentagon's arguments against the ACLU's effort to provide the detainee with counsel, calling the Defense Department's decision "disingenuous at best."
"Having informed the detainee of his right to counsel, and the detainee having asked for counsel," Chutkan wrote. "The Department's position that his request should simply be ignored until it decides what to do with the detainee and when to allow him to access counsel is both remarkable and troubling."