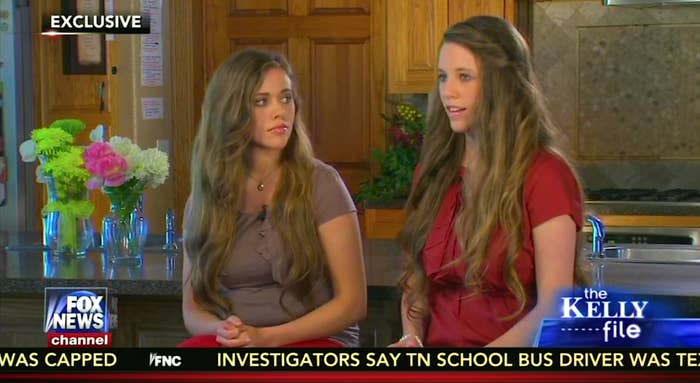 Jessa Seewald and Jill Dillard said they were scared and angry when they were told that their brother, Josh Duggar, had inappropriately touched them in bed as children, but in an interview with Fox News, are chalking the incident up to "a young boy in puberty and a little too curious about girls."
The sisters also revealed in the segment Friday night that their parents started locking their bedroom doors at night after Josh Duggar returned home from counseling.
The segment is the second in a two-part interview Fox News' Megyn Kelly did with the Duggar family after In Touch magazine published police records of Josh Duggar being investigated for molestation as a teenager in Arkansas.
During an interview that aired Wednesday, Jim Bob and Michelle Duggar confirmed that Josh had told them that he inappropriately touched four of his sisters when he was 14, calling it "one of the most darkest times" for the family.
Like his parents, Josh Duggar's two sisters are rallying to his defense, calling accusations of him being a "molester" or "pedophile" an overreaction and false.
"I'm like, that is so overboard and a lie really," Seewald told Megyn Kelly according to a transcript of the segment released prior to the segment airing. "People get mad at me for saying that, but I can say this because I was one of the victims."
"He was a boy, a young boy in puberty and a little too curious about girls. And that got him into some trouble," she added. "And he made some bad choices, but really, the extent of it was mild, inappropriate touching, on fully clothed victims, most of it while girls were sleeping."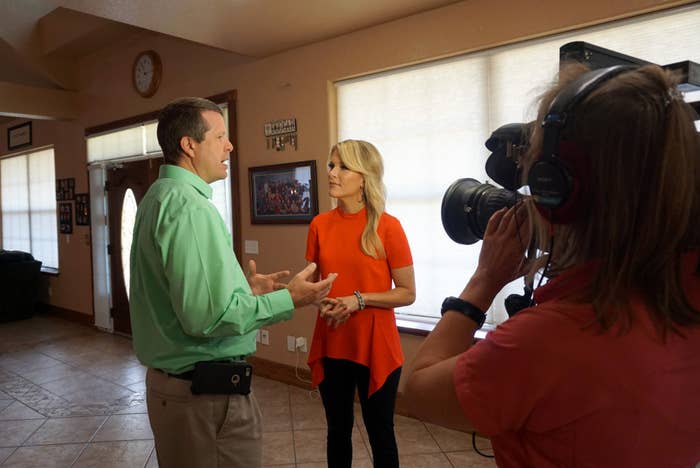 The family has said that after a third incident was discovered, Josh Duggar was sent to "a man who mentored young men," in Little Rock, Arkansas, and upon his return, implemented safeguards inside the house. Those included locking the bedroom doors at night, Seewald and Dillard said in the Fox News segment.
The reality show parents, who have 10 boys and nine girls, also tried to separate boys and girls in games and other interactions in the home, the couple told Megyn Kelly. That included not allowing a boy and a girl to play hide-and-seek together, be alone in a room together, and not allowing young daughters from sitting on older brothers' laps.
"My parents said, 'OK, we're not going to do this hide-and-seek thing, where two people go off and hide together,'" Dillard said the interview.
During the interview, the sister said they were scared and angry when they learned about the touching, but said they were unaware of what happened until their parents came to them about Josh's confession.
"It wasn't like we were keeping a secret, afraid or something," Dillard said. "We didn't know until Josh explained to my parents what his thought process was, what everything was."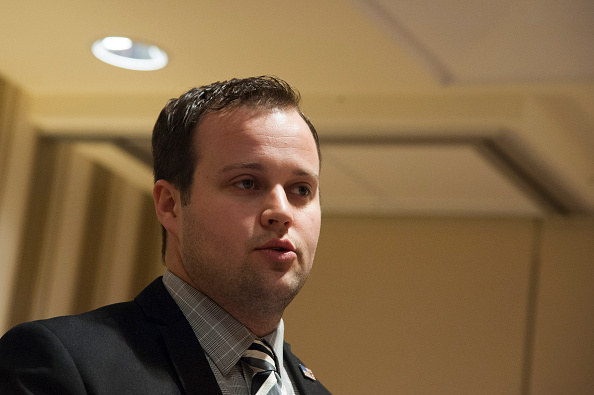 The two sisters also criticized the release of the police report, saying state laws and agencies should have protected their identities and privacy better, as well as that of her brothers.
"I was in tears, I couldn't believe it," Jill Dillard said in the televised interview. "Whenever I heard the police report had been released, I said, they don't have a right to do this."
Both criticized In Touch magazine's story on the police report, and said they had been re-victimized by published reports of the incidents.
"This is something we've already dealt with," Jill Dillard said.
"I can say these last two weeks have been a thousand times worse for us," Jessa Seewald said.
Josh Duggar, 27, did not appear in the one-hour special.
After details of the incident were reported, he resigned from his post at the Family Research Council, and TLC pulled the show 19 Kids and Counting last month.
Since then, the family has criticized the release of the police report detailing some of the incidents, calling it a breach of trust involving juvenile records.
On Thursday, the city attorney for Springdale defended the release of the report, saying it was done in accordance with public information laws in the state. When police contacted the family and interviewed them about the touching incidents, Josh was 18.
Dillard also defended critics' claims that the family, who advocates conservative Christian values and strict courtship, was exercising a double standard.
"I've heard them say, you know, 'You're hypocrites.' Well, if you go back and look at everything people have seen in our lives, in television you know, we've never claimed to be a perfect family," she said.