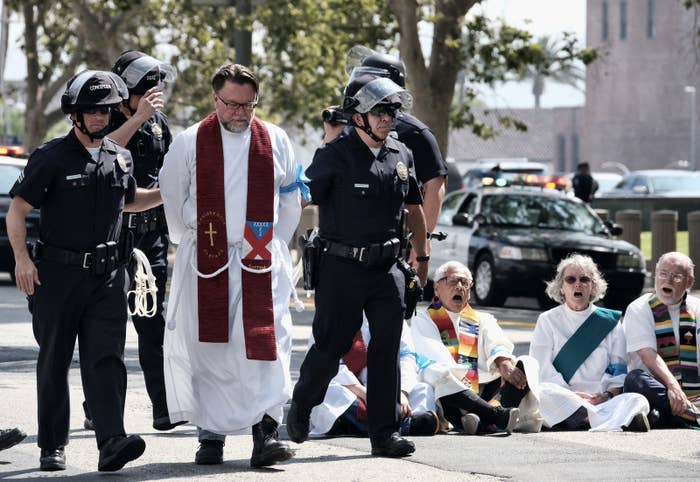 More than two dozen people, including a group of religious leaders, were arrested in downtown Los Angeles on Tuesday during a protest against Attorney General Jeff Sessions and the Trump administration's immigration policies.
About 150 people gathered outside the federal courthouse and the Millennium Biltmore Hotel, where Sessions was set to speak to a criminal justice group Tuesday afternoon.
Demonstrators protested against the administration's so-called "zero tolerance" policy, which allowed officials to prosecute all adult immigrants who were detained trying to cross the border and, in effect, separate those who are traveling with children.
Outside the hotel, demonstrators repeatedly chanted, "Children stay, Sessions goes," in a demonstration that authorities told BuzzFeed News remained relatively peaceful and law-abiding.
However, a total of 25 people — including local religious leaders — were arrested and booked on suspicion of civil disobedience after several demonstrators blocked Spring Street, LA police officials told BuzzFeed News.
"Not in cages, kids belong in homes," demonstrators chanted as they held hands across the busy Los Angeles street in front of the federal courthouse.
The Trump administration has faced a torrent of backlash to its policy of separating families at the border. More than 2,300 children have been separated from their families.

The arrests are particularly significant as they demonstrate a growing opposition to the White House's immigration policies after more than 600 clergy and leaders of the United Methodist Church accused Attorney General Jeff Sessions of violating church law.
In a letter issued Monday, the group accused the attorney general of violating the denomination's Book of Discipline and called on leaders in Alabama and Northern Virginia to address the complaint against Sessions.
The letter came after Sessions pointed to the Bible to justify the administration's policy to separate undocumented children from their parents at the border.
Inside the Millennium Biltmore Hotel, Sessions continued to strike a defiant tone against critics of the administration's immigration policies, alleging that they were advocating "open borders" and referring to them as part of the "lunatic fringe."
"Immigration is a decisive issue for our time," he said during a speech to the Criminal Justice Legal Foundation. "When we enforce any limits, we get attacked by the media and the so-called elites."
Sessions blasted critics, saying, "They're never happy with anything."
"They don't want them deported at all," he said. "When they win, this group, they make demands. And when they lose, they make demands. And there's a lesson in it, I think. We know what side of the debate is radical."

The attorney general did not elaborate on the administration's practice of separating children at the border, but said only that the president had signed an executive order to keep immigrant families together in detention after they are stopped.
Just a few hours after religious leaders had been arrested in the demonstration, Sessions then said critics of the administration's tough immigration policies were mostly "so-called elites."
"What is perhaps more galling is the hypocrisy," he said of critics. "These same people live in gated communities and are featured at events where you have to have an ID even to hear them speak. And if you try to scale their fence, believe me, they'll be only too happy to have you arrested and separated from your family."