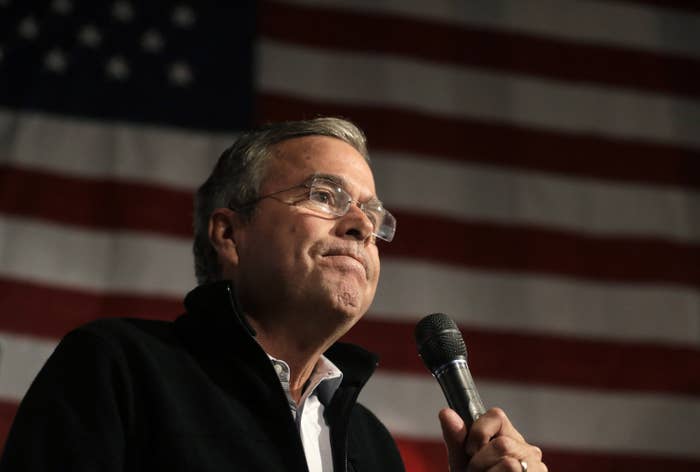 Jeb Bush will not vote for Donald Trump.
The former Florida governor and presidential candidate said Friday he could not support the presumptive Republican nominee for the presidential election, adding his name to a growing list of Republican leaders who have either declined to support Trump outright, or kept themselves at an arm's length.
"Donald Trump has not demonstrated that temperament or strength of character," Bush said in a lengthy statement posted on his Facebook page. "He has not displayed respect for the Constitution. And, he is not a consistent conservative. These are all reasons why I cannot support his candidacy."
Bush was one of 17 Republican candidates seeking the party's nomination for the election, but dropped out in February after his campaign was unable to pick up steam and as Trump maintained a commanding lead in the primaries.
"In November, I will not vote for Donald Trump or Hillary Clinton."
With Ted Cruz and John Kasich dropping out, Trump has become the presumptive candidate for the party in November.
And although Trump has asked for the party to unite behind his campaign, several prominent Republican leaders have chosen not to support his candidacy.
Thursday, the highest ranking elected Republican in the country, House Speaker Paul Ryan, told CNN he would not endorse Trump, "Right now."
On Friday, Sen. Lindsey Graham of South Carolina also said he would not be voting for either Trump or Clinton.
"I also cannot in good conscience support Donald Trump because I do not believe he is a reliable Republican conservative, nor has he displayed the judgement and temperament to serve as Commander in Chief," he said.
Both Graham and Bush stressed in their statements they would not be voting for Clinton either, but that they would be supporting and working for Republican candidates in local and state elections.
Trump's campaign responded to Graham's statement Friday, attacking his failed campaign for the nomination.
"If I got beaten as badly as I beat him, and all the other candidates he endorsed, I would not be able to give my support either," Trump said in a statement.
Trump followed up at a rally in Omaha, Nebraska, saying he was not surprised about the Bush's family because, "I've been critical of Bush, and Jeb, we hit hard."
Both former presidents George W. Bush, and his father George H. W. Bush have said they will not be attending the Republican convention.
But Trump said he was surprised that Ryan would not endorse him, saying "I don't know what happened."
"It was a big surprise because I've had so many endorsements."
He also criticized Graham, saying the senator often goes on television to attack him and that the party "needs new thinking."
Graham has been particularly critical of Trump and his campaign. As the primaries wound down to the last three candidates, he described the choice between Trump and Ted Cruz as "being shot or poisoned."
"While I will unify the party, Lindsey Graham has shown himself to be beyond rehabilitation," Trump said in the statement. "And like the voters who rejected him, so will I!"