Trump Falsely Claimed A Migrant Father "Admitted Blame" After His 7-Year-Old Daughter Died In Border Patrol Custody
"I think it's been very well stated that we've done a fantastic job," Trump said from his Mar-a-Lago resort.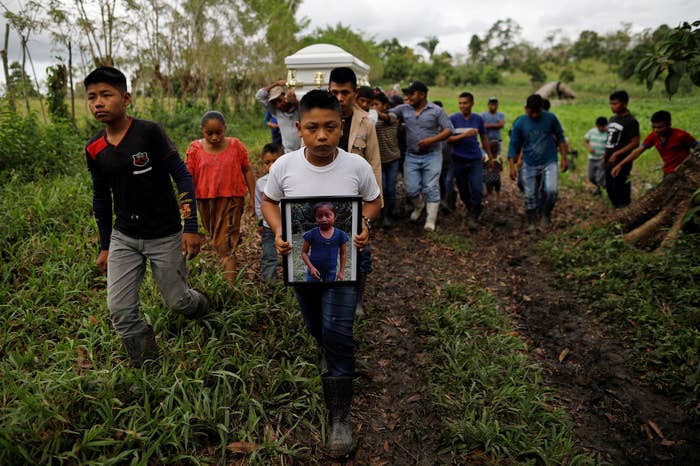 President Donald Trump falsely claimed Friday a migrant father "admitted blame" for the death of his 7-year-old daughter who died while in Border Patrol custody, accusing the father of giving the young girl "no water for a long period of time."
Two immigrant children have died while in the custody of US Customs and Border Protection's El Paso sector since December, raising questions as to how the agency and the Trump administration has handled the surge of families seeking asylum at the border.
"I think it's been very well stated that we've done a fantastic job," Trump said Friday from his Mar-a-Lago resort.
The president then repeated a claim that the 7-year-old Jakelin Caal had not eaten or had water for several days, despite that her 29-year-old father and his attorneys have repeatedly denied the claim.
"One of the children, the father, gave the child no water for a long period of time — he actually admitted blame," Trump told reporters.

Attorneys for Jakelin Caal's family have questioned CBP's narrative of events and said that Border Patrol agents failed to give the Guatemalan girl and her father water for eight hours after being taken into custody.
The family has claimed CBP failed to contact medical personnel when the girl was determined to be sick on the morning of Dec. 7. Instead, the girl was put on a bus with 163 other immigrants headed to the Lordsburg Border Patrol Station, about 90 minutes away.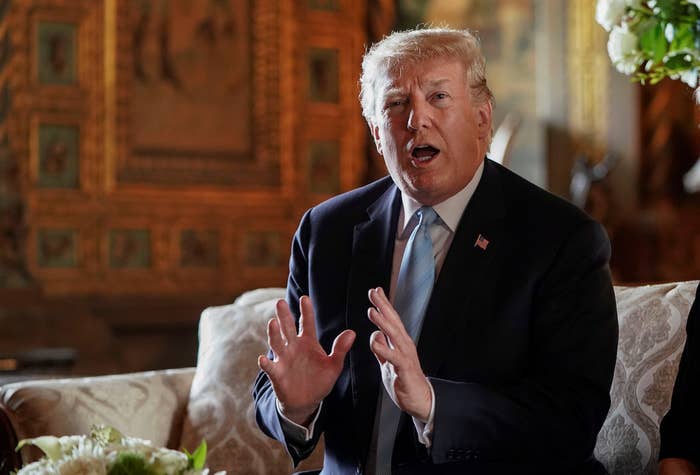 Guatemalan General Consul Tekandi Paniagua told BuzzFeed News a Border Patrol medical technician gave the girl first aid on the way to the station.
By the time the group arrived, the father told agents his daughter was not breathing. She was revived twice, found to have a fever of 105.9 degrees, and taken via helicopter to Providence Children's Hospital in El Paso where she was pronounced dead.
In an autopsy report released Friday, the El Paso County's Office of the Medical Examiner determined Jakelin Caal died of streptococcal sepsis, a rapidly progressive bacterial infection that resulted in multiple organ failure.
Dr. Colleen Kraft, the former president of the American Academy of Pediatrics, said that when a child gets an infection, the body releases chemicals in the bloodstream to fight it. When the amount of bacteria overwhelms the child, the body's response causes a drop in blood pressure, which results in poor oxygenation, seizures, and shock.
"The timeframe from sepsis, the infection in your bloodstream, to death from shock can be less than 24 hours," she said.
If sepsis is caught early enough it can be successfully treated, but when a child is having seizures and experiencing a drop in blood pressure, the shock is usually fatal, Kraft said.
Caal's death was the result of a perfect storm, she said: an increasing number of children at the border, CBP facilities not designed to hold children, and agents making assessments who are not trained to perform medical reviews on children.
"They're horrible places, they're cold, the lights are on 24/7, there's open toilets, inadequate food and water," Kraft said. "These facilities can make a well child sick and a sick child sicker."
Paniagua, the Guatemalan consul general in Del Rio, Texas, told BuzzFeed News he spoke with Nery Caal, Jakelin's father, Friday, and that the family was examining the autopsy report to determine their next steps.
"He said, 'I want to know what happened,'" Paniagua told BuzzFeed News.
Meanwhile, the Trump administration and CBP have defended their actions, repeatedly pointing toward the arduous trek taken by Central American families trying to reach the US, and suggesting the father did not give the girl food or water for several days.
CBP officials have also told reporters the four agents who were supervising the group of immigrants didn't see any immediate health or safety concerns in the girl, and that her father signed a form stating his daughter was not sick.
But Guatemalan officials have said the form signed by Caal was in English, and that the agent's explanation of the paper in Spanish may not have been understood by the father, who speaks an indigenous Mayan language.