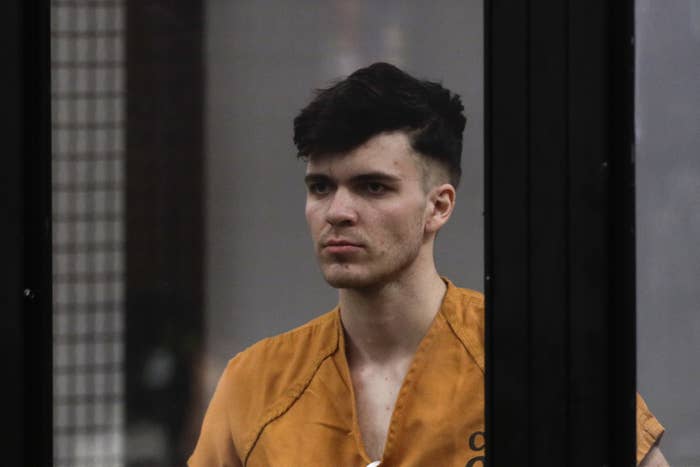 Investigators are looking into whether a 20-year-old man, accused of killing an openly gay and Jewish former classmate, has any ties to white supremacist groups, and whether those links may have played a role in the grisly killing, officials told BuzzFeed News.
Blaze Bernstein, a 19-year-old University of Pennsylvania student, went missing early this month while visiting his family in Southern California. After his body was found on Jan. 9, authorities discovered he had been stabbed more than 20 times before being left buried in a shallow grave.
Three days later, the Orange County Sheriff's Department arrested Samuel Woodward on suspicion of murdering Bernstein, a former classmate of his at the Orange County School of the Arts.
Investigators have yet to determine a motive for the killing, which officials are looking into as a possible hate crime.
Carrie Braun, spokesperson for the Orange County Sheriff's Department, told BuzzFeed News that investigators have been looking into Woodward's possible ties to white supremacist groups, as well as other motives that could determine whether Bernstein's killing was a hate crime.
ProPublica reported Thursday that Woodward was an active member of a group called the Atomwaffen Division, a violent white supremacist group that advocates for overthrowing the US government.
Citing three people with knowledge of Woodward's links to the group, including a former member of the Atomwaffen Division, ProPublica reported that Woodward had joined the group in 2016 and attended a three-day training camp that included training in firearms, hand-to-hand combat, and survival skills.
Braun told BuzzFeed News she could not confirm if investigators had confirmed whether Woodward had ties to any particular group.
Investigators with both the sheriff's department and the Orange County District Attorney's office are still investigating the case, she said, and are looking at the possibility of multiple motives to the killing.
A search warrant affidavit obtained by the Orange County Register revealed the two young men had met up on Jan. 2. According to the documents, Woodward told investigators that he picked up Bernstein in the parking lot of a Hobby Lobby and, from there, the two drove to Borrego Park, where Bernstein set out walking alone.
According to the Register, Woodward told investigators he waited for an hour before leaving, but Bernstein did not return to the car; Woodward then left to meet a girlfriend.
The affidavit noted that Woodward appeared to have cuts and bruises, which he said were from a fight club. When asked about dirt under his fingernails, Woodward said he'd fallen into a dirt puddle during a sparring session.
The affidavit revealed that the two men had also been in contact before the meeting and that Bernstein had told friends, via social media and texts, that he was planning to pursue Woodward sexually because he believed Woodward was about to "hit on me" and "made me promise not to tell anyone..but I have texted everyone, uh oh."
Woodward also told investigators Bernstein had kissed him and that "he wanted to tell Blaze to get off him," according to the Register.
Woodward's ties to Atomwaffen Division — a three-year old neo-Nazi group known to have multiple scattered cells across the country — has added another layer to the homicide case.
According to the Anti-Defamation League, which monitors extremist groups, members of Atomwaffen Division often refer to a race war and make frequent references to Adolf Hitler and Charles Manson, who believed his killings in the late 1960s would spark a race war in the US.
Though the group considered to be small and relatively young, the organization has already been tied to several acts of violence throughout the country.
In May, one of the group's founders, Devon Arthurs, was charged in Florida with murdering two of his roommates, who were also members of the neo-Nazi group. According to the Miami Herald, Arthurs told investigators that the killings occurred because he had converted to Islam and his roommates had taunted him about his faith.
Arthurs also told authorities that another roommate, Brandon Russell, another self-described neo-Nazi and member of Atomwaffen, had plans to blow up power lines and detonate explosives in a nuclear power plant.
Russell has pleaded guilty to charges of possessing explosives and bomb-making materials in his Tampa Palms apartment.
In December, 17-year-old Nicholas Giampa shot himself in Virginia after shooting and killing Buckley Kuhn-Fricker and her husband Scott Fricker — parents of his former girlfriend who had urged her to break up with him because of his white supremacist views.
The Huffington Post reported the 17-year-old was a fan and former member of the Atomwaffen group, and ProPublica reported the teenager had been in contact with members of the organization, according to another former member.
According to the Anti-Defamation League, Atomwaffen Division activity has been reported in Colorado, Florida, Illinois, Pennsylvania, Texas, Massachusetts, Washington, and Wisconsin.