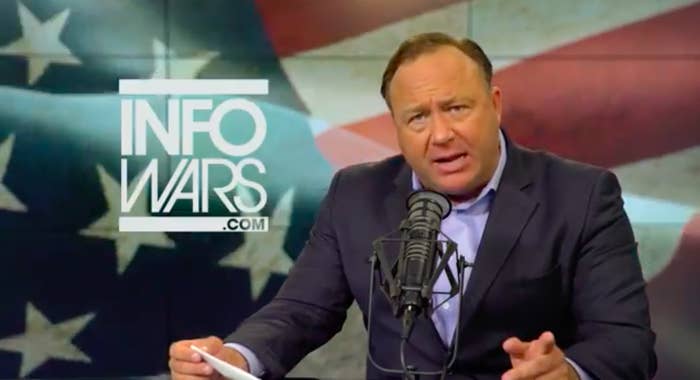 Right-wing conspiracy theorist and creator of Infowars, Alex Jones, has apologized to the Greek yogurt company Chobani and the entire city of Twin Falls, Idaho, for a set of fake stories trying to link the company with an unrelated sexual assault involving refugee children.
In a video published April 11, 2017, Infowars reporters David Knight and Lee Ann Mcadoo tried to connect Chobani founder Hamdi Ulukaya's support for hiring refugees to the assault of the 5-year-old girl by three refugee boys.
The show, which has repeatedly published false and conspiracy-laden stories, also accused the company of being responsible for a rise in tuberculosis in the city.
On Wednesday, Jones released a statement on his radio show and YouTube channel apologizing to the company and city for the stories, about three weeks after the yogurt company sued him.
"During the week of April 10, 2017 certain statements were made on the Infowars Twitter feed and Youtube channel regarding Chobani, LLC., that I now understand to be wrong. The tweets and video have now been retracted and will not be reposted. on behalf of Infowars, I regret that we mischaracterized Chobani, its employees, the people of Twin Falls, Idaho, the way we did."

The apology was part of the settlement reached by Jones and Chobani, the Los Angeles Times reported.
Chobani was seeking at least $10,000 in damages, according to the suit, attorney fees, and an admission that the articles were false.
Other details of the settlement, including whether Infowars would pay damages, were not publicly released.
Wednesday's public apology by Jones, however, is not the first time he has backed down on reporting false stories that are widely spread online. Last year, he removed his posts about "Pizzagate" — a conspiracy theory that politicians affiliated with Hillary Clinton were involved in child trafficking in a DC pizzeria.

As reports of that conspiracy spread online, a man fired an assault rifle into the restaurant after texting an Infowars article about the conspiracy.
Jones himself has claimed that the massacre at Sandy Hook Elementary was fake, and that 9/11 was a hoax.
Officials at Chobani and Infowars did not immediately respond to BuzzFeed News' request for comments. Attorneys representing both parties also did not respond.