At least 12 people were killed in Venezuela this week, amid growing protests and riots against the socialist government of President Nicholas Maduro.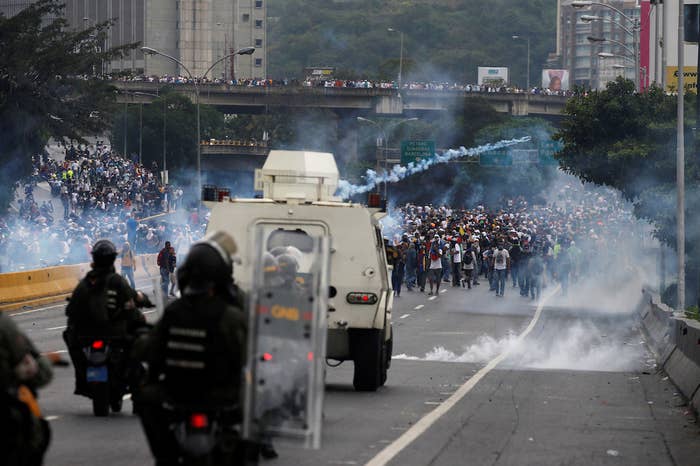 Anger toward Maduro's government has been growing, as Venezuela grapples with triple-digit inflation and food shortages. But tensions boiled over last month, when the country's Supreme Court stripped the legislature of its powers.
The court reversed the decision after an international backlash, but hostility toward Maduro's government has not subsided. Deadly protests have pitted violent protesters agains the country's armed forces, culminating in two days of massive riots last week.
Then, as thousands took to the streets Saturday night to honor those who've died in the protests, Maduro tweeted a bizarre video, addressing the country while playing catch in a pristine park.
"We're here warming up, warming up for good games and good surprises that are coming," Maduro says in the video. "Later, don't say I didn't tell you. We're getting ready."
The video was a surreal contrast to the scenes playing out elsewhere in the country, with Maduro playfully tossing the ball with a Venezuelan lawmaker even as thousands of opposition protesters crowded the streets to demand new elections.
In the clip, Maduro is, at times, playful. But he also appears to be issuing a dire warning to protesters who oppose his government, calling them, "mercenary groups hired to create chaos" and to "practice terrorism."
"In Venezuela there is peace, and peace will continue," he says. "To the violent groups, your justice will come."
"Look, we're ready for a new game that's coming, and what's coming is a fastball at 110 miles per hour," Maduro says as he winds up for a throw. "STRIKE!"
Needless to say, the video didn't sit well with plenty of Venezuelans and others on Twitter, who criticized Maduro for playing ball while his country is in disarray.
"How embarrassing that while the country is dying of hunger its chief of state is playing," one person wrote. "That's far from being a human being."
"Right, justice will come," another tweeted "I don't see peace with you. I see you nervous trying to demonstrate something that doesn't exist."
"How great, president, huh? You're playing and the country is going hungry," another tweet read, adding, "there will be no greater Victory for the country than your exit from the presidency."
"Why don't you make your speech in the main plaza and tell us if there is peace, and not death and hunger like we all know."
"You're playing baseball saying there is peace in Venezuela when people are dying. Dictator."
"How great that you have a luxurious park for your private use," another person responded. "A complete oligarch while public parks are destroyed."