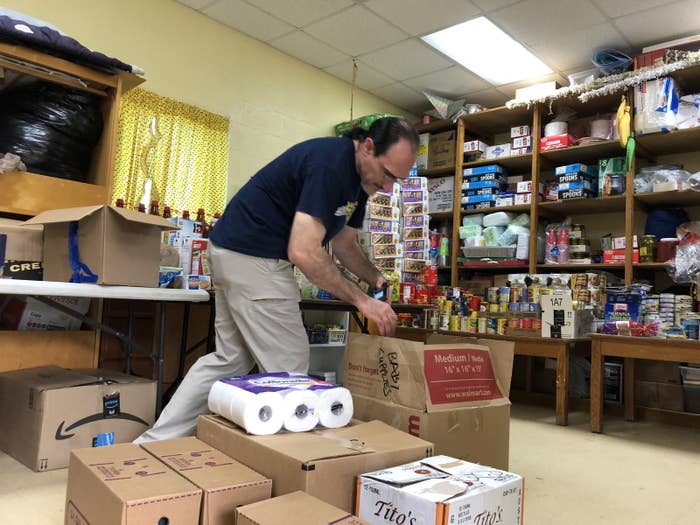 DUNN, North Carolina — Juan Caravaña looked like he was doing some complicated math in his head.
He held one bag of white rice in one hand, a bag of black beans in the other, and stood quietly over five cardboard boxes of donated food that were to be given out that day.
"If we give one of these per family, we'll be out quickly," he said.
When Hurricane Florence slammed into North Carolina last month, it devastated the state's agriculture industry, leaving thousands of migrant farmworkers with little or no work. For many of them, groups like the Episcopal Farmworker Ministry became one of the few lifelines in the days and weeks after the storm, providing food and basic necessities the workers could not get through official channels.
All the donations, however, would have to be delivered.
Documented and undocumented workers in the region told BuzzFeed News they remained keenly aware of state and federal laws targeting immigrants, leading many of them to ride out the storm in work camps or in rented homes in rural parts of the state. The hazardous conditions kept many of them at home, running low on supplies instead of running the risk of being pulled over and possibly deported.
For Caravaña and others trying to help out, that meant that collecting food, toilet paper, diapers, and cleaning supplies was only half the battle.
Two weeks after the hurricane made landfall, Caravaña said he and other volunteers have made deliveries to more than 50 worker camps and other homes where migrants have been living in and around Harnett County, in the central part of the state.
The organization doesn't know exactly how many people it has reached, but volunteers have tried to offer donations to anyone within a 45-minute drive of the church.
"What we've done is coordinate to pass out food to the camps that were flooded and to the families that were affected," Caravaña said.
With a multimillion-dollar agricultural economy, North Carolina has become dependent on immigrant labor, both documented and undocumented. That influx of labor has meant a drastic change in the demographics of the Southern state, which in 2000 had about 378,000 Latino residents, or about 4.7% of its population. Since then, the number of Latinos has more than doubled, and today makes up nearly 10% of North Carolina residents.
The demographic shift has not come without tension.
In recent years, North Carolina's Republican-led legislature has tried to push through laws targeting the state's immigrant population, including allowing local police to check the immigration status of anyone they come into contact with and mandating jail time for anyone caught driving without a license.
In 2015, then–Republican governor Pat McCrory also signed a bill that prohibited the ID issued by the Mexican consulate, known as the matricula consular, from being used as an official form of ID in the state.
Besides Texas and Georgia, North Carolina also has the most law enforcement agencies participating in the 287(g) program, which deputizes local sheriff's departments and police to enforce federal immigration laws.
Local immigrant advocates say that the anti-immigrant rhetoric from the White House has also encouraged some local jurisdictions to toughen their position against immigrants.
The sentiment was at the front of many immigrants' minds as Hurricane Florence tore through North Carolina, leaving residents — including many migrant workers — stranded, with limited access to shelter and basic necessities.
"The last year and a half have complicated things with the new president," Pilar Rocha-Goldberg, president of El Centro Hispano, a group that provides education, health care, and other assistance to Latinos in North Carolina, told BuzzFeed News. "It has not been friendly, at all, to our community."
The day Florence made landfall, the Department of Homeland Security posted a statement online saying immigration agents would not be conducting enforcement while people were evacuating or staying at shelters. Still, many undocumented people in North Carolina didn't want to take the chance.

Considering the immigration tactics that have been adopted by US Immigrations and Customs Enforcement and Customs and Border Protection, Rocha-Goldberg said, many immigrants did not believe the statement when it was issued by DHS, or when it was repeated by local authorities trying to persuade residents to evacuate to shelters.
Rocha-Goldberg said she fielded multiple calls days before the hurricane hit from people afraid of getting on the road.

Many of them undocumented, immigrants in the state were afraid of the presence of federal officials, as well as unfamiliar police uniforms in their community as local officials braced for the impact of the storm.
"There were a lot of people asking [questions], a lot of people were scared," she said.
Despite assurances from public officials, many were also afraid of being asked about their immigration status at shelters, or that law enforcement would set up checkpoints as people evacuated their towns.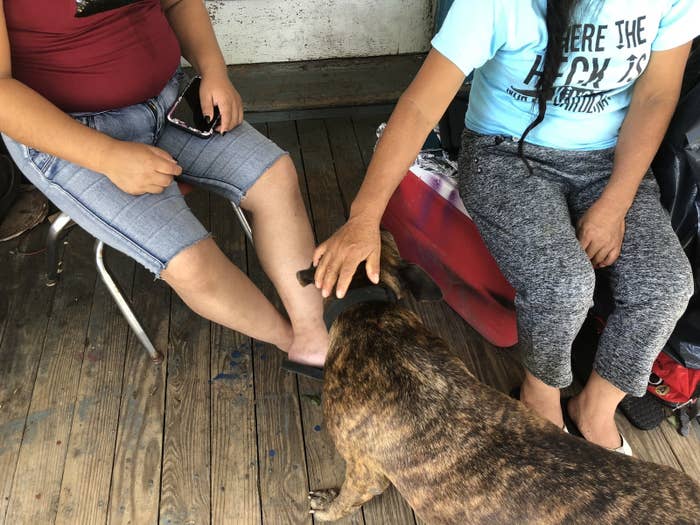 Not all local governments in North Carolina have taken a hard line against the state's immigrant population.
Amid the recent statewide crackdown on driver's licenses and identifications, some counties and local police departments have agreed to accept identifications that have been passed out by grassroots organizations, known as "faith IDs."
In others, law enforcement has attempted to work more closely with immigrant communities. For example, some are known for handing out tickets to drivers caught behind the wheel without a license, instead of taking them into custody or checking their immigration status.
Those different approaches, which can vary widely from one jurisdiction to another in North Carolina, are generally understood by immigrants who make the annual trip for work in the tobacco, sweet potato, and cotton fields across the state.
"As long as I stay in this county, I'm OK," one undocumented immigrant in Greene County, who asked that she not be identified, told BuzzFeed News last week.
She owns an SUV but, more than a week after the hurricane passed through the region, she still chose to stay off the roads — just in case.
The front of the home she shares with another farmworker, who is also undocumented, flooded shortly after rain started falling from Hurricane Florence, but both had made the decision to stick out the storm rather than move to a shelter.
She said she is resigned to the possibility that she might be deported someday, but also isn't trying to walk straight into the arms of immigration agents, or county officials acting as their proxies.
But more than a week after the storm had passed, she had waited as long as she could, and knew that soon she would have to make the drive from her rural rented home toward town for food and basic necessities.
"If I don't drive, I starve," she said. "This is just part of my life."
She has a "faith ID," but knows that won't get her out of a ticket. In the wrong county, she knows she can still end up in jail and, eventually, deported.
"That's how things are," she said. "Those are the laws."