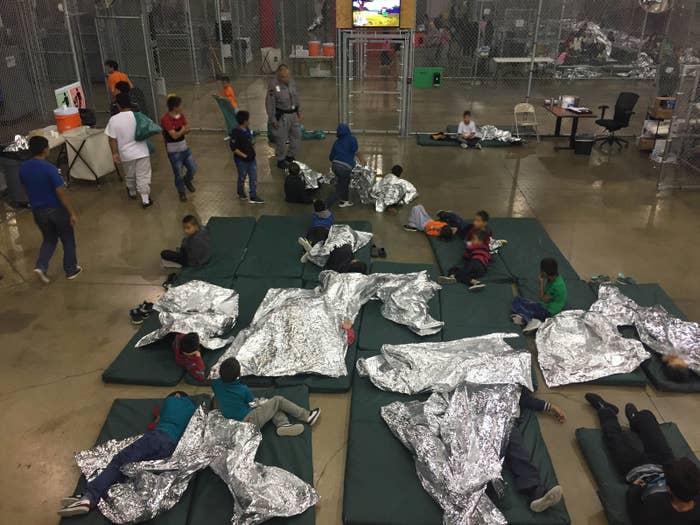 A desperate child cries out "Papi, papi," while another girl, in between sobs, asks officials if she can go with her aunt.
"I want my aunt to come so I can go to her house," a girl cries to a man identified by ProPublica as a Border Patrol agent. "I have her number!"
The news outlet on Monday obtained and published audio recordings of 10 Central American children held in a US Customs and Border Protection detention facility after being separated from their parents.
Early in the recording, as children are heard crying and calling out for their parents, a Border Patrol agent can be heard joking, "Well, here we have an orchestra, right?"
"What we're missing is the conductor," he adds.
The audio was published as the Trump administration faces backlash for its "zero tolerance" policy prosecuting all people who cross the border illegally. That policy has led to adults being taken into custody after crossing the border, while their children are sent to separate detention centers for minors.
The facility was not identified by the publication, and neither was the person who obtained it, who asked they not be named out of fear of retaliation. Instead, ProPublica got the audio from Jennifer Harbury, a civil rights attorney who has lived and worked in the Rio Grande Valley in Texas.
ProPublica spoke to the aunt of one of the children heard in the recording, a 6-year-old girl from El Salvador who asks, repeatedly, to be allowed to call her.
"Imagine getting a call from your 6-year-old niece," the aunt told ProPublica. "She's crying and begging me to go get her. She says, 'I promise I'll behave, but please get me out of here. I'm all alone.'"
The audio circulated rapidly on social media. And as reporters waited for a delayed White House press briefing, several of the recordings could be heard.
ProPublica retweeted the video, asking reporters to "Play it" at the briefing.
Kirstjen Nielsen, the secretary of the Department of Homeland Security, was asked about the recording during the briefing Monday, but said she had not heard it.
"I have been to detention centers," she said when asked about the audio. "I would reference you to the care provided not just by the department of Homeland Security but by the Department of Health and Human Services when they get to HHS."
Nielsen continued to stress that the department and the Trump administration, "did not create a policy of separating families at the border."
She noted that past administrations had separated families at the border in the past.
"They absolutely did," she said. "Their rate was less than ours but they absolutely did do this. This is not new."
Nielsen also compared the practice to Americans being incarcerated for committing crimes and, effectively, being separated from their families, saying, "this is not a controversial idea."
CPB officials did not immediately respond to a request for comment on the audio.