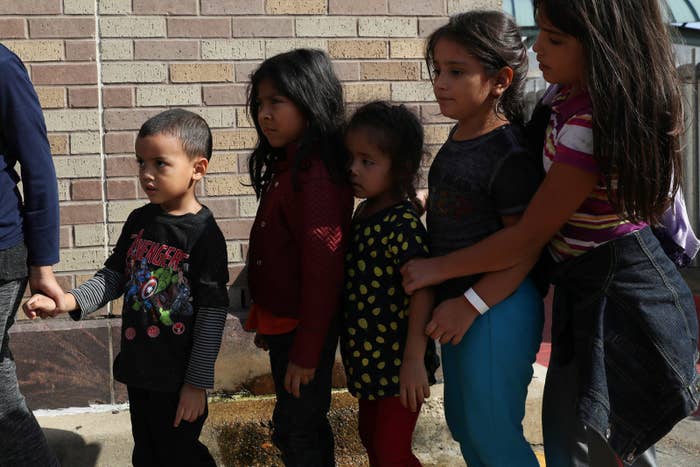 Undocumented immigrant children who have been separated from their families at the border are being quietly relocated to sites across the country, but city and state officials say they have been kept in the dark about the moves, even when large facilities to house the children are available in their backyard.
Officials across the country say federal agencies have refused to provide basic information about the children, such as how many to expect, while in New York, Gov. Andrew Cuomo accused the Trump administration of issuing a "gag order" on any information about the separated families. In Houston, a shelter that could house up to 240 immigrant children was set up in the city's downtown essentially in secret.
"I did not, as mayor, give my blessing to this deal," Houston Mayor Sylvester Turner said during a press conference Wednesday. "I found out only last week."

Immigrant advocates and government officials say such information is vital for local agencies to prepare to deal with what is expected to be an influx of child immigrants who will have a variety of needs ranging from foster, legal, and health services.

Some of those services, as the children transition from government custody to foster care, will be provided by immigrant advocates, nonprofits, and local services, but officials say they have been unable to prepare because of either the inability, or unwillingness, of federal officials to provide information.

At least 2,300 undocumented children were separated from their families under the Trump administration's "zero tolerance" policy between May 5 and June 9, which prosecuted anyone caught crossing the border illegally.
Trump, on Thursday, signed an executive order meant to stop the separations, but it was unclear exactly how the order would translate to action on the ground, or what it meant to those who had already been separated from their families. Still, officials said they continue to expect an influx of immigrant detainees, including children.
In Houston, city officials were caught off guard when they learned Southwest Key, a nonprofit contracted to house immigrant children, had leased a building in the downtown area.

The city did not learn about the facility from US Health and Human Services, which is tasked with the children's care, or from the nonprofit.
Instead, Turner said during a press conference Wednesday, his office was told by immigrant activists who reached out to his staff about the rumors.
The city itself had been in talks with the owner of the building, hoping to set up a homeless shelter. Instead, in the middle of talks, Turner said officials learned the building had been leased to someone else.
A Southwest Key spokesperson told BuzzFeed News they planned to move forward with the facility.
"At first we were not told of who the new tenant was and, quite frankly, it was kept as a secret," Turner said. "Southwest Key also gave us no notice that it planned to come to town."

That sentiment was echoed across the country as local and state governments braced for the impacts of the administration's zero tolerance policy.
Mayors and lawmakers have in recent days attempted to inspect some of the facilities holding immigrant children, but were denied access by officials with US Customs and Border Protection.
On Thursday, a group of mayors, including from Los Angeles, New York, and Seattle, attempted to visit the child detention camp in Tornillo, Texas, but were denied entry.
"Children aren't poker chips," Los Angeles Mayor Eric Garcetti said at a press conference outside the facility. "They are people and we demand that Washington fix the mess that it's created."
An official from Garcetti's office told BuzzFeed News the city was ready to work with the federal government, but an exchange of information between local and federal agencies was not happening.
In New York, Gov. Cuomo accused the US Health and Human Services agency of placing a gag order on foster care agencies that house immigrant kids.
"Not only did HHS send children to our state without our knowledge, but they put a gag order on the foster agencies from telling us, which is just bizarre," Cuomo said Friday on CNN. "Why would you now want the state to help, to provide mental health services, counseling, reunification services, at the state's expense?"
The Department of Health and Human Services did not respond to BuzzFeed News' request for comment.
In Florida, Gov. Rick Scott sent a letter to the Department of Health and Human Services, asking agency officials for information on any children being sent to the state under Trump's policy.

In Los Angeles, where attorneys and immigrant rights groups expect many of the children to eventually end up, officials told BuzzFeed News they've received little information on the number of children sent to facilities or foster services in the area.
Catholic Charities of Los Angeles, which assists immigrants with legal and resettlement services, has received only one child so far who has been separated from his family.

"Right now we have to wait and see how the distribution of children is going to be done," said Moises Carrillo, director of agency programs at Catholic Charities. "We don't have the details."
Groups like Catholic Charities have in the past received information in advance from federal agencies on children or their circumstances. That has not been the case this time, Carrillo said.
The Office of Immigrant Affairs in Los Angeles told BuzzFeed News it had not yet been informed by federal officials how many kids had been relocated to the area, or are to be expected, but immigration advocates estimate about 100 unaccompanied children have been moved to Southern California.
That's partly because of the fluid political uncertainty surrounding the policy.
"Unfortunately there's quite a bit of unanswered questions," Carrillo said. "This is a bit more dynamic and changing, where it's not a straightforward process."
Immigration advocates said they expected the detention of children, however, to continue. How exactly the spider web of federal agencies involved — Department of Homeland Security, CBP, HHS, and the Office of Refugee Resettlement — would implement the executive order remained unclear.
"We haven't heard anything yet," he said. "We just have to wait and see."