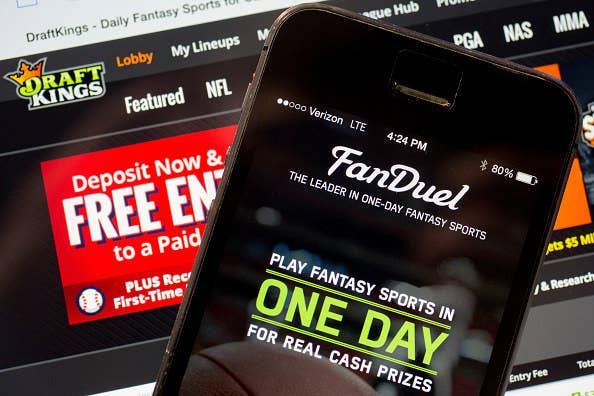 Two of the biggest daily fantasy sports websites on Thursday fired back at Illinois Attorney General Lisa Madigan after she declared their operations to be illegal forms of gambling.
Shortly after announcing her decision on Wednesday, the Madigan's office issued letters to FanDuel and DraftKings warning that state residents "are not eligible" to participate in their contests.
On Thursday, the two companies filed separate lawsuits against Madigan challenging her finding. According to the Associated Press, DraftKings argued in a complaint filed at the Cook County Circuit Court in Chicago that Madigan has "set off a chain of events that — if unchecked — will unjustly destroy a legitimate industry."

The decision by Madigan marks yet another setback for the popular online industry, which has been fighting efforts across the U.S. to shut it down, or scale it back.

FanDuel and DraftKings have previously argued daily fantasy sports is not gambling but a game of skill, which would allow them to operate in most states that have laws limiting gambling.
But daily fantasy sports have already suffered serious setbacks in Nevada and New York, where earlier this year officials deemed the game to be a form of gambling.
Madigan's decision on Wednesday would mean Illinois' more than 12 million residents would no longer be able to participate in daily fantasy sports for money.
In fantasy sports, participants pay an entry fee and create fantasy teams based on real players in professional or collegiate sports. The winner is determined by the real performance of the players that make up their fantasy team.
In her decision, Madigan argued that despite the argument that fantasy sports is a game of skill, "persons whose wagers depend upon how particular, selected athletes perform in actual sporting events stand in no different stead than persons who wager on the outcome of any sporting event in which they are not participants."
Madigan's decision effectively shuts down daily fantasy sports in the state unless there is specific legislation authorizing it.
There are currently two bills in the state legislature that would provide exemptions to daily fantasy sports, according to Madigan's letter to legislators.
In New York, the attorney general ordered DraftKings and FanDuel to shut down in November, calling them illegal under state law. An appellate judge in December ruled the sites could continue to operate, however, while the case is disputed in court.
In Nevada, the top prosecutor ruled that the sites need gambling licenses to operate legally there after the state Gaming Control Board issued a "cease and desist" order because they should be considered gambling.
Meanwhile, the FBI has reportedly been looking into the practices of daily fantasy sports websites to see if employees have used insider information to win large payouts.