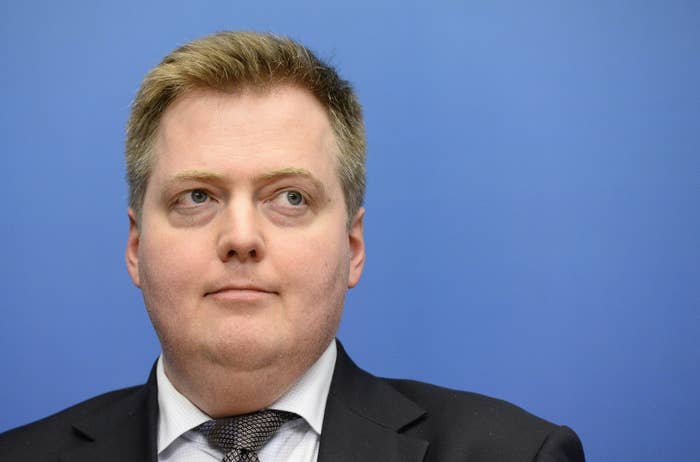 Iceland's prime minister resigned Tuesday, according to multiple local reports, after he and his wife were named in a massive leak of documents from a Panamanian law firm that revealed secret offshore accounts held by multiple world leaders and international figures.
Prime Minister Sigmundur Davíð Gunnlaugsson and his wife, Anna Sigurlaug Pálsdóttir, were among 140 politicians in 50 countries — including 72 current and former heads of state — listed in 11 million documents that were leaked from the Panamanian firm, Mossack Fonseca. The documents detail how some of the world's most rich and powerful people have allegedly used tax havens and secret companies to hide their money.

Gunnlaugsson's resignation was announced on television by the vice president of the Progressive Party, national broadcaster RÚV reported.

The country's agriculture minister, Sigurður Ingi Jóhannsson, was announced as his successor, but this still needs to be approved by the party and its coalition partner, according to local news outlet Vísir.
Earlier on Tuesday, Gunnlaugsson called on President Ólafur Ragnar Grímsson to dissolve parliament and call for elections, but that request was denied.
"I do not think it is normal that the prime minister alone ... should be given the authority to dissolve the parliament without the majority of the parliament being satisfied with that decision," the president said in announcing his decision to deny the prime minister's request.

On Monday, thousands protested outside Iceland's parliament, demanding the prime minister's resignation.
The massive data leak was given to the German paper Suddeutsche Zeitung and then shared with the International Consortium of Investigative Journalists (ICIJ), which has been analyzing the documents along with 107 media companies.
The documents purport to detail how Iceland's prime minister hid millions of dollars in his country's banks through a secret Virgin Islands company called Wintris, the ICIJ reported.
That company allegedly owned $4 million in bonds in three major Icelandic banks, which were bailed out.
Gunnlaugsson had served as prime minister since 2013, and did not declare he had a holding interest in the offshore company when he entered the parliament in 2009, the ICIJ reported.

When he was asked about the company on Swedish television, he suddenly walked out of the interview, saying, "What are you trying to make up here? This is totally inappropriate."
Among the other international figures entangled in the scandal are associates of former Egyptian President Hosni Mubarak, former Libyan dictator Muammar al-Qaddafi, Syrian President Bashar al-Assad, and Russian President Vladimir Putin.