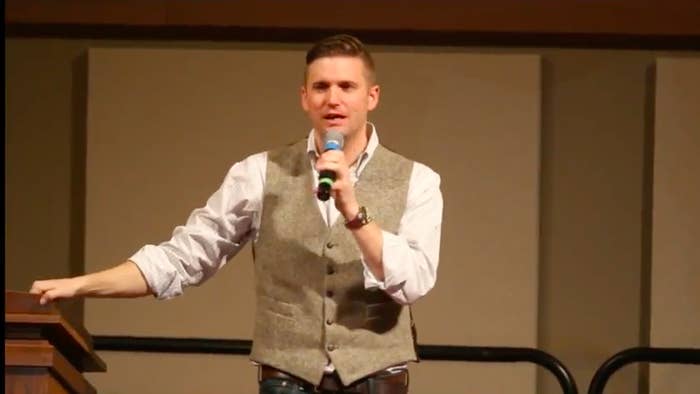 Hundreds of protesters gathered Tuesday night as Richard Spencer, a prominent white nationalist and figure in the alt-right movement, addressed his supporters at Texas A&M University.

Spencer, the leader of the National Policy Institute, a white nationalist think tank, was invited to speak at the public university by alumni Preston Wiginton, but was met with hundreds of demonstrators who opposed the event.
In his speech, Spencer praised President-elect Donald Trump, saying his electoral win could be a victory for the growing alt-right movement.
"Whether its nice to say that or not, we won, and we got to define what America means," Spencer said. "We got to define what this continent means. America at the end of the day belongs to white men."
Several people in attendance booed loudly.
"Once Europeans stop farting around with all this equality and democracy nonsense, I think we will go to the stars, I think we will rival the ancients as far of our greatness"," he said.

After the speech, demonstrators questioned Spencer, while another dressed as a clown held a sign next to the speaker that read, "He's the real Bozo."
Spencer has gained notoriety in step with the "alt-right," whose populist and white-centrist message gained national attention during Donald Trump's presidential campaign.

In one recent speech, Spencer ended his address proclaiming "Hail Trump!" to which several supporters responded with Nazi salutes and exclamations of "Hail Trump."
Inside his event Tuesday, protesters and supporters shouted at one another but appeared to remain peaceful. Outside, protesters were seen being pushed away from doors by police in riot gear.
One person was seen being taken into custody. Texas A&M Police could not be immediately reached for comment.
Spencer's event was countered on university grounds by a "unity event" attended by thousands, including Texas A&M Chancellor John Sharp.
"If you're a purveyor of hate and divisiveness and you want to spew that kind of racism, this is the last campus on earth you want to come to," Sharp told the crowd, The Dallas Morning News reported. "There is no place, and there is no university where love and respect for each other and loyalty and commitment to each other is stronger than Texas A&M University."