As thousands of students walked out on Wednesday to protest gun violence, some schools went to great lengths to punish kids or prevent them from taking part in the nationwide demonstration.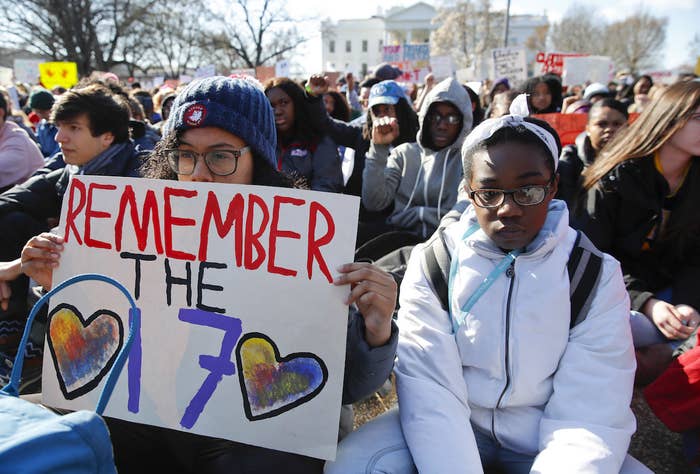 Students in one Missouri high school told BuzzFeed News that they were locked out and briefly prevented from returning to their classrooms after walking out for what was supposed to be a symbolic 17-minute protest in front of the campus.
In New Jersey, administrators at Manahawkin's Southern Regional Middle School initiated an active shooter drill just minutes before students were set to walk out at 10 a.m., preventing them from taking part in the demonstrations.
"It seems like quite a big coincidence," said Lily Chka, whose son is in seventh grade at the school.
Elsewhere in New Jersey, a high school principal threatened to cancel prom and other special events if students organized a walkout. When a handful of teens began to protest at 10 a.m., most students were directed to an assembly while school staff and police officers physically blocked the exits.
"It's just upsetting that we weren't able to express ourselves," Lauren Heineman, a senior at the school, Mount Olive High School in Flanders, told BuzzFeed News.
The American Civil Liberties Union said chapters across the country have received multiple complaints concerning the demonstrations, from students being somehow prevented from taking part in the protests, to unfair punishments being handed out to those who participated. Prior to Wednesday's protest, the organization had reached out to school administrators and students about their rights, and the possible consequences they could face for the walkouts.
Many schools across the country seemed to accommodate the students' desire to take part in the protests, recognizing the nationwide movement that has sparked a renewed debate about gun control and school security.
"This is the largest school walkout in recent memory, certainly in my lifetime," Melba Pearson, deputy director of the ACLU of Florida, told BuzzFeed News.
Although several schools made accommodations and in some cases helped students plan the walkouts, others handed down punishments for those who walked out of their classes, Pearson said.
ACLU staff are monitoring and investigating reports of excessive punitive action, she added, or of schools actively preventing students from exercising their First Amendment rights. The ACLU declined to cite specific cases, noting that it was just receiving initial reports.
At Missouri's Park Hill High School, students walked out for a symbolic 17-minute demonstration in front of the school, honoring the 17 people killed in the mass shooting at Marjory Stoneman Douglas High School in Florida. When they returned, however, they found the doors to the hallways leading back to their classrooms locked.
Video provided to BuzzFeed News
"When we walked in, the doors in the hallway were shut down," Tyler Jenkins, a senior at Park Hill, told BuzzFeed News. "No one explained to us why we didn't go back to class."
In an audio clip provided to BuzzFeed News by another student, a man students identified as Park Hill's principal, Brad Kincheloe, can be heard lecturing the protesters about facing the consequences of exercising their First Amendment rights.
"When you do exercise your First Amendment rights sometimes there is a penalty to pay," he told students. "I want you to know that society sometimes values your speech or your activity by how important it is to you and if this act comes without a consequence then it doesn't seem very important."
He then offered students the chance to have truancy cleared by attending detention either Wednesday or Thursday after school.
"School decided to lock us all out to prevent us from returning to class so they could count us ALL truant," the student, a sophomore, told BuzzFeed News. "They decided to punish us by forcing us to be truant."
Kincheloe and school district officials did not immediately return requests from BuzzFeed News for comment.
Jenkins said students had been told they could go to the gym for the protest, rather than walk out of the building, but that most had dismissed the idea because the walkout would not have been visible to the public.
He added that the punishment issued to protesting students seemed less severe than what they usually would face for skipping class, but that it seemed unnecessary since everyone who participated returned to the school after the protest.
At New Jersey's Mount Olive High School, senior Lauren Heinemen, one of the organizers of the school's protest Wednesday, told BuzzFeed News that staff and officers blocked the exits and threatened students with "severe consequences" if they walked out for the demonstration.
"They actually had staff creating a physical barrier," she said.
The school's principal had organized a series of meetings with students to address school shootings, Heineman said, but said that walkouts were "off the table."
"We felt that it wasn't going to send the message that the student body wanted to send," she added. Students were told that if they walked out, they would not only face the usual consequences for skipping class, Heineman said, but would also lose senior prom and other special activities for seniors.
School officials at Mount Olive High School did not immediately respond to BuzzFeed News' requests for comment.
In New York, Gov. Andrew Cuomo asked schools in the state not to punish students who participated in the walkouts, and to overturn any punishment that had been dished out to teachers or students.
In an open letter to New York State Education Department Commissioner MaryEllen Elia, which was released Thursday, Cuomo called the reports of students being disciplined for taking part in the demonstrations as "disturbing."
"These actions send a terrible message to New York's children and are against constitutional free speech protections," Cuomo wrote in the letter. "I call on you to use SED's authority to stop these schools reverse course and cease any disciplinary actions."
Cuomo also called officials to investigate one particular instance of concern where school officials in Schuylerville High School had reportedly blocked a road leading out of the school with two pickup trucks to keep students from leaving.
In a letter responding to the governor, Elia said there would be an investigation into any incident where students were placed in jeopardy, but did not address Cuomo's request to overturn disciplinary actions.
Besides disciplinary actions, other students who had planned to join the nearly 1 million students walking out across the US Wednesday were also met with unexpected security and fire drills that prevented them from taking part.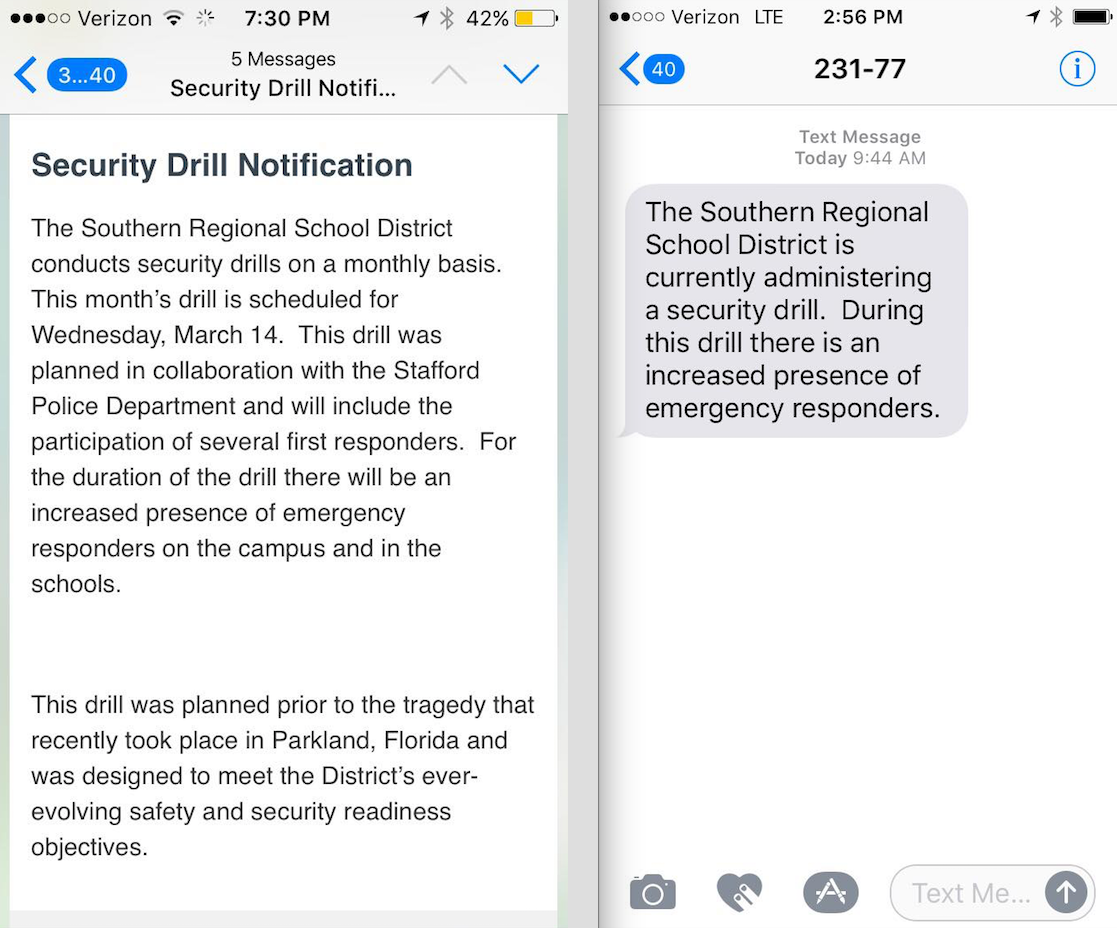 Chka, the parent at Manahawkin's Southern Regional Middle School, said she received an alert about a school shooter drill at 9:44 a.m. Wednesday, 16 minutes before the planned demonstration.
"I don't know if this was the school's way to prevent a walkout this time," she said. "This was the first time for such a notification."
Officials at the school did not immediately respond to questions about the drill.
At Childers Middle School in Broken Arrow, Oklahoma, an unannounced tornado drill right at 10 a.m. prevented students from leaving their second-period classrooms for their planned walkout.
video-player.buzzfeed.com
"Right at 10, they started the tornado alarm. It lasted for 17 minutes so either way, it disrupted class," said Bella, a 13-year-old student. "All other schools in my district participated in the walkout, and for some reason we had a tornado drill."
The school normally warns students of an impending drill, she added, and administrators didn't appear to follow the usual procedures.
"Typically in a tornado drill they have us sit in the corner or under our desk with our heads covered but this time we just sat at our desk on our phones and the other classes just stood there," she said. "They didn't let us leave our classrooms. I'm really annoyed about it."
Childers Middle School did not respond to BuzzFeed News' questions about Wednesday's drill.
In other states, students say they were punished after schools reversed their decisions to support the walkouts, in some cases just before the teenagers were preparing to gather. Though some schools offered alternative events, students BuzzFeed News spoke to said they felt cheated out of exercising their free speech rights.
In Santa Clarita, California, 16-year-old Joanna Veres said she now has a truant absence on her record for joining about 400 other students during their walkout Wednesday, despite Saugus High School saying in a statement days before that it would "recognize the students' right to participate."
"As a school community we see this as a teachable moment to bring to light civic responsibility by allowing those who choose to participate in this tribute," the school superintendent had said in a March 9 letter to parents. "Saugus Public Schools is supporting the students' expression in regards to solidarity with the Douglas school community."
But just as students were preparing to leave their classrooms, teachers warned they would be marked truant, Veres told BuzzFeed News.
"That didn't stop any of us," the high school junior said. "Most of us got an unknown absence, which is a truancy absence, and it just doesn't seem fair when they said they supported us up until the last minute."
The school has not yet responded to BuzzFeed News' request for comment.
In the Baldwin County Public Schools district in Alabama, every student who walked out was suspended, Spanish Fort High School senior Julia Coccaro told BuzzFeed News.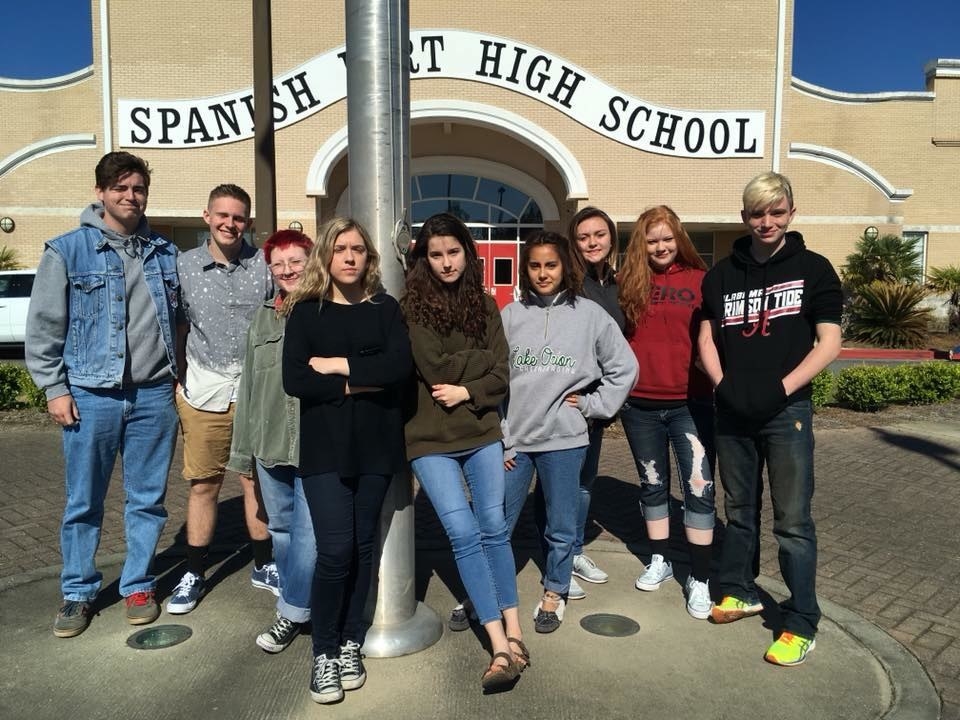 In a letter two weeks earlier, the district's superintendent said that the walkout would be prohibited for reasons of student safety, and that a "moment of honor" would be held for the Parkland victims instead.
"Being disrespectful and ignoring authority that is seeking to protect you is not the way to accomplish the good that needs to come from this," superintendent Eddie Tyler said in the letter.
Even so, Julia, along with eight of her Spanish Fort classmates, walked out on Wednesday. All were given a one-day suspension.
Julia said she thinks the school's action against her and her fellow students is "backwards."
"Even though the school was technically justified in its disciplinary actions toward the students," she said, "it only shows how the school system is using their positions of authority to suppress student voices."
"It's saddening but, unfortunately, unsurprising for a county that has historically been unsupportive of its students," she added.
A spokesperson for the Baldwin County Public Schools did not immediately respond to request for comment.
Faced with criticism over their response to the walkouts, some school administrators have pushed back, saying that the decision to prevent students from leaving campus for the demonstration stemmed from safety concerns.
In Bridgewater, Massachusetts, where a student was arrested for making threats against Bridgewater-Raynham Regional High School two days after the Florida shooting, Superintendent Derek Swenson said the incident raised concerns about letting students outside to protest. The school offered an alternative memorial event, he said, which has been rescheduled for Thursday due to a snowstorm.
"We explained that in light of recent events of a threat being made towards our school, safety officials and administration viewed the walkout as unsafe in that it creates the possibility of a soft target," he told BuzzFeed News in an email. "This is not about curtailing First Amendment rights, it's about minimizing risk to keep the students within our care safe."
If students do walk out, he added, they will be violating the school's code of conduct, and their punishment will be "TBD."
Bridgewater-Raynham students said they still plan on holding their own walkout.
"We don't know what the punishment will be and we don't care," 16-year-old Kat Parady told BuzzFeed News. "This matters."