Secretary of Homeland Security John Kelly is crediting a sudden drop in illegal border crossings to President Trump's tough talk on immigration, but experts say the issue is much more complicated than how federal officials are trying to portray it.
"Since President Trump took office in January 20, we have seen a dramatic drop in numbers," Secretary of Homeland Security John Kelly said in a statement Wednesday.
According to numbers released by US Customs and Border Protection, the number of people detained at the southern border dropped 40% in February when compared to the previous month, a decline Kelly directly attributed to Trump's immigration executive orders.
"Since the Administration's implementation of Executive Orders to enforce immigration laws, apprehensions and inadmissible activity is trending toward the lowest mostly total in at least five years," Kelly said. "The early results show that enforcement matters, deterrence matters, and comprehensive immigration enforcement can make an impact."
In January, US Customs and Border Patrol agents detained 31,578 people at the US-Mexico border. In February, the number dropped to 18,762.
Though apprehension numbers are often released by US Customs and Border Patrol without any official announcement, Kelly released a statement crediting Trump's executive orders, signed during his first week of office, to the February drop.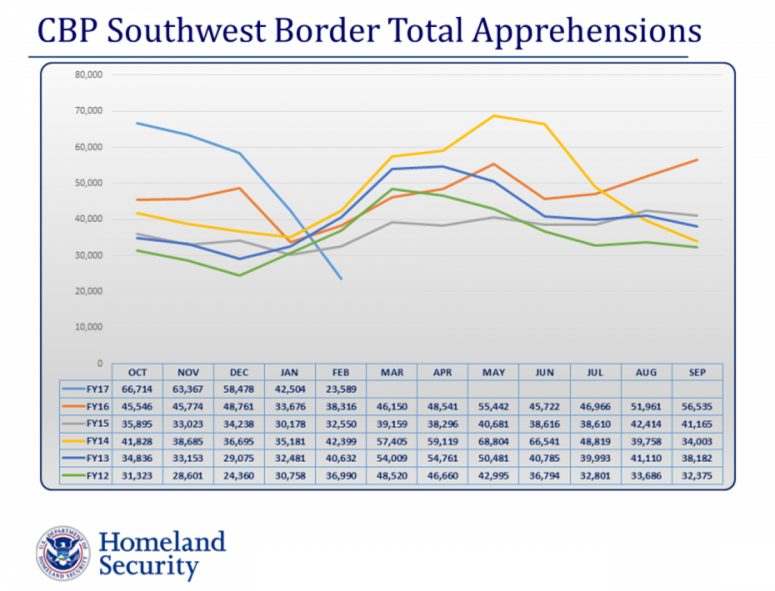 In two executive orders, Trump ordered the construction of a wall along the southern border, increasing the number of Border Patrol agents by 5,000, and expanding the criteria of which undocumented immigrants were a priority for deportation.
But immigration experts say it is too early to draw any conclusions on overall immigration trends, especially from month-to-month numbers that could easily be an abnormal dip rather than a trend.
Christopher Wilson, deputy director of the Mexico Institute at the Wilson Center, told BuzzFeed News that border patrol agents saw a steep increase in attempted border crossings just before the presidential election in November, with many migrants trying to enter the country before any potential changes in immigration policy.
That steep increase last fall came at a time of the year when border crossings usually drop.
"Seeing a climate of change coming, they were trying to get in under the wire," Wilson said.
That temporary spike of immigrants could have created a temporary migration bubble that then affected the number of people attempting to cross earlier this year, Wilson said.
Trump's hardline rhetoric on immigration might have had a more significant impact on when people decided to cross, he said, not how many. The monthly fluctuation is also indicative of the types of "blips" immigration authorities tend to see month to month.
Overall, Wilson said, enforcement efforts at the border tend to have little effect on whether immigrants decide whether to ultimately cross illegally into the US. And despite Trump's executive orders — including the hiring of thousands of agents at the border — many of those policies have not yet gone into effect.
"It's easy for border security efforts to change when and where people cross, but it won't change the overall level of migration in the long term," he said. "We've seen a lot of talk about a wall, hiring more officers, but until there are real policies, we could totally expect this to become a blip."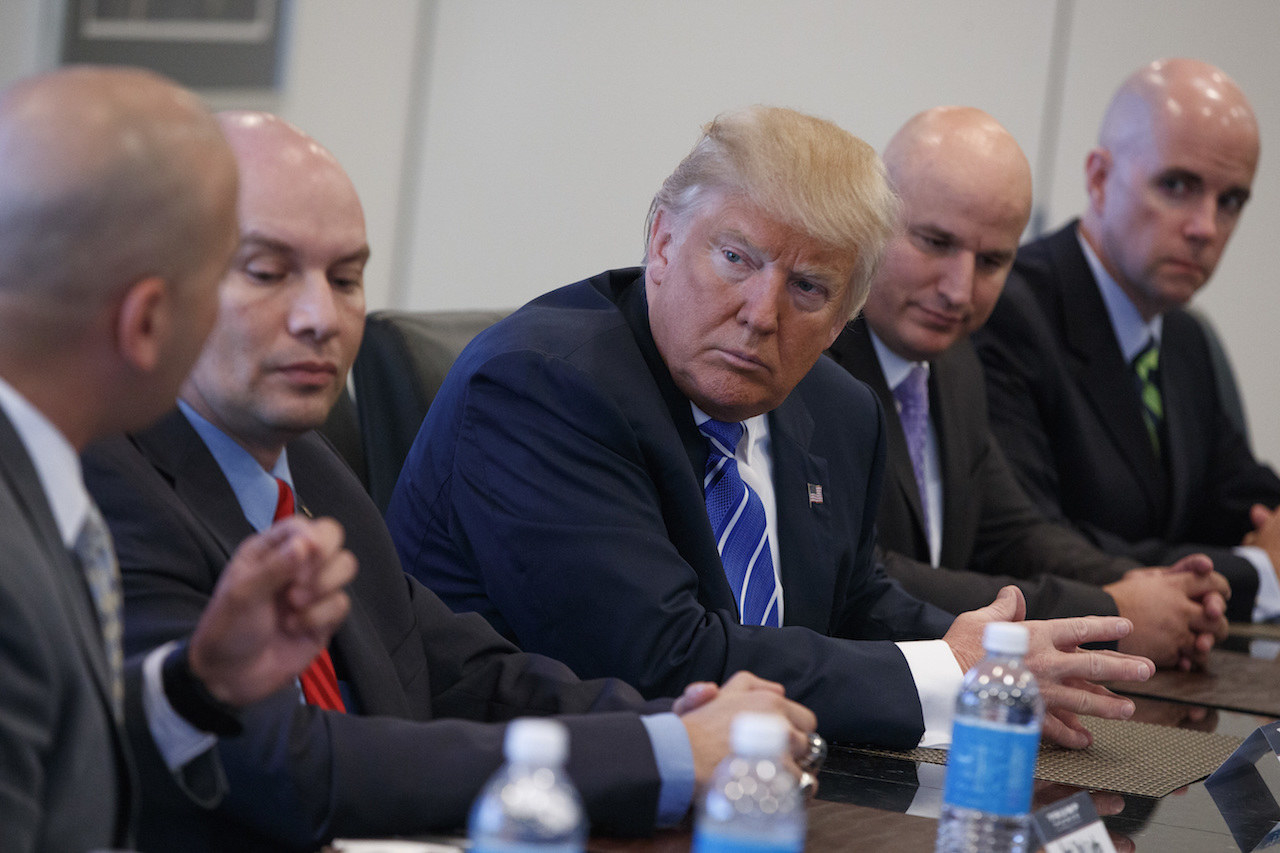 Kelly, however, directly credited the president's orders with the sudden dip in February, pointing out that fees charged by human smugglers, known as "coyotes," increased from $3,500 to $8,000 since November "in certain mountainous regions."
"Changes in U.S. policy, including the detention of apprehended aliens, drive up the smuggling fees," the Homeland Security secretary said in the statement. "The decrease is also encouraging news because it means many fewer people are putting themselves and their families at risk of exploitation, assault and injury by human traffickers and the physical dangers of the treacherous journey north."
Wilson said that there has been an overall decline in undocumented immigration into the US in the last couple of months, especially from Mexico.
"The net flow of migration from Mexico is in effect negative, with more immigrants leaving than entering," he said.
According to the Pew Research Center, the number of undocumented Mexican immigrants in the US has been decreasing steadily since 2007, while the number of Central American immigrants, many seeking asylum, surged.
Detentions at the US-Mexico border, Wilson said, are therefore deeply impacted by Mexico's own migration policies toward undocumented immigrants headed north from El Salvador, Guatemala and Honduras.
"One of the reasons that the flow has stabilized and even got back down to a lower level was because of Mexico's role," Wilson said.
The Washington Office on Latin America (WOLA), a human rights organization focusing on Latin America and the Caribbean, criticized Kelly's assessment of border crossings.
"It is too early for the Trump administration to claim that the drop in apprehensions of migrants at the border is a result of their policies," Maureen Meyer, senior associate for migrant rights for WOLA said in a statement.
Immigrant rights groups, like WOLA, have also criticized the administration's attempt to deter immigrants by adopting tough-stance policies, which they said could impact immigrants who are fleeing dangerous conditions and have a legal case for asylum.
"Central American families and children continue to experience violence, extortion, and persecution in their home countries," Meyer said. "Efforts to 'deter' these migrants is equivalent to shutting the door on someone who is fleeing for their life."
Groups who work with communities in Mexico and Central America have also said they have not seen a decrease in the number of people leaving their homes to make the dangerous trek to the US, Jennifer Podkul, director of policy at Kids in Need of Defense told BuzzFeed News.
Her organization works with unaccompanied minors who enter the US undocumented.
"In terms of flow," Podkul said, "I think the flow continues and I think it's indicative of conditions in their home countries."