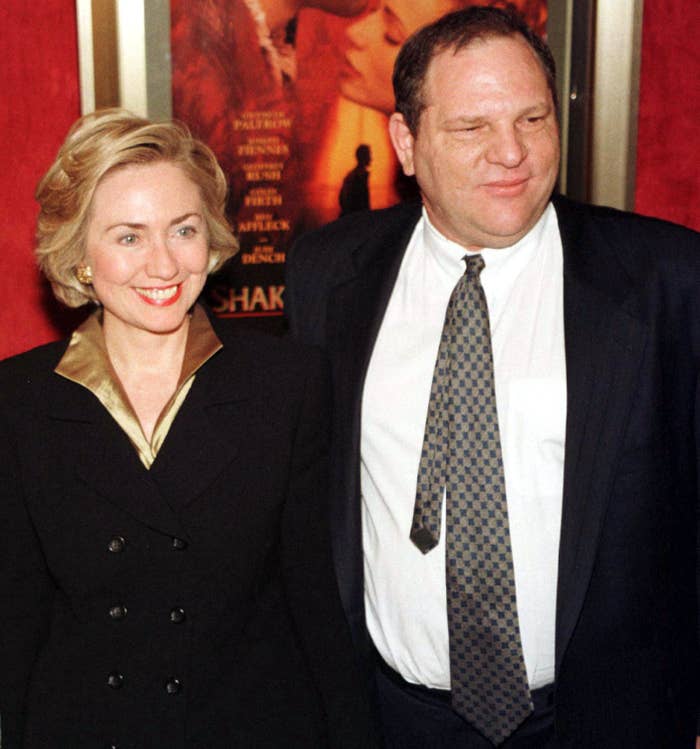 Hillary Clinton on Tuesday broke her silence on the Harvey Weinstein sexual assault allegations spanning decades, saying she was "shocked and appalled," but emails from her time as secretary of state provide a peek into the cozy relationship she maintained with the Hollywood producer and major political donor.
The emails, part of the large trove of Clinton emails released by the State Department, offer a small glimpse into the relationship Weinstein had Clinton.
In one exchange in 2010, Weinstein wrote to one of Clinton's top aides, Capricia Marshall.
"As time moves on, I realize I haven't seen you and Mrs. Clinton (Hillary) in a long time, but I think of you both often," Weinstein wrote. "I don't know if movie producers are still worthy in your world, but next time you're in NYC I'd love to see you."
He signed it, "Your bad friend, Harvey."
Clinton instructed Marshall to respond the "sweet" email in kind and to tell him "we all hope to see him soon."
"That is so sweet, pls [sic] let him know I not only want the movies, including The Tillman Story [sic] but I've heard about some of his other projects," Clinton wrote. "And pls [sic] wish him and Georgina every good wish w [sic] the new baby and that we all hope to see them soon."


Last week, the New York Times published a story detailing allegations spanning decades that Weinstein used his position of power in Hollywood to sexually harass or assault actresses and others looking to make it in the industry.

Since then, several women have gone public with similar allegations against Weinstein, including Gwyneth Paltrow, Angelina Jolie, Heather Graham, and Asia Argento.
Weinstein has been a top Democratic donor, including a supporter of Hillary and Bill Clinton's presidential bids. He also supported Clinton's run for senator in New York.
Weinstein was fired from The Weinstein Company on Sunday. But as the fallout and allegations continued to mount Tuesday, Clinton released a statement condemning "revelations about Harvey Weinstein."
"The behavior described by women coming forward cannot be tolerated," she said. "Their courage and the support of others is critical in helping to stop this kind of behavior."
Clinton followed up on Wednesday in an interview with CNN's Fareed Zakaria, saying she would be giving the donations made by Weinstein to charity. She explained the funds would be part of her annual practice of giving 10% of her income to charity.
"I give 10% of my income to charity every year, this will be part of that," she said in the interview. "There's no doubt about it."
Later on Twitter, Clinton's spokesman Nick Merrill clarified that she intended to make her usual donation of 10% of her income, in addition to donating Weinstein's campaign contributions.
While she was secretary of state, however, Clinton and Weinstein maintained a friendlier relationship, with the movie producer offering to send Clinton and her aide movies he believed they would enjoy.

In the email dated Aug. 20, 2010, Weinstein said he believed Clinton would like The King's Speech because "it's PG-13 with not too many swear words."
Weinstein commented on having "fond memories of you guys watching SHAKESPEARE IN LOVE [sic]," which Clinton attended the premiere and was photographed with Weinstein.
In another email dated June 1, 2012, Weinstein again reached out to Marshall, this time hoping she would forward an interview he did with former president Clinton on Piers Morgan Tonight.
"Do you think calling Secretary Clinton the greatest Secretary of State of all time shows just a touch of my bias?" Weinstein wrote in the email.
Weinstein also wanted to highlight comments he'd made about other political contenders at the time.
"I did my best to flatten Romney in a cool kind of way," he wrote. "And I talked about how Donald Trump was uncool was the least I could do."

Six months later, on Jan. 5, 2013, Weinstein again reached out to Marshall in a short email, asking plainly, "Is there anything I can do for Hillary?"
Later that month, Clinton would be testifying for hours about the attack on the US embassy in Benghazi.
Again, he wondered if there were any movies she wanted to see.
"Please let me know if there is anything I can do," he wrote.
Clinton responded to Marshall's forward with a short request, "Pls respond."