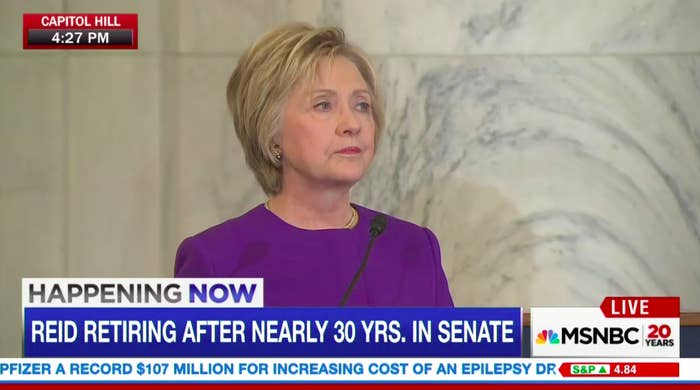 Hillary Clinton on Thursday urged Congress and leaders in Silicon Valley to tackle the "epidemic of fake news," telling Republican and Democratic lawmakers it's an issue that can impact both sides of the political aisle.
Clinton's comments came during a rare public appearance since her loss to Donald Trump in the presidential election, speaking at a DC gala to recognize Senate Minority Leader Harry Reid's 30-year career in office.
"The epidemic of malicious fake news and false propaganda that flooded social media over the past year- it's now clear that so-called fake news can have real world consequences," Clinton said. "This isn't about politics or bipartisanship. Lives are at risk."
US intelligence agencies have said publicly they believe Russia had a direct hand in the hacking of email accounts from the Democratic National Committee to undermine the presidential election.
Intelligence sources have also told BuzzFeed News they believe Russian intelligence has been involved in the prolific spread of fake news to influence US voters.
Clinton's comments on fake news come just days after a gunman opened fire at a pizzeria in DC, where the suspect told police he had gone there to "self investigate" a child prostitution ring.
The man was referring to an online conspiracy theory known as "Pizzagate" that was spread through several fake news websites, alleging Democratic operatives ordering food were talking about child prostitutes.
"It's a danger that must be addressed and addressed quickly," Clinton said Thursday.