Here's How The US Government Managed To Lose Nearly 1,500 Immigrant Children
Although federal officials are responsible for placing children in sponsor homes for their safety, they say they aren't "legally responsible" for them afterward.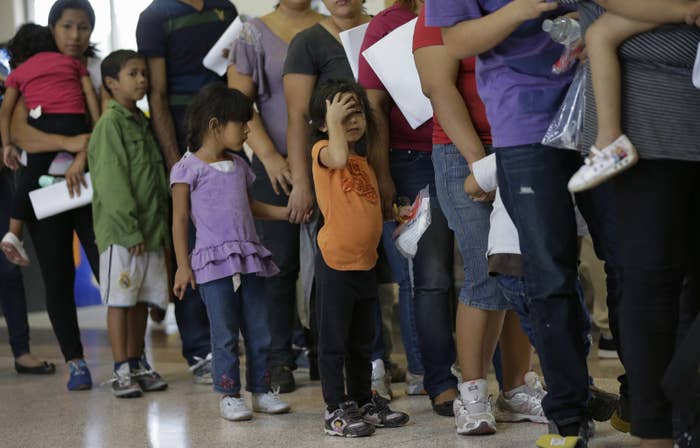 The US government lost track of nearly 1,500 immigrant children, but officials say they are not "legally responsible" for them after they are placed in temporary homes to await the outcome of their asylum cases.
The revelation, made during a congressional hearing last month, comes as officials continue to struggle with the number of minors who make the dangerous trek into the United States, many of them seeking asylum from violence in their home countries.

It also comes amid concerns the Department of Homeland Security is looking to separate children from their parents if they are caught together while trying to cross the border as a form of deterrent.
US agencies have struggled with legal, logistical, and political questions regarding underage immigrants, as thousands of them continue to be detained at the US-Mexico border.
Steven Wagner, acting assistant secretary for the US Department of Health and Human Services' Administration for Children and Families, told a subcommittee in April that officials were unable to determine what happened to 1,475 children who were placed in sponsors' homes between October and December 2017.
Another 28 kids, Wagner told lawmakers, also ran away from the home.
The agency had been attempting to contact 7,635 minors and their sponsors, he said, as part of a routine checkup to look into their safety. More than 19% of them, however, were unaccounted for.
Mostly from Central American countries, unaccompanied child immigrants who are detained trying to cross the border are transferred from one agency to another, from US Customs and Border Protection to Health and Human Services' Office of Refugee Resettlement.
The child is then placed at the home of a sponsor, parent, relative, or close family friend who can show ties to the child. But US officials say they are not legally responsible for children after they are placed in homes.

"I understand that it has been [Health and Human Services'] long-standing interpretation of the law that [the Office of Refugee Resettlement] is not legally responsible for children after they are released from ORR care," Wagner told the committee.

Wagner said children typically stay in Health and Human Services' custody an average of 56 days before they are turned over to a sponsor, which could be a parent, relative, or family friend.
Eric Hargan, the deputy secretary of HHS, issued a statement saying the Office of Refugee Resettlement began voluntarily making calls in 2016 as a follow up to make sure sponsors did not require additional services.
"This additional step, which is not required and was not done previously, is now being used to confuse and spread misinformation," Hargan said. "These children are not 'lost'; their sponsors ... simply did not respond or could not be reached when this voluntary call was made."
Hargan said there are many reasons the sponsor cannot be reaching, including that they may be in the country illegally as well "and do not want to be reached by federal authorities."
"This is the core of this issue: In many cases, HHS has been put in the position of placing illegal aliens with the individuals who helped arrange for them to enter the country illegally. This makes the immediate crisis worse and creates a perverse incentive for further violation of federal immigration law."
More than 40,000 children were referred to the Office of Refugee Resettlement during the 2017 fiscal year, Wagner said.

HHS has recently adopted multiple changes, including interviewing sponsors, conducting background checks, and refining the type of documents sponsors can use to reduce the possibility of fraud, to address problems, such as placing several Guatemalan minors in the hands of human traffickers.
According to a Senate investigation, HHS turned the minors over to human traffickers in 2015, who then forced many of them to work in an egg farm in Ohio for six or seven days a week. Their paychecks were withheld by the traffickers to pay off smuggling debts, according to the report.
The smugglers also threatened the children and their families so they would continue to work, investigators said. For example, one child was told his father would be shot in the head if he did not continue working, and another was placed in a trailer with no heat, bed, hot water, or toilet for complaining.
During the 2016 Senate investigation, HHS officials said the agency's legal responsibility did not continue after the child was placed with a sponsor or family, and that it would need congressional authorization to be responsible for the children after their release.
Wagner said the agency is looking into changing the legal liability of the agency for the "post-release period," which would make the department responsible for the children even after being turned over to a sponsor.
However, expanding the legal responsibility of the agency, Wagner said, would also require additional resources.