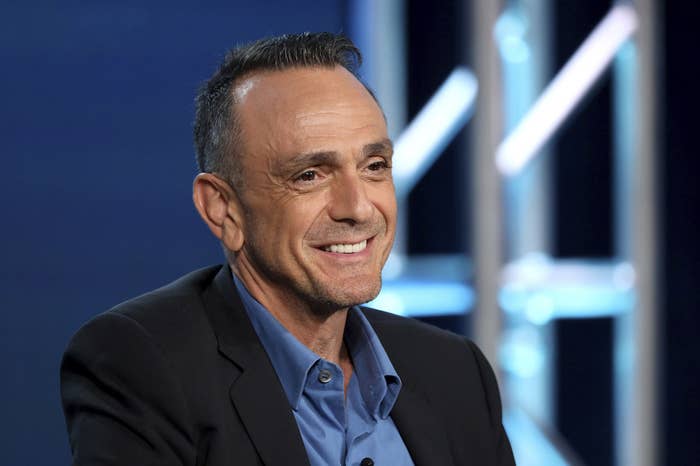 Hank Azaria, who has voiced Apu Nahasapeemapetilon on The Simpsons for 30 years, said he will no longer be playing him, but it's still unclear what will happen to the animated character who has for years been seen as a racist stereotype.
"All we know there is I won't be doing the voice anymore, unless there's some way to transition it or something," Azaria told SlashFilm in an interview Friday. "What they're going to do with the character is their call."
Depicted as a convenience clerk who speaks accented English and is in an arranged marriage with eight children, Apu has been seen as problematic for years. But the controversy came to a head in 2017 when comedian Hari Kondabolu released the documentary The Problem With Apu, where he said the character helped drive stereotypes of South Asians.
The documentary generated significant pushback from some fans of the show, who pointed out that The Simpsons has mocked a range of topics and entities for more than 30 years, including its parent company, Fox.
The show's creators acknowledged the controversy in an episode a year after the documentary was released, yet did not address the concerns from those troubled by the depiction of Apu, and what, if anything, would change with the character.
"Something that started decades ago and was applauded and inoffensive is now politically incorrect," Lisa Simpson says to her mother, Marge, in the episode while reading a children's book updated to remove stereotypical references.
Lisa then looks at a picture of Apu on her nightstand.
"Some things will be dealt with at a later date," Marge tells Lisa.
"If at all," Lisa responds.
Matt Groening, the show's creator, was dismissive of the concerns when asked about the controversy at the time, telling USA Today, "It's a time in our culture where people love to pretend they're offended."
Two years later, The Simpsons creators have yet to make any changes to the show, despite unsubstantiated rumors that have included replacing Azaria with a South Asian voice actor or phasing Apu out completely.
A spokesperson for The Simpsons declined to comment on Azaria's comments and Apu's future in the show.
A representative for Azaria did not respond immediately to a request for comment.
Azaria, who also voices other long-running characters including Moe, Chief Wiggum, Comic Book Guy, and Dr. Nick Riviera, seemed unsure of what would happen to the beloved clerk.
"It's up to them and they haven't sorted it out yet," he told SlashFilm Friday. "All we agreed on is I won't do the voice anymore."
A representative for Kondabolu could not be immediately reached, but the comic said on Twitter that he hopes Apu stays with the show and is taken in a different direction.
"If not to better the show, then to at least spare me some death threats," he tweeted.
"My documentary 'The Problem With Apu' was not made to get rid of a dated cartoon character, but to discuss race, representation & my community (which I love very much)," he added. "It was also about how you can love something (like the Simpsons) & still be critical about aspects of it (Apu)."