Black Friday shoppers looking for bargains were also looking to purchase rifles and handguns this year, breaking a new record for the number of background checks requests in a single day, according to numbers released by the FBI.
Black Friday has always been a popular day for deals — not just on electronics, clothes and appliances, but also semi-automatic rifles and handguns from local gun shops. New records for guns sales on Black Fridays in 2016, 2015, 2014, and 2012. And 2017 was no exception.

More than 200,000 background check requests were submitted to the FBI's National Instant Criminal Background Check System across the country this Friday, USA Today reported, breaking the previous record of 185,713 requests made on the same holiday shopping day last year.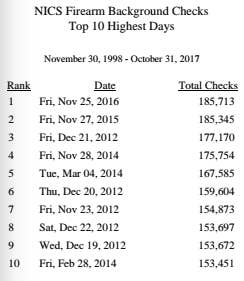 The jump is also significant considering that gun sales have slowed dramatically during the first year of Donald Trump's presidency, when compared to previous years. That decline has been attributed to Trump's gun-friendly, NRA-supporting stance on firearms lowering potential buyers' fears of an imminent federal crackdown on gun sales.
Still, the jump in sales this week suggests that despite his generally pro-gun stance, Trump has not been able to entirely escape the country's ongoing debate regarding gun control, particularly after a series of high-profile mass shootings this fall.
The shootings have prompted lawmakers to introduce new legislation that would limit the sale of certain firearms or accessories, although no new laws are expected to be signed any time soon.

Still, earlier this week, Attorney General Jeff Sessions ordered a review of the FBI's NICS system after a gunman opened fire in a Sutherland Springs, Texas, church, killing 26 people. The shooter was able to buy multiple firearms used in the shooting, despite being convicted in a court martial for domestic violence, after the US Air Force failed to enter a previous domestic violence charge into the national database.
And in October, another gunman opened fire at a concert crowd from his hotel suite in Las Vegas, killing 58 people in a deadly rampage. Authorities say several of his rifles were outfitted with what is known as a "bump stock" — a device that makes the rifle fire like an automatic weapon.