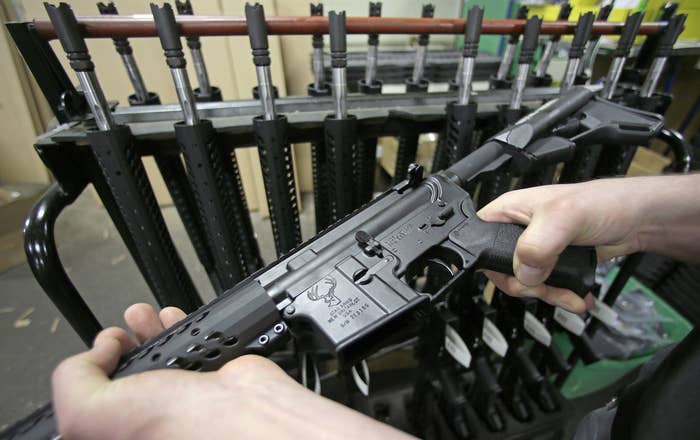 A gun shop near Chicago that was set to raffle an AR-15 to raise money for the victims of the Orlando mass shooting has suspended the controversial event, owners told BuzzFeed News on Saturday.
Second Amendment Sports in McHenry, Illinois, was selling $5 tickets for the raffle, but Bert Irslinger Jr., who owns the shop with his father, said they put the raffle on hold because the city doesn't have a raffle ordinance in place. State law allows only not-for-profit organizations to hold raffles.
Irslinger told BuzzFeed News the shop would be "exploring a few options that are available to us through the state statute."
Until then, the raffle was on hold.
The store was also planning on donating $2,000 of its own to OneOrlando, the fund created by the city of Orlando to raise money for the victims.
On Friday, the shop posted on Facebook that it would be setting up a link to buy raffle tickets directly online from their website.
On Saturday morning, however, there was no mention of the raffle on their site.
News that the gun shop was organizing the raffle angered several people online, who referred to it as insensitive and tone-deaf.
One reason in particular was because the owners of the store chose to raffle an AR-15, a weapon similar to the Sig Sauer MCX used by the Orlando gunman.
The owner of the shop, however, defended the raffle in a statement to BuzzFeed News saying the attack "is not an issue of guns" but "it's an issue of terrorism and it's an issue of hate."
He said they chose an AR-15 because it is the shop's best selling product.
Irslinger said he hoped the raffle would be reinstated next week. The shop, however, is continuing to collect donations for the Orlando mass shooting victims without the raffle.