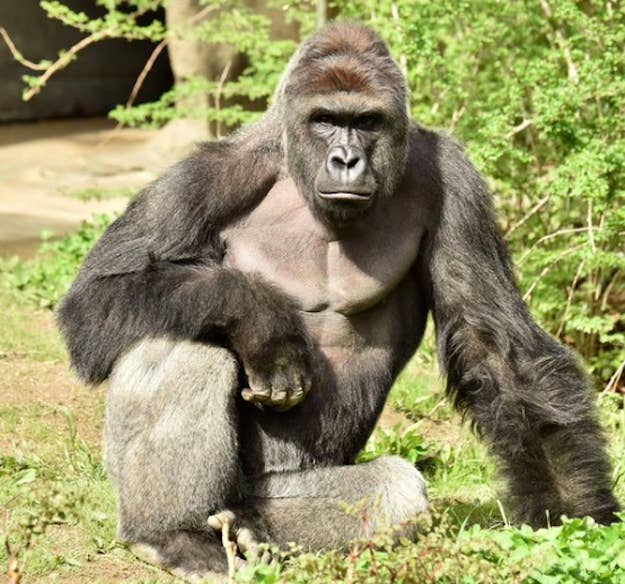 A male gorilla was shot and killed at the Cincinnati Zoo Saturday afternoon after a boy fell into the gorilla enclosure and was attacked, officials said.
The 3-year-old climbed under a railing and through wires and fell 10 feet into the gorilla enclosure.
Cincinnati Zoo officials said in a statement the two female gorillas in the exhibit were called back immediately, but the third, a male gorilla, was able to make his way to the young boy.
Firefighters and paramedics were called to the zoo and saw the gorilla "violently dragging and throwing the child," Cincinnati District Fire Chief Marc Monahan told BuzzFeed News in a statement.
"The child remained conscious throughout the event," Monahan said. "It took approximately 10–15 minutes to rescue the child from the time of the fall."
The zoo's Dangerous Animal Response Team responded and decided to shoot and kill the gorilla, who was named Harambe, with a rifle.

"It seemed very much by our professional team, our Dangerous Animal Response Team, to be a life-threatening situation and so the choice was made to put down, or shoot, Harambe," zoo director Thane Maynard told reporters.
Fire officials said the child was at the gorilla's legs when park personnel fired the shot.
"It's a sad day all around," Maynard said. "The team did a good job and they made a tough choice and they made the right choice because they saved that little boy's life. It could have been very bad."
"This is a huge loss for the zoo family and the gorilla population worldwide," Maynard also said, in a statement.
Two firefighters then got the boy and took him to a hospital. He suffered serious injuries, Monahan said.
Park officials said the zoo will be open Sunday, but the gorilla exhibit, Gorilla World, will be closed.
The family of the young boy released a statement Sunday, thanking zoo workers for their quick action.
Their son, according to the statement, had been released from the hospital.
"He is home and doing just fine," the statement read. "We know that this was a very difficult decision for them [Cincinnati Zoo staff], and that they are grieving the loss of their gorilla."
UPDATE
The boy's age has been changed from 4-years-old to 3-years-old based on new information from the Cincinnati Police Department.