Melissa McCarthy completely killed it last week on Saturday Night Live as White House press secretary Sean Spicer, and this week she returned for a much-anticipated encore, showing up in the cold open.
Things got a bit out of hand last time in the White House briefing room — Spicer tried to run reporters over with his podium and squirted journalists with his big super-soaker.
But he wants to be calmer now.
"I will remain calm now as long as you sons of — I'm not going to do that," he says. "That is the old Spicey. This is the new Spicey."
Just look at that calm face.
He's even cutting back on the gum-chewing.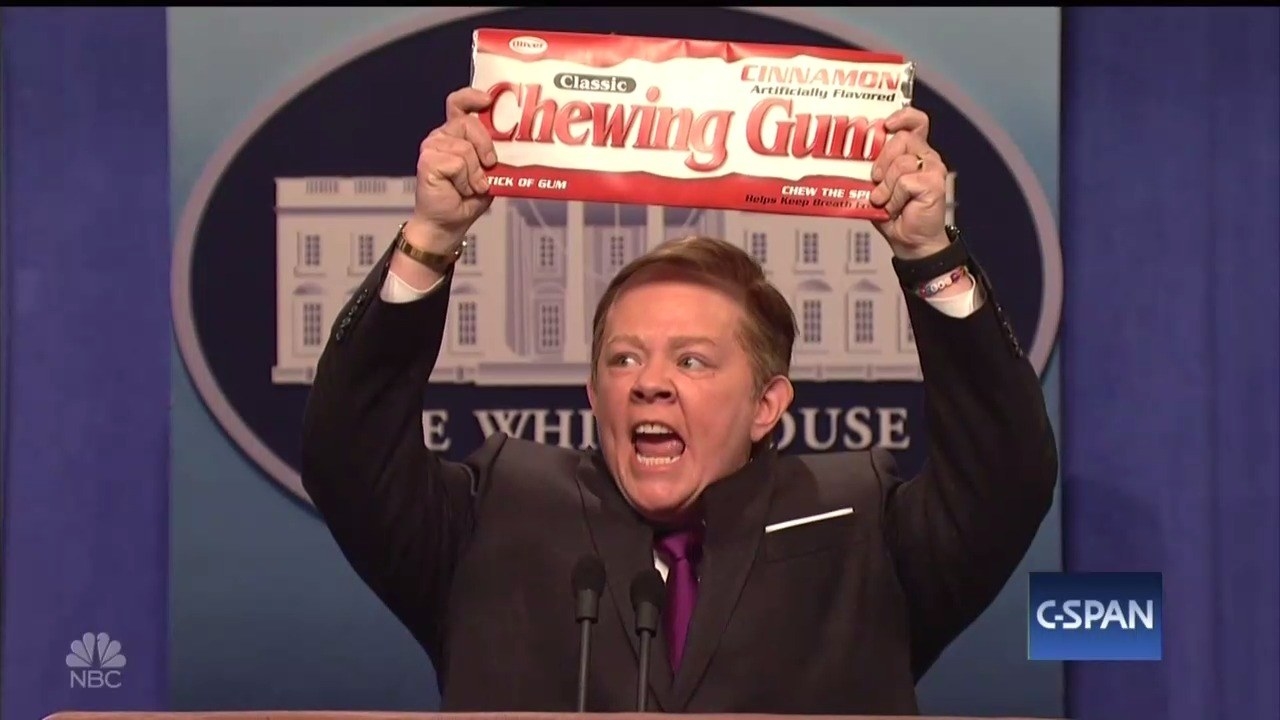 OK, on to the president's schedule.
President Trump is meeting with the leader of Central Asia. If only the names weren't so difficult to pronounce.
Kazakhstan?
"Specifically, specifically in, in adabada — adabada— and so write that," he tries to pronounce to reporters. "They will also be joined by his wife... You know what? I'm going to take a pass on it."
"Lets just call her Connie."
Now on to some questions.
So what does the president intend to do now that federal courts have put a hold on his travel ban?
"Then the president will see them in court, The People's Court!"
Next question!
What exactly does the president mean by "extreme vetting?"
"What does it mean?!" Spicer asks, frustrated. "What does it mean?!"
Let's go to some visual aides. What if Barbie is coming back from her dream vacation?
"She's OK because she's blonde!"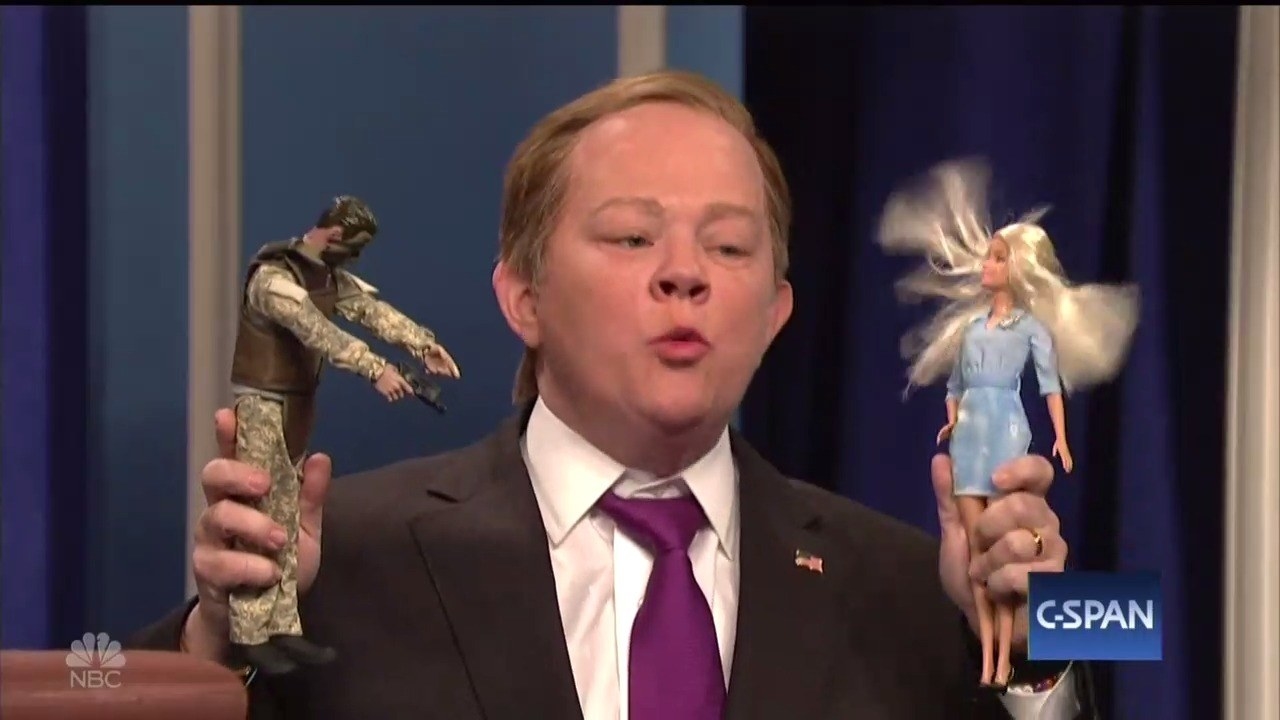 So Moana is going to get a pat down. She gets held up by TSA agents.
Then they will go through her emails, Spicer said.
"And if we don't like her answers, which we won't..."
Here's another question.
Spicer recently claimed there was a terrorist attack in Atlanta. One small problem: There wasn't. Can he explain?
"Yes. Because I said that," he said. "You wrote it. When I said it wrong, you guys should know what I mean. Right or wrong. That's why you are here. Obviously I meant Orlanta."
"You mean Orlando?" the reporter asks.
But Spicer wants to talk about the terror attacks that the media apparently hasn't reported on. He even brought a list.
"Let's read from the list," Spicer says. "The Bowling Green massacre. Not the Kellyanne one, the real one."
There's more.
"The Horror in Six Flags... The Slaughter at Fragglerock, and the night they drove old Dixie down."
And what about Nordstrom's decision to stop selling Ivanka Trump's products?
Just look at this bracelet for $39.99!
"And don't even get started on the shoes."
Moving on. What about the crime statistics that the White House continues to repeat, especially regarding Chicago?
"The murder rate is over 80%," Spicer claims. "Eighty percent of people in Chicago have been murdered and are dead. They're dead. And that's on you. You did that."
But reporters have checked and that's completely inaccurate.
"I'm looking at the real numbers here and they directly contradict everything you just said," a reporter responds.
"That was me blowing away their dishonesty!"
Any other questions?
"Just mentally though, are you OK?" a reporter asks.
"Are you kidding me? Are you kidding me? You don't have a chance, it's Spicey."