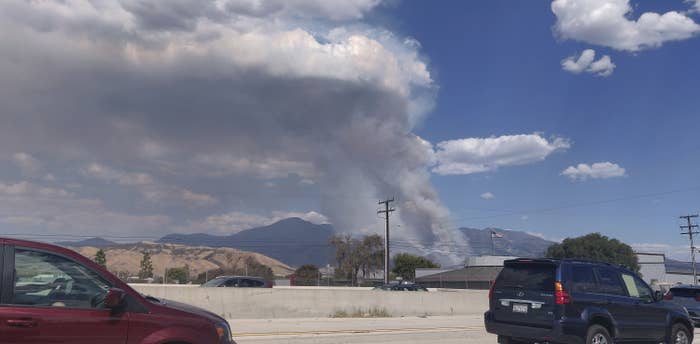 A California fire that has scorched more than 7,000 acres in two days was first sparked when a "pyrotechnic device" was used during a gender reveal, officials said.
Hundreds of people have been forced to flee their homes because of the brush fire, and firefighters on Monday were still struggling to keep the flames from reaching homes.
It was all sparked when a family headed out to El Dorado Ranch Park for a gender-reveal photo Saturday morning, Capt. Bennet Milloy from the California Department of Forestry and Fire Protection, or Cal Fire, told BuzzFeed News.
The reveal was supposed to be done with a "pyrotechnic device," but it instead ignited a fire that quickly spread north from the park into Yucaipa Ridge.
It's not immediately clear what kind of device was being used, Milloy said, but it is believed to have either emitted colored smoke or fireworks to reveal the baby's sex.
At least one member of the family stayed behind in an unsuccessful attempt to put out the fire, Milloy said.
Members of the family who were there have been cooperating with fire investigators, he said, and officials have also been able to obtain surveillance video from the park when the fire was started.
No arrests have been made, Milloy said.
The El Dorado fire has burned about 7,386 acres as of Monday morning and is about 7% contained, officials said. Authorities have confirmed at least one structure has been destroyed, but early Monday morning the fire was pushing down into several directions, including south toward the city of Yucaipa and prompting several evacuations there.
Fire officials have been unable to get a damage assessment of the area yet, according to Milloy.
This is not the first time that a large brush fire has been caused during an elaborate gender reveal.
On April 23, 2017, a Border Patrol agent ignited a massive wildfire during a gender reveal party that burned through 47,000 acres of Arizona grasslands, costing more than $8 million and two weeks to extinguish.
The agent pleaded guilty to accidentally starting the fire and, as part of a plea agreement, agreed to pay $220,000 in restitution.
It's unclear what charges may be levied as part of the El Dorado fire, Milloy said. Investigators will continue to assess the damage of the fire and, after it is contained, a report will be submitted to the San Bernardino County District Attorney's office to consider whether or not to file charges.
The person who ignited the pyrotechnic device, he said, would be the person considered for possible charges.
Firefighters are continuing to experience extreme weather conditions while they try to contain the fire, one of 24 active blazes across the state during an extreme heatwave
In Yucaipa, temperatures on Saturday and Sunday soared over 110 degrees while more than 600 firefighters tried to contain the fire.
Temperatures were expected to be lower on Monday as firefighters battle the blaze, aided by four helicopters, 60 fire engines, and 10 bulldozers.