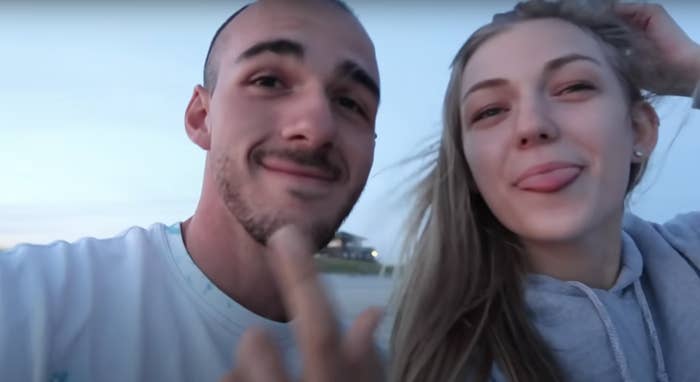 The fiancé of a young woman who went missing after the couple chronicled their cross-country road trips on social media has been named a person of interest in the investigation, police said Wednesday.
Brian Laundrie returned home to North Port, Florida, on Sept. 1 driving the white van the couple used on trips that were shared with hundreds of thousands of followers on Instagram and the couple's "Van Life" YouTube channel. However, his 22-year-old fiancé, Gabrielle "Gabby" Petito, was nowhere to be found, police said.
It was 10 days later that, according to police, Petito's family reported her missing to the Suffolk County Police Department, telling investigators they have had no contact with her since the last week of August. Despite Laundrie's return, police said he had made no contact with them about his Petito's disappearance.
On Wednesday, North Port police named Laundrie as a "person of interest" in the case and said neither he nor his attorney have answered questions about what happened to Petito or where she might be.
"We don't know what Brian knows. That's the bottom line," Josh Taylor, public information officer for the department, said at a news conference Wednesday. "We need to know exactly where he was, where she was, their last locations."
The North Port Police Department is currently leading the investigation with the FBI's help. Chief Todd Garrison told reporters on Thursday that investigators are treating it as a missing persons case at the moment, not a criminal case.
"We share the frustration with the world right now," Garrison, who on Wednesday tweeted a personal plea to Laundrie's attorney asking him to reach out to police to help find Petito, said at the press conference. "Two people went on a trip and one person returned. And that person that returned isn't providing us any information."
Investigators attempted to speak with Laundrie on Saturday night at his North Port home, where Petito was also living at the time, Taylor said.
"We asked to speak with Brian and his family, and we were essentially handed the information for their attorney," he said. "That is the extent of our conversation with them. It is my understanding we have had some conversations with his attorney, but certainly nothing to the level of providing us with the details we would like."
Laundrie's attorney, Steven Bertolino, did not immediately respond to requests for comment from BuzzFeed News, but he told the Daily Beast that Laundrie was being instructed not to speak with police.
"In my experience, intimate partners are often the first person law enforcement focuses their attention on in cases like this and the warning that 'any statement made will be made will be used against you' is true, regardless of whether my client had anything to do with Ms. Petito's disappearance," he said in a statement.
Garrison said Thursday that the attorney has arranged to hand over some belongings in the van as part of the police investigation but otherwise has not made contact with investigators.
Police said the van was seized by investigators Saturday from Laundrie's home and was examined with the help of the FBI.

Petito is believed to have last been in Grand Teton National Park in Wyoming, where she and Laundrie were traveling in a 2012 Ford Transit Connect van with a Florida license plate number of QFTG03.
According to the family's GoFundMe, some of Petito's relatives have flown to Wyoming to search for her.

The couple had been chronicling their travels throughout the country on their YouTube channel for more than 8,000 subscribers and their Instagram accounts, where each of them had amassed tens of thousands of followers.

An interaction that the couple had with Moab police officers on Aug. 12, which was recorded in a police report and body camera footage, has added to the mystery around their relationship and Petito's disappearance.
Moab police officials in Utah also released a report from that day when officers were alerted about a "domestic problem" involving Laundrie and Petito. The department also released body camera footage showing police questioning the couple separately about the events that led to a bystander calling 911 that day.
The video shows police pulling over the couple in their van, and an officer is heard saying that the van was driving over the speed limit and had hit the curb before stopping. As the officer approaches the van, Petito is seen crying.

Petito told the officers that she and Laundrie had been arguing all morning; when she saw the sirens as police tried to pull them over, she hit Laundrie to get his attention, causing the car to swerve.

Laundrie, who had injuries on one side of his head, also told the police that during an argument earlier that day, he wanted to create space between them and so locked the van and told her to go for a walk in one direction as he went for a walk in the other. As Petito tried to get the van keys from him, she hit him, and he pushed her back, he told police.
When police asked if Laundrie hit her, Petito said he grabbed her face at one point but did not hit her.
"Both the male and the female reported they are in love and engaged to be married and desperately didn't wish to see anyone charged with a crime," the police report states.
During the entire conversation with police, one officer noted that Petito did not "stop crying, breathing heavily, or compose a sentence without needing to wipe away tears, wipe her nose, or rub her knees with her hands."
The officers are seen in the video discussing how to move forward with the situation after determining that Laundrie was the victim and Petito the aggressor.
Moab Police Chief Bret Edge said in a statement that the officers had "determined that insufficient evidence existed to justify criminal charges."
The couple agreed to separate for the rest of the day, with Petito taking the van and police helping Laundrie get a hotel room.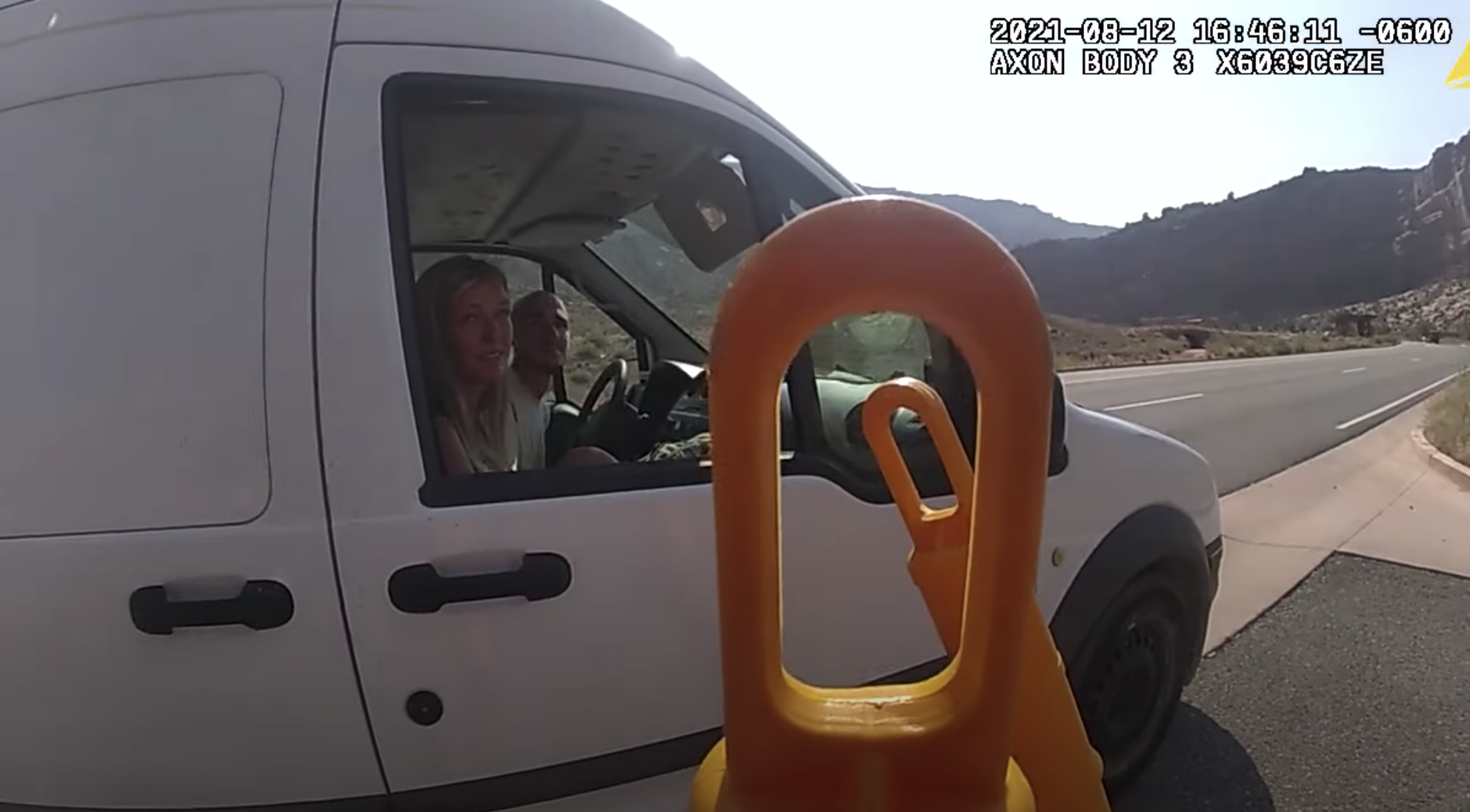 The incident is a glimpse into the growing strain between the couple during their cross-country road trip. At the time, Petito and Laundrie were four to five months into their trip, according to authorities.
Garrison, the North Port police chief, said Thursday that investigators do not know if the footage has anything to do with Petito's disappearance.
"Yes, they had a disturbance. Yes, it was captured on body camera, their interaction with law enforcement," he said. "Beyond that, I don't know what it had to do with the disappearance."